MF interviews Danny Way
We talked to founder of mega ramp skateboarding Danny Way at the London premiere of his new movie Waiting For Lightning.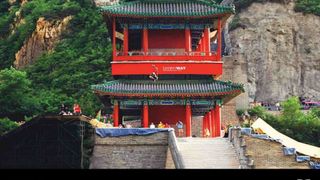 (Image credit: Unknown)
Danny Way is the creator of mega ramp skateboarding - tricks pulled on ramps that dwarf anything you'd find in a normal skatepark. Check out the below trailer for Way's documentary, which focuses on his ground-breaking stunts and horrific injuries, and our exclusive interview with him.
How does building your new mega ramp facility in Hawaii compare with the other big moments in your career?
It's a dream to have a piece of land where you can just build whatever you want at any time. I wanted the facility to be a monster street course where you can have loads of things to hit in one line.
How does it compare to other mega ramp facilities?
Most people think a mega set-up is just a jump to quarter pipe but to me it just means any set of features on a massive scale. My plan has always been broader than just building a couple of kickers, but there are so many obstacles to overcome when making a mega street course that it takes a long time to get something more extravagant built.
How does your body hold up skating such massive obstacles?
Sometimes bigger obstacles are safer for me as I have more time to figure out how I'm going to hit the ramp or ground when a trick goes wrong in the air. On a smaller ramp you don't have much time to prepare for a slam.

Is that how it worked during your horrific 2008 X-Games mega ramp slam?
Totally, I knew I was hitting the coping and I knew I was going to cartwheel into the ramp. I didn't fight it because I would have been fucked, big time. If I had tried to land on my feet on the deck I would have broken both ankles and ended up falling into the ramp face first.

Do you do any kind of off the board training to keep in shape?
Yeah, I have a gym in my house that I work out in. I train to prevent injury and strengthen the muscles I use to pull tricks. I've had so many injuries over the years – a broken back, torn knee ligaments and a dislocated shoulder to name but a few – and I'm really just trying to protect what I've got left. I don't lift weights to get big or anything like that – I'm not trying to be a tough guy.
A lot of Motocross guys have personal trainers, do you?
Not right now, but I have in the past. I worked with one for so long that I can now work as my own personal trainer.

You've been injured while pulling a lot of the gnarly stuff you've done, such as jumping the Great Wall of China. How do you overcome the pain?
Adrenaline is a very powerful painkiller. The day after I hit the coping at X-Games 14, I was black and blue from my shin to my toes and could not move but I pulled my winning run straight after that slam and walked off the course without a limp. I had completely forgotten the slam had even happened, which is crazy because I was so incredibly broken at the time. That's thanks to adrenaline – it does its thing at the right time and we're lucky we have that.
Are you happy with the state of skateboarding at the moment?
I don't have too much attachment to it beyond what I'm doing but I hope the Olympics don't get hold of it. I like the fact skateboarding has always been little underground and on the fringe and I feel protective of that.
We saw a recent video of 12-year-old Tom Schaar pulling a 1080˚. How important do you think that will be in years to come?
The media are playing it out like it's the most groundbreaking thing that's ever happened in skateboarding but how relevant is a trick that not even 1% of skateboarders can do or pay attention to? It's a bitch slap to other skateboarding achievements.
What's your definition of a relaxing skate?
I like carving around pools – grinding and shit. Sometimes I wish I could just do that but, as far as progression is concerned, it's good to put pressure on yourself to go big.
Watch the trailer for Danny Way's new documentary Waiting for Lightning here.
For more interviews with the biggest action sports stars, get Men's Fitness. Subscribe now and we'll give you five issues for £5.
Sign up for workout ideas, training advice, reviews of the latest gear and more.
Nick Hutchings worked for Men's Fitness UK, which predated, and then shared a website with, Coach. Nick worked as digital editor from 2008 to 2011, head of content until 2014, and finally editor-in-chief until 2015.