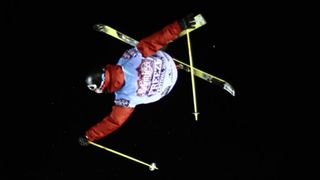 (Image credit: Unknown)
Do you notice that more kids are taking up freestyle skiing than snowboarding now?
The sport is definitely growing. I think that the actual statistics say that more kids are freestyle skiing these days. When you're in a park it looks to me like there are more skiers, which is awesome!

How hard is it to become a top-level pro if you don't live in a country with easily accessible ski hills?
I always say if you put your mind and effort into something you can accomplish anything. Skiing in the UK has its disadvantages, but there's still plenty of skiing to be had on snowflex and at indoor facilities.

How do you prepare yourself to hit a massive street rail?
If I'm hitting a street rail nowadays then I've usually taken a wrong turn! I used to love skiing urban features – rails, wall rides and all that – but I've taken some hard hits and I'm chilling on it a bit now. The secret to making street obstacles manageable is to think of each feature like it's something in the park.
What's the most scared you've been while skiing and how did you cope with it?
Getting scared is part of skiing – it gives you that adrenaline rush. You go out of your comfort zone every now and again, but you have to take control and prove to yourself you can do it.

What tricks are you currently working on?
Currently I'm working on a variation of double flips, both ways. It's always hard learning and keeping up with the latest tricks, so you have to add your own style to make them cool.

What's the best thing you've ever seen go down at Freeze?
Last year Oscar Scherlin and PK Hunder were doing switch double 1260s. I'd never seen that on a city big air jump and I hope there will be some more of the same this year!
Paddy Graham will be competing at the Relentless Energy Drink Freeze Festival, 26-27 October, Battersea Power Station. For tickets visit freezefestival.com

For more interviews with athletes at the top of their game, subscribe to MF - we'll give you five issues for £5.
Download a digital version of the latest issue from iTunes.
Sign up for workout ideas, training advice, reviews of the latest gear and more.
Sam Razvi wrote for Men's Fitness UK (which predated and then shared a website with Coach) between 2011 and 2016.