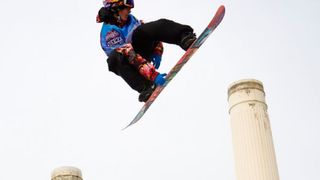 (Image credit: Unknown)
How do you think coming up as a dry slope rider has impacted on your career?
It's crazy when I look back at those times when I just used to go to school every day, go home to grab some dinner then go snowboarding on the dry slope for three hours, probably five times a week! But I did put a lot of work in and that definitely helped me become the rider I am today.

How do you think it affects your fear factor on snow?
I don't think it has anything to do with it. The only thing that's different is that it's actually easier to ride, as its real snow and also that jumps and features are a lot bigger on the snow. But I admit that the first time I went on a real mountain with snow it was much scarier than dry slope just because I wasn't used to anything, and it was all totally new to me.

How did working with a top rider and filmer like David Benedek when you were in your early teens help your riding?
David Benedek was my hero back in the day. And it's crazy that the tricks he was doing ten years ago are still winning comps today – he was well ahead of his time. Getting to film with him for a week and getting a part in his movie 'InShort' was a huge pleasure really helped me push myself!
What area of your snowboarding do you feel needs the most improvement?
Riding halfpipe, but it doens't interest me. I was brought up on rails and jumps and I've just stuck to doing that. I can ride pipe but not to the standard as the big guns, guys like Shaun White and Louie Vito.

What off-board training do you do to help you prepare for the rigours of the comp season?
When I am not on my snowboard I like to skateboard because it feels the same, just on wheels. Beside that you have to get in the gym and train those legs! I started to train my legs more this summer than ever before, because I'm getting older and heavier and I'm not as flexible as I used to be, so I need to keep them strong to reduce the risk of injury and stay supple.

Got any new tricks you'll be unveiling at Freeze?
I'll be working on a new trick this October in Hintertux, Austria before freeze, so maybe!
Jamie Nicholls will be competing at the Relentless Energy Drink Freeze Festival, 26-27 October, Battersea Power Station. For tickets visit freezefestival.com

For more interviews with athletes at the top of their game, subscribe to MF - we'll give you five issues for £5.
Download a digital version of the latest issue from iTunes.
Sign up for workout ideas, training advice, reviews of the latest gear and more.
Sam Razvi wrote for Men's Fitness UK (which predated and then shared a website with Coach) between 2011 and 2016.