Christian Vande Velde Interview
Christian Vande Velde came eighth in 2009's Tour de France despite breaking his back weeks before the race: where does his strength come from?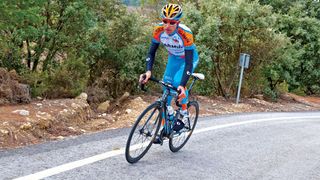 (Image credit: Unknown)
When Christian Vande Velde crashed heavily at last year's Giro d'Italia, breaking five vertebrae and one rib and cracking his pelvis, the season looked in doubt for Team Garmin's lead rider. But not only did he make it to the start line of the 2009 Tour de France two months later, he also helped his team-mate Bradley Wiggins into fourth place overall while Vande Velde himself took eighth. This fearsome strength doesn't all come from just riding his bike.
"I'm not a typical rider because I'm a firm believer in proper and consistent gym work throughout the whole year, including the off-season," Vande Velde says when we meet him at Garmin's winter training camp in Alicante. He works with a strength and conditioning coach two to three times a week for a full hour of gym circuits, reducing this to once a week during the racing season.
"I don't actually know which one is harder now – the bike training or the gym training," he says. "It's different from the old-school approach but it's clearly worked for me. All cyclists know that they need to train on their bikes to go fast but many fail to realise that the entire body and all of its muscle groups work to propel the bike."
The 33-year-old American has a history of injury, which means frequent discomfort on the bike. "This year I've worked to open up my hips, to sort out the connective and scar tissue that's been so bound in place that it feels like it's about to rip," he says. "I aim to strengthen my obliques and lower abdomen while correcting my posture to open everything up."
Vande Velde says the strength he has built in the gym is the foundation of his cycling health and success. He also believes that it protects him during high-speed spills. "My Giro crash would have been ten times worse if I hadn't been as strong as I was."

He is known as a strong climber, something that requires muscles that operate efficiently across their whole range. "I've always been good at riding out of the saddle and standing on the pedals. Sure, your wattage goes up when you do this so it is inefficient, but it's always good to have that weapon if you need it to surge ahead."

To train for this he keeps his gym exercises fluid and cycling-specific. "The best way to strengthen muscle is to load it while it's being stretched out so everything we do in the gym is dynamic with lots of movement. For example twisting and throwing at the same time with the medicine ball," he says.

Adding weight is no use to the cyclist, so building muscle isn't on the agenda. Shannon Sovndal is Team Garmin's exercise physiologist. "You aren't aiming to add bulk but to improve strength," he says. "Two kilos is 30 minutes on a Tour de France finishing time."
So where is cycling strength located? "Your body has four contact points on the bike," Sovndal says. "The driving power comes from the legs but the arms also need to be strong because cycling strength comes from this body-frame system."

It's at the end of long stage races that top riders shine because they can outperform everyone else despite being pre-fatigued. "You can lose form through fatigue so you need to train to maintain this form under stress by working on your stabilising muscles and core," says Sovndal.

The way you ride your bike may also have a significant effect. "Just hanging out on a bike won't make you fitter," says Vande Velde. "You're not going to do yourself any favours riding slowly for six hours – unless you live in the Alps of course."
Next up are Vande Velde's three favourite exercises for core power, leg and dynamic strength. Just tag the relevant moves onto your existing core, leg and total body workouts.
Sign up for workout ideas, training advice, reviews of the latest gear and more.
Coach is a health and fitness title. This byline is used for posting sponsored content, book extracts and the like. It is also used as a placeholder for articles published a long time ago when the original author is unclear. You can find out more about this publication and find the contact details of the editorial team on the About Us page.