Mo Farah's Running Workouts
Olympic champion Farah shows you how to increase running strength, stability and power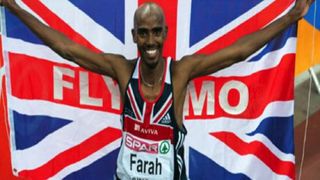 (Image credit: Unknown)
Mo Farah ran the race of his life to win the 10,000m gold medal at the London Olympics in 2012. In 2010, Coach's sister title Men's Fitness caught up with the champion to find out how he trains for gruelling long-distance races.

"I build the pace through the race to keep the pressure on so I need to be able to hold my speed for a long time," he explained. It's speed endurance that makes Farah a real champion. In addition to the 160km he runs every week, he also does three gym workouts to build his strength and condition his body to be as biomechanically efficient as possible.

Whatever your goals, running is a surefire way to improve your fitness. So try Farah's two-part workout to build your running strength, enhance your technique and beef up your upper body. Then improve your core stability and get your body working as a unit to get faster and fitter.
For more ways to improve your running by not running, learn more about strength training for runners and running drills.
Workout For Running Stability
1 Side-on hurdle
Sets 2 Reps 6 each side
Expert's tip: "When you start to tire, your knees drop and you lose speed, so this drill aims to improve your biomechanics and hip flexor/quad strength endurance."
Place the hurdles close together.
Stay on your toes, lift your knees high and keep your shoulders back as you jump sideways over the hurdle.
Place both feet on the floor before hurdling again.
Hurdle back facing the other way to complete the set.
2 Calf kick
Sets 3 Time 30 second
Expert's tip: "When you run faster you use the middle and ball of your foot. This prepares your calves to pick up the load and helps you to turn your feet over quickly."
Run along with very short steps.
Don't let your heels touch the floor.
Kick your legs out ahead of you.
Use your calves to catch you and push you forwards.
3 Swiss ball hamstring curl
Sets 3 Reps 10 each side
Expert's tip: "Lifting your hips up off the floor activates your core. Using one leg to roll the ball in improves the condition of your knee and hip stabilisers while working your hams."
Place one heel on the ball then lift your hips up.
Roll the ball in towards your buttocks.
Keeping your hips up, roll the ball out and extend your leg.
Keep your neck relaxed throughout.
4 Medicine ball catch, roll and throw
Sets 3 Reps 10 on each leg
Expert's tip: "This is a plyometric exercise, which works the core with the upper body and legs to make you stable and powerful throughout your run."
Place both feet solidly on the floor.
Catch the ball as it passes overhead.
Extend your abs fully then throw the ball back.
Aim your throw to one side to introduce some rotation.
Workout For Running Power
This running power workout from Olympic champion Mo Farah will help you increase your running power and build strength for maximum efforts on the track.
Sets 4 Reps 8 each side
This builds strength in your quads and hams, and working each leg individually will balance out your body.
Load up the bar with a comfortable but testing weight.
Put your back leg on a bench behind to focus the effort on your other leg.
Lower down as far as possible.
Drive back up with your core braced.
2 Dumbbell 'run'
Sets 4 Reps 8 each side
A strong upper body is vital for maintaining form and power when running. This exercise is as specific to the running action as possible.
Keep your forward leg braced.
Pump your arms as if you were running.
Keep your shoulders back and level.
Alternate legs with each set.
Sets 4 Reps 8
Holding the bar above your head activates the core and forces your body to stabilise the weight and stay in alignment as you lower and drive using your thighs and glutes.
Load up the bar with as much weight as is comfortable.
Place your hands twice shoulder-width apart.
Keep the bar directly above your shoulders.
Lower as far as you can without breaking form.
4 Backwards sledgehammer
Sets 3 Reps 10
This explosive move gets your whole body working against gravity in a single move, giving you strength for maximum efforts on the track.
Squat down holding a medicine ball in both hands.
Drive up explosively through your heels and onto your toes.
Keep your core braced as you throw the ball up and behind.
Turn around for the throw back from your partner and go again.
Sign up for workout ideas, training advice, reviews of the latest gear and more.