How To Improve Your 400m Time According To European Champion Martyn Rooney
European champion Martyn Rooney shares his tips on how to master the 400m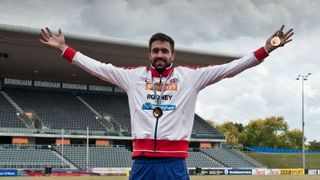 (Image credit: Courtesy British Athletics)
Last week I experienced the highlight of my career when I took gold in the 400m at the European Athletics Championships. I knew I was fast, but I had no idea that I'd just set the fastest time in Europe this year. It wasn't always so effortless. When you're just starting out, 400m is an incredibly tough distance to get to grips with
Weigh it up
There are ways of making it easier for yourself. To take on the 400m your whole body needs to be in great shape, which means paying attention to aspects of training you might not expect. One of the most crucial exercises I do is barbell squats with a 120kg weight for 6 reps to strengthen my leg muscles. I do weight training six days a week, as often as I run, because if you lift and build up your muscle you'll find you have a lot more power in your running, and your developed muscles are much less likely to get hurt.
Do the double
I tackle the 400m as a sprint – I'm at 95% the whole way round the track, but it takes a bit of training to build up to that. The best way to do it is to concentrate on increasing your stamina with long runs first, then add small bursts of speed a couple of times each week in your training. Before long you'll have the endurance of a distance runner and the explosiveness of a sprinter. Combining these two skills and constantly improving them is the key to being a successful 400m runner.
Keep at it
Be prepared that training for the 400m is painful at first. You need to have the motivation and focus to push through the pain of those tough first few sessions. But when you do get it right and you know you can keep getting faster, it all becomes worth it. Your intense workouts will also improve every other type of run, not to mention your overall fitness.
Martyn Rooney competed at the Sainsbury's Birmingham Grand Prix. British athletics events showcase the best UK and international sports stars and encourage young people to take up sport britishathletics.org.uk
Sign up for workout ideas, training advice, reviews of the latest gear and more.