Can fitness apps really help you get in shape?
Can fitness apps help you lose weight and beat your PB? MF's Freddy Wichert investigates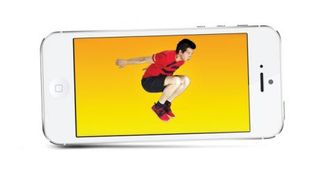 (Image credit: Unknown)
Like many 30-somethings, I'm dangerously close to developing a 'dad bod' despite not having any offspring to show as an excuse. I cycle to work, go for the occasional run, and six months ago, signed up to the gym. I took my complimentary PT session and came away with a simple workout and then, unsure of what to do next, followed the same plan to the letter for months. Progress and motivation quickly dissipated. At this point I turned to my smartphone.
I'm not the only one seeking digital alternatives. A 2014 study found that 60% prefer to use their smartphone to track health and fitness over listening to music. Research is raw, but a recent Australian study found that fitness apps, including Nike Training Club and Gorilla Workout Free, are just as effective as group cycling (spinning) for burning calories. Admittedly the same study found that one in three people stop using apps because they're too hard.
Then I found something that seemed ideal. Freeletics is an online and in-app tool that promises to deliver a comprehensive, intuitive fitness programme to get you in shape. Founded in Munich in 2013, Freeletics offers an alternative to crowded gyms and expensive personal trainers, and people clearly find it appealing – it's one of the fastest-growing apps available on iOS and Android, with over five million users in more than 160 countries. I decide all those millions can't be wrong, and install the app.
My first impression of Freeletics is positive. The free app provides dozens of workouts, each named after Greek gods, which is appropriate since they promise to transform you into an Adonis. The workouts use bodyweight moves such as burpees, sprawls, jump squats, pull-ups (I use a doorframe mount from Iron Gym) mountain climbers and sprints that you have to complete as fast as possible. Freeletics applies the protocols of high-intensity interval training (HIIT), which cause an oxygen debt – called the after burn effect – to encourage your body to torch calories and improve your endurance.
The best health and fitness apps
Train like the gods
There are various benefits: you can opt to focus each workout on endurance or strength; every move has a slick video form guide with training cues; it saves you time; you can post your scores on the Freeletics social community to compare with those of other users; and it rewards you with points and level-ups for completing it. However, these seem less appealing when I take on the first workout, ironically named after Aphrodite, the Greek goddess of pleasure: 50, then 40, 30, 20 and ten reps of burpee press-ups, squats and sit-ups as fast as possible. I almost faint just reading it. Burpees have never been my strong suit.My lower back feels too weak and, demoralised and in pain, I give up halfway through.
The free app offers these workouts, but you have to invest (£25.99 for three months of Freeletics Coach and a further £21.58 for a 15-week nutrition guide offering weekly recipes) if you want to get any actual coaching. I upgrade to Coach for a tailored weekly plan, which means I need to take a fitness test – and memories of Aphrodite come swirling back. Max burpees in five minutes, max lunges in five minutes and max pull-ups in 1min 40sec. Once I submit my (paltry) scores, the app's algorithm works out a programme to follow.
Impersonal training
For my next workout it tasks me with taking on Aphrodite again, although I only need to do two-fifths of the full workout. You can also rate the difficulty of each training week so the next one will be adjusted accordingly, and you can swap out moves you can't manage. Good riddance, burpees.
Over the next six weeks I follow the programme as best I can, with the prospect of improving my times and earning more points keeping me motivated. I still train only twice a week on average, but I'm able to do so in the privacy of my own bedroom, disgruntled downstairs neighbours permitting, and I'm seeing real changes. I've lost two kilos of body fat and my PBs for press-ups, sit-ups and 400m sprints have all improved.
I'm not quite a fully-fledged fanatic, though. I still detest burpees but all I can do is avoid them, whereas one-on-one training with a personal trainer would have identified and attempted to resolve the problem rather than ignoring it. The Coach also throws up the odd, seemingly pointless workout. 'Run 40m', for example. I already did that just chasing my bus down on the way to work. Ultimately Freeletics is a self-contained sport. The Coach makes you good at Freeletics, rather than specifically tailoring it to your other sporting passions and individual concerns. I might have cut my Aphrodite time in half but I miss the personal touch of one-on-one coaching.
For more info visit freeletics.com/en
The workout
In Freeletics Aphrodite workout you do 50, then 40, then 30, 20 and ten reps of these as fast as possible. Can you handle it?
Standard
Burpee press-up, squat, sit-up
Endurance
Sprawl, hands-on-knees squat, crunch
Strength
Burpee squat jump, pistol squat, jackknife
Standard
Burpee press-up, squat, sit-up
Endurance
Sprawl, hands-on-knees squat, crunch
Strength
Burpee squat jump, pistol squat, jackknife

Sign up for workout ideas, training advice, reviews of the latest gear and more.
Coach is a health and fitness title. This byline is used for posting sponsored content, book extracts and the like. It is also used as a placeholder for articles published a long time ago when the original author is unclear. You can find out more about this publication and find the contact details of the editorial team on the About Us page.