Health Apps to Turn your Smartphone into a Life Coach
Thousands of apps claim to make us leaner and healthier. These ones really will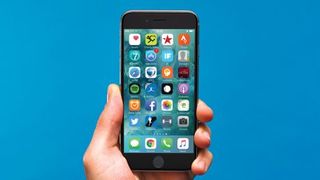 (Image credit: Unknown)
Sort your Diet Out: MyFitnessPal
MyFitnessPal (opens in new tab) (Android, BB, iOS, Windows) gives target calories for the weight you want to hit, taking into account any activity recorded by your phone, tracker or other apps. The barcode scanner makes life even easier, and we hit our target weight in three weeks (as the app predicted).
Get Better Kip: Twilight
Scientists advise not using your phone for three hours before bed because the blue light it emits unbalances your sleep hormones. Sorry scientists, but no-one with a phone can stick to that. Get Twilight (Android (opens in new tab)) – it reduces your phone's blue light output in the evening so you can keep using it without ruining your sleep.
Love Mornings: Sleep Cycle
We've been jumping out of bed every day since using this. OK, maybe not jumping, but Sleep Cycle (opens in new tab) (Android, iOS) figures out when we're in a light-rest phase, waking us gently to eliminate any eye-rubbing protestations.
Analyse Everything: Apple Health
Apple Health (opens in new tab) (iOS) collates all the info gathered from your phone and major health and fitness apps to display all your vital statistics in one place.
RECOMMENDED: Do you Really Need to Take 10,000 Steps a Day to be Fit?
7 Minute Workout (opens in new tab) (Android, iOS) gets you doing 12 kit-free exercises for seven minutes, three to four times a week. Go flat-out and it'll turn your body into a flab-burning furnace.
RECOMMENDED: How to Lose Belly Fat (Without Doing a Single Sit-Up)
Ditch the notepad and use Strong (opens in new tab) (iOS) to record workouts. The no-frills, intuitive interface also syncs with other note-taking apps so you can plan future sessions wherever you are.
We proved Freeletics (opens in new tab) (Android, iOS) can get you ripped without lifting a single dumbbell when we trialled it in July 2015.
Endomondo (opens in new tab) (Android, BB, iOS, Windows) records over 40 activities and has a huge community. Not many of our Facebook friends care we've just done our fastest run, but on this? Digital high-fives all round.
Turn lonely runs and cycles into competitions between you and the almost-definitely-cheating scoundrels above you on the Strava (opens in new tab) (Android, iOS) leaderboard. A powerful motivator to pick up the pace.
Without structured sessions you'll soon hang up your trainers. As well as setting goals (distance, duration, calories), Runtastic (opens in new tab) (Android, BB, iOS, Windows) has pre-set interval training modes – great for fat loss – and pace feedback that scolds you for slowing down.
Turn every run or bike ride into a sponsored event by donating up to 25¢ (around 16p) per mile to good causes. You choose the charity, and image-conscious corporations foot the bill. Right now, the recipients are all American, but a UK version of Charity Miles (opens in new tab) (Android, iOS) is on its way in 2016.
IFTTT (opens in new tab) (Android, iOS, Windows) stands for "if this then that" and works with 240 different apps. For example, you can set it so if there is heavy traffic, then it will automatically text your other half to let them know you'll be delayed.
Music makes exercise feel easier. Spotify (opens in new tab) (Android, BB, iOS, Windows) has the biggest streaming catalogue, as well as a new running feature that matches the music's tempo with yours.
As well as suggesting workouts, JEFIT (opens in new tab) (Android, iOS) has a progress report section that encourages you to take a pic each week. This tangible, visual proof of your changing body makes skipping the gym much harder.
Deciding what to cook is a nightmare, especially if your cupboards are looking bare. Just enter the ingredients you do have and Gojee (opens in new tab) (iOS) scours food blogs to suggest mouth-watering recipes.
A personal trainer for your grey matter, Lumosity (opens in new tab) (Android, iOS) was developed by neuroscientists to improve cognitive function. The more you play, the smarter you get – we're currently in the top 10% for our age range and can even remember where we parked at the airport.
Sign up for workout ideas, training advice, reviews of the latest gear and more.
Coach is a health and fitness title. This byline is used for posting sponsored content, book extracts and the like. It is also used as a placeholder for articles published a long time ago when the original author is unclear. You can find out more about this publication and find the contact details of the editorial team on the About Us page.