How to properly track your training progress
Former Olympic pentathlete Greg Whyte explains why you should keep an eye on your metrics - and how to do it while avoiding data overload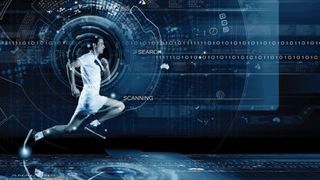 (Image credit: unknown)
Tracking data isn't the preserve of elite athletes. Monitoring your training is about trying to optimise your performance, whatever your level. Tracking progress is a training aid – it's not a replacement for working hard – and you have to be careful not to become obsessed with it. Professional athletes have time and resources to track data, chasing tiny improvements, but if you're new to it you can make huge gains very rapidly by tailoring your programme to make improvements where you need them.
Take heart
Heart rate is the number one thing to monitor. It's directly linked to exercise intensity, so you can use it tell how hard you're working. It also takes into account daily differences such as how fatigued you are, what time you train, if you've had anything to eat or if you're low on energy. It gives you a true sense and marker of how hard you're working.
A good starting point is to measure your resting heart rate every morning, because fluctuations will give you an early warning if you're overtraining, allowing you to back off when necessary.
The best heart rate monitor sport watches
Speed limit
Depending on what you're training for, speed is another important metric. On the bike or the rower or running, you can use it to set a target, although you shouldn't see it as something to stick to rigidly – it's just a marker. Stay flexible and don't try to do anything daft like try to beat it when you're ill or hung-over.
Heart rate and speed are both metrics that measure things directly. They're robust and reliable so you can trust the data. When you track calorie burn, you have to estimate the results using an algorithm. That's not to say it's not worthwhile but you have to be more careful – these things are better used to build a profile over time rather than to provide instant feedback.
Inside track
Once you've been tracking your data for a while, I'd encourage you to internalise the process to an extent. When I work with elite athletes they can tell me their heart rate or speed without looking at anything. Obviously that's partly because they spend so much time training, but the key point is not to make your tracking equipment a crutch. As time goes on, you should start to need it less and less.
Forgo tracking and you'll miss out on valuable experience, especially if you're new to training. Knowing your speed or your heart rate lets you understand exactly where your ability level is and gives you the confidence to improve.
Sign up for workout ideas, training advice, reviews of the latest gear and more.
Coach is a health and fitness title. This byline is used for posting sponsored content, book extracts and the like. It is also used as a placeholder for articles published a long time ago when the original author is unclear. You can find out more about this publication and find the contact details of the editorial team on the About Us page.