Forget Steps*, The Spire Tracker Monitors Your Breathing
And it's just been released in the UK (*...OK, it also counts your steps)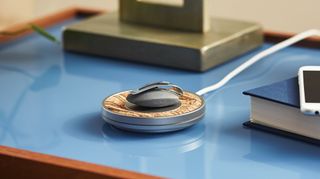 (Image credit: Unknown)
If you were to wear an activity tracker on your waist instead of your wrist, we'd normally direct you to the instructions, but not so with Spire, the health tracker seemingly inspired by The Police's "Every Breath You Take".
The first things that marks Spire out is its unusual yet attractive stone design. The next is that it's made to be worn on your waist. But avoiding the wrist isn't for aesthetic reasons – it's so your breathing can be tracked. It clips to your waistband so it can monitor the movement around your waistline to work out when your breathing is calm, focused or tense.
When Spire senses you are tense, it will vibrate to prompt you to relax and take deeper breaths to get you back on an even keel. There are other vibration alerts, and while it takes a bit of time to learn what each one means, if you have an Apple Watch you'll get a message on your wrist without having to check your phone in times of confusion.
The app is quite streamlined, but those who love delving into their personal data will get a lot out of it, plus it feeds into Apple's own Health service. There are also a series of audio guides that help you learn how to de-stress or even improve your concentration with breathing exercises.
The highlight of the app is Moments which splits up your day by Focus, Calm and Tense. In a genius move, the app inserts GPS locations and any pictures you took there into the timeline to help establish where you were and what you were doing when your breathing was in a particular zone.
On one of my first days using Spire I was running late for a speaking engagement and as I got to the venue my Apple Watch told me I was tense. This reminder was enough to prompt me to collect my thoughts and prepare myself for the task at hand. It later told me that when I was on stage I was focused rather than flustered – it was certainly reassuring to get this acknowledgment.
Of course, like any other tracker out there, Spire will keep tabs on how much you're moving, how many steps you've taken and more besides. However it's Spire's ability to assess your breathing patterns which makes it stand out.
If all you really want from a tracker is to to log steps and calories then this isn't for you. But if you want to keep your state of mind in good shape as well, then finally there's an option – and it looks good too.
£119.95, spire.io, exclusive to Apple stores, buy on apple.com
Sign up for workout ideas, training advice, reviews of the latest gear and more.
Ben Isaacs was the features editor of the print edition of Coach until it shuttered in 2016. Ben is currently the features editor at The Week Junior.