Stretching Advice for Every Workout
We asked four experts how to stretch your muscles the correct way to suit your training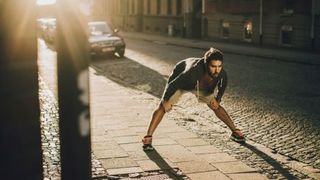 (Image credit: Unknown)
As with so many other aspects of health and fitness, stretching has fallen victim to an excess of information. Are you sure your stretching routine isn't doing more damage than good? Experts in four different disciplines explain how they make effective stretching a part of every workout.
Stretching for… Runners
Personal trainer and ultrarunner Cliff King says: "Do dynamic stretches before, and isolation stretches after. Dynamic stretches are active movements like windmills, which warm up muscle groups together, while static isolation stretches, like touching your toes, focus on one muscle group.
"After a run I aim for 10 minutes' stretching, but runners can never stretch enough. Make a cuppa, put the TV on, and stretch on the living room floor as much as you can. Hold your static stretches for 30-45 seconds. Exercise tightens and shortens everything, making muscles and ligaments susceptible to injuries. Stretching re-lengthens them.
"Don't go in too fast and hard. Feel the stretch and use common sense. And don't forget the adductor on the inside leg. Neglecting it causes runner's knee, the most common running niggle there is. Use a foam roller on your outside leg, and I also encourage runners to pick up swimming, yoga, Pilates or deep-tissue massages. And you always get a bit more out of an assisted stretch with a partner than doing it alone."
How to do it
Touch Your Toes: Keep your legs locked and hang down with your bodyweight. This stretches the glutes, hamstrings and calves, as well as bringing your heart rate down and getting the blood flowing back into your head.
Quad Stretch: Lift one foot back up into your hand. Bring your knees near to each other, push your hips forward, and pull your heel into your bum cheek.
Step To It: Stand on a step, hold the bannister for support, and let one foot drop halfway off the step. This gives you a massive stretch throughout your achilles, soleus and calf.
A Stretch Inside: Stand with your feet a metre apart. Bend one knee until you feel a stretch from your groin right down inside your opposite leg.
Stretching for… Core workouts
Marc Dressen, sports scientist, personal trainer and NLP coach, says: "The core is involved in stabilisation. Over-stretching a stabilising muscle isn't a good idea because it could lose strength. Think of the function you are stretching the core for. For instance, discus throwing needs explosive core contractions, while yoga doesn't have fast core motions.
"Stretch for two to five minutes before, and ten minutes afterwards. Do movement-based stuff before your session, engaging the core in your three planes of motion, and static stretches afterwards to lengthen the muscles. Stretching with an injury can be dangerous - it can be beneficial too, but you need to know the correct stretches. People also stretch the opposite muscles to the ones they should be doing. Do a little homework, and research the muscles first."
How to do it
Side-To-Side: Sit on the floor with both legs straight in front of you. Turn your upper body to each side, as if you're trying to look over your shoulders.
With A Twist: Now cross one leg over the other, with the knee bent and pulled towards you. Turn to each side again, but with the knee up you increase the twist in the hip.
The Cobra: Lie face down, arms at your side, and push your chest off the floor. This engages your core and hip flexors. Good after a hard abs workout.
The Child Pose: Tuck your knees under you, arms at the side and head on the floor. You can stretch the oblique and abs at the front, then press out your lower spine and stretch the back muscles.
Stretching for… Weightlifters
Jack Oliver, British Senior Weightlifting Champion and 2012 Olympic competitor, says: "Never stretch before weight training. Instead, recreate the movement you'll be doing. So if you're bench pressing, get a bar and warm up with bench press movements. Actual stretching should always be afterwards.
"During training, your pecs and shoulders end up so far forward they're almost touching. Get your lats sorted, too. With weight training everything's pulled forward, so you need to pull it back again. Don't overemphasise it, though. Instead of 30 minutes' stretching, do 20 minutes of getting stronger and just ten minutes' stretching. And don't be too delicate – make it ten minutes of hard stretching."
How to do it
Pulled Pecs: Stand with your arm out to the side with your hand pressed against a wall. Step forward so your arm is pulled back, and you'll feel the stretch around the side of your pec.
Balls To It: Lie on your front with a hockey ball beneath your pec. Put your arm out to the side and roll around on the ball. You'll want to scream, but it gets the tissue moving.
Lean On: Place your hands on a bar and lean back, so your arms are being stretched over your head. The stretch goes all the way down your arm, lats, and to the bottom of your back.
Wiggle It: Still in this position, round your back to stretch it more and wiggle from side to side. With all stretches move around – left, right, front, back – to hit different angles and take your mind off the pain.
Stretching for… Calisthenics
Jacob Nadav, founder of Movement First, says: "Calisthenics works kinetic chains through the entire body rather than different muscle groups. You need mobility as well as flexibility – piling demands on the body with movements it can't control is dangerous.
"Stretch before a workout, but make sure it's active. Stretching a singular muscle before or after has no real benefit. There are stretches that help across the body, but the impact of isolation stretches is minimal. Some of the calisthenics moves themselves stretch one thing or another, which is another reason we don't do traditional stretches much."
How to do it
The Pretzel: Lie on your side, top leg bent up towards the chest and bottom leg bent backwards. Grab the top leg with your bottom hand and vice versa. This balances tensions in your front, core and upper back. Work on deep breaths and getting the top shoulder blade towards the floor.
Front and Back Flex: Hanging on a bar, perform a forward flexion by pulling your chest down and pointing your legs into an L-shape. Now pull your chest up, and bend the spine by looking back as far as you can. This stretches both the back and front of the body.
The Diagonal: With heels together, glide your right foot back, adopting a lunge position with your body turned towards your front foot. Place your right hand on your chest and reach down to your back heel with the left hand. This works the whole body.
Sign up for workout ideas, training advice, reviews of the latest gear and more.
Coach is a health and fitness title. This byline is used for posting sponsored content, book extracts and the like. It is also used as a placeholder for articles published a long time ago when the original author is unclear. You can find out more about this publication and find the contact details of the editorial team on the About Us page.