The Toughest Workouts in London
If pain and suffering are your idea of key workout ingredients, these people will be sadistically delighted to help you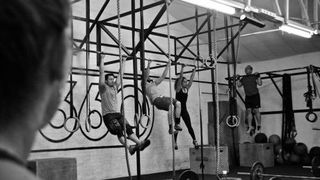 (Image credit: Unknown)
The days of casually jogging around the park while breaking a light sweat and going home to celebrate with an energy drink are gone. A significant number of today's gym-goers are fiercer, tougher and more brutal than ever. They don't want to pat themselves on the back after finding a class easy – they want to be pushed to their limits till they're sobbing and gasping for air. And there's the issue of time: most working people only have a few hours a week to make exercise really count – and that means the harder the better.
This new breed of demanding gym fanatics want to feel like they're going to die for one pitiless hour, then be delighted by their more pleasing shapes once the work starts paying off. But is this masochistic, or are there actual benefits to punishing your body until you just can't cope any more?
According to fitness experts, by torturing your body, you can change your metabolic state dramatically, altering the way you store and use fat – and can double the calories you'd burn. So in the interests of self-inflicted agony (and improved muscle definition), here are ten of London's toughest workouts.
HIIT Gyms
HIIT is similar to another four-letter word beginning with H – hell. The high-intensity form of interval training works on over 85% of your maximum heart rate for short – but horrendous – periods of time. Utilising fleeting rest periods and a variety of unforgiving equipment including punchbags, kettlebells and battle ropes – plus a heart rate monitor system so they can check you're not cheating – the workout will leave you in tatters, but the benefits are soon clear in improved fat loss and muscle tone.
Trainer Monika Sikora recalls one client, who, when she asked him for his secret for performing well in every class, said, "I imagine the punchbag is my ex-wife – or you". She admits that clients often vomit, cry and complain of muscle soreness – butm as she puts it, "There are really quick results for such a short torture session".
HIIT Gym West Hampstead sessions start from £20. hiitgyms.com (opens in new tab)
Bodyfit Total Conditioning
You know a trainer is hardcore when they've never cancelled a session, a fact Bodyfit's founder Lauren Whitby prides herself on. Her notoriously tough Total Body Conditioning Session goes ahead in snow, torrential rain or hail. Particularly memorable forms of torture include doing a mile of burpees (which takes nearly two hours), completing what she cheerily calls "suicide grids" (a warm up consisting of 60 reps of push-ups, burpees and squat jumps) and using a variety of functional kit, such as Bulgarian bags, resistance bands and 24kg kettlebells.
Whitby proudly recalls attendees saying the experience is worse than childbirth and vomiting profusely, and says, "I've had people tell me to shut up, swear at me and tell me they hope I die". Regular attendee Phil says of his most recent session, "One of the toughest bootcamps I can remember – I'm still walking like John Wayne". Try it at your peril.
Bodyfit Total Conditioning at Dulwich College Sports Club costs from £11 a session. bodyfittrainingsolutions.com (opens in new tab)
Equinox Ropes and Rowers
Ever heard the phrase "AMRAP"? Well, you'll wish you hadn't after attending the brutal Ropes and Rowers class. Standing for "As Many Reps As Possible", this new form of torture sees you perform unforgiving challenges with rowing machines, hefty ropes (with weights at the end of them, of course), kettlebells, sack weights and dumbbells.
You'll want to die by the end of it – if the ropes haven't killed you first. "For the first 30 seconds of each circuit I thought I was the fittest man in the world, but the next three minutes were a pain-filled pit of regret," says attendee Nick after his first class. "No other class has brought me as close to vomiting. Which is lovely."
Ropes and Rowers are available to Equinox members. equinox.com (opens in new tab)
Ultimate Performance Fitness
Trainer to the stars Nick Mitchell, founder of Ultimate Performance, is famed for his ruthless approach to physical fitness: he ignores the lure of cross-trainers, treadmills and cardio machines, and works on the premise that building muscle through resistance and weight training is the most important aspect of getting the perfect body.
"The more muscle you have, the more calories you burn, even at rest – and you can rest in your own time," he says. "Everyone who walks into the gym knows I'm not here to be their friend. If a client thinks I'm their mate, they're not going to push out that extra rep because they think they can get away with it. Our gyms are not spas. It's not meant to be a relaxing experience." Yikes.
Sessions at UP's gyms in London, Manchester, Marbella, Singapore and Hong Kong cost £200. upfitness.co.uk (opens in new tab)
Wireless Fitness
Just because a workout is fun doesn't mean it isn't gruelling. Wireless Fitness, a music-based park class, offers participants a workout to the latest tunes while trainers bark instructions through headphones. Don't be fooled – this isn't a silent disco with a light helping of exercise.
As Wireless devotee Kate proclaims, the workout is tougher than most. "With the music pumping, there are zero distractions – it's you against yourself," she says. "It's straight from one exercise to another, repeat, repeat, vomit." Co-founder Matt Boyles agrees. "The headphones block out enough outside noise to allow you to really push yourself," he says. "You definitely get results faster."
Wireless Fitness runs in locations around London, with monthly memberships from £36, and will be launching an app soon. wireless-fitness.com (opens in new tab)
RECOMMENDED: Workout Music: 80s Tunes to Make You Train Harder
Ray Conway
At 57, you might think personal trainer Ray Conway would favour a slower approach, but he only gets tougher with age. An expert in gymnastics, martial arts, circus and Latin American dancing, he bases his intense workouts around strength, athleticism and movement, and adopts a CrossFit-like style of training to truly batter his clients.
He also enjoys winding up his regulars, giving them "Man-Up Pills" (a medicine bottle with soft mints inside) should any of them dare to "act like a wimp". As one client, Howard, comments, "There's intense pain every session. My body aches for days. I call him every name under the sun and still get the piss ripped out of me nonstop. And I pay for this physical and mental abuse – I must be mad."
Ray works at CityGolf health club in the City of London and charges £70 a session. rayconway.co.uk (opens in new tab)
Performance 360
If you're bored with running, spinning and sit-ups, you might need to take a trip to Performance 360, where everything from CrossFit and calisthenics to Brazilian jiu jitsu and muay Thai is available to make you wish you'd never been born.
"Nothing worth having comes easy and that includes fitness. We don't do gimmicks, thrills, fad diets and false promises – just good old-fashioned hard work," says owner Ed Brown. "We put our clients through hell on a daily basis and they love it."
And are they ever allowed to stop? "The only excuse we accept for not finishing is if you're injured," Brown says. "If you haven't hurt yourself then you seriously need to man/woman the fuck up and crack on until you're done." Beware: this is serious stuff.
Performance 360 in Crystal Palace has three different memberships starting from £85 per month. p360uk.com (opens in new tab)
Personal Training By Emma
Emma Sharav may look like a sweetheart, but once her deadly workouts begin, you know she's anything but – she pushes her clients to the point of collapse. Emma believes the best workouts aren't about lifting the heaviest weights, but about constantly beasting new muscles. "I maintain a high intensity throughout," she says. "No idle chit-chat, no waiting for a machine to be free – you're constantly working."
She's known as a "scheming, smiling, evil torturer", and Emma's winning grin actually tricks clients into working harder. "Emma's very clever – she pretends she can't count so you do extra reps," says client Aliki, while another, Pete, says, "Don't let her sweet, friendly, demure nature fool you – I was nearly sick during and after the first session". You've been warned.
Sessions in Swiss Cottage cost £70 per hour. personaltrainingbyemma.com (opens in new tab)
GymClass
Nobody likes full-body HIIT cardio or resistance work, so you can imagine how hideous a workout is when it mixes both disciplines together. GymClass does just that, torturing clients with constantly different workouts that keep their bodies guessing, using everything from TRX and kettlebells to ropes and tractor tyres. GymClass trainer Helle Hammonds, who admits her clients often have to leave the room to vomit or get fresh air, says: "People now have more awareness of fitness and know that a mediocre workout produces mediocre results – nobody wants that."
However, after another backbreaking round of TRX, you might find yourself wanting to lie down in a puddle of your own sweat for a very, very long time.
Prices start from £15 for a class at GymClass Holland Park. gym-class.co.uk (opens in new tab)
PUSH @ The Hox
Forget a measly hour – or even two – of punishing exercise. The newest way to bulk up while wishing you were dead is to join a PUSH session at Holborn's The Hoxton, a whole morning led by Bear Grylls's personal trainer. Through three sessions of boxing, cardio and HIIT, your limits are well and truly pushed – though you can congratulate yourself for literally spending half your day beasting your body.
"It was around 30 minutes into session one that I felt sick. Really sick. And faint," says one attendee, James. "Do go if you want to work hard and get results. Don't go if you think it's going to be like a spa morning."
Visit pushmindandbody.com (opens in new tab) for more info
Sign up for workout ideas, training advice, reviews of the latest gear and more.
Deborah has been a journalist since 2014 and contributed to the print edition of Coach. She has written for a range of titles, including Women's Health (opens in new tab), Good to Know (opens in new tab), Stylist (opens in new tab) and many others.