Outdoor Fitness Classes in London
The arrival of summer is the perfect time to take your workout into London's great outdoors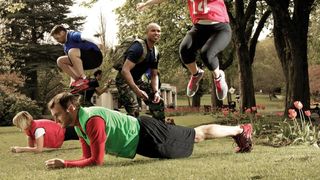 (Image credit: Unknown)
If you've ever found outdoor activity more enjoyable in summer you won't be surprised to find there's actual science to back that up. A study in The Journal Of Environmental Psychology showed that exercising outdoors upped your enthusiasm and energy, while the University Of Exeter found that participants in its study described themselves as "revitalised" and that it even lowered levels of anger.
So with the sun shining, here is where you'll find the top 10 ways to get an outdoor workout, from swimming classes and boot camps to park gyms and boxing, plus everything in between.
1. British Military Fitness
This hugely popular brand has expanded into many areas, but is still best known for its outdoor boot camps, which take place in parks all over the UK, with 30 locations in London alone. Although these don't just run in the summer months, most people will find them infinitely more pleasurable on a bright, warm morning than wrapped up while you and your classmates are battered by freezing rain and wind in the dark (like actual members of the military). All 400-plus instructors have military experience and each class will feature a selection of bodyweight exercises to boost cardio and muscle development, plus most groups have a thriving social side with frequent events held after sessions. And no, it won't feel like you're being shouted at by a sergeant major with anger issues. From £2.67 per class, britmilfit.com
2. Boxit
Most gyms will have boxing-related classes or equipment available, but you may be surprised to find that this is also something that can be done in your local park (providing you're local to either Wandsworth or Clapham Commons). Don't expect a full boxing ring or even a punchbag, but you'll find enthusiastic coaches with punch pads ready for you to come out swinging. It's very accessible: gloves are provided, and the focus isn't on punching people in the face or coaching you to Anthony Joshua level. Instead it's a good all-round workout that happens to have a boxing focus with lots of the bodywork action you'd get in other boot camp classes. So if you've had a frustrating day, then few things are more cathartic than safely punching things with impunity. From £3.17 per class, boxitbootcamp.com
3. Muddy Plimsolls
Whenever you walk into a gym you're presented with countless opportunities to sign up for sessions with a smiling personal trainer eager to pass on their muscular knowledge and finally make your life complete. Most people who want to lose weight or get fitter could benefit from having someone create a personalised training plan, give them encouragement during a tough workout or correct mistakes. But not all those people want to pay for gym membership or spend their time in a sweaty, noisy room. So for those people, an outdoor trainer is ideal. The team at Muddy Plimsolls come from a variety of fitness backgrounds (from rugby to dance) and work with clients at parks across London. Don't see anywhere that close to you? Don't worry, they'll come to you. From £62.50 per session, muddyplimsolls.com
4. Parkrun
Running on a treadmill in summer? You'd better have a bloody good reason because you'll find it infinitely more enjoyable and productive doing it on a sunny Saturday morning. Parkrun has been credited with getting people out and running for the first time and is as suitable for experienced runners as it is for novices. They key to its success – aside from the fact it costs nothing to take part – is that although it's a timed 5km run, it's not actually a race. Everyone can tackle the distance at their own pace without worrying about any sort of competitive element changing the atmosphere. There are now weekly runs at nearly 400 British parks, many with hundreds of participants in each. Free, parkrun.org.uk
5. The Great Outdoor Gym Company
If you want the benefit of the sunshine and fresh air, but also crave the freedom of planning your own workout on gym equipment, then you no longer have to pick one or the other. Outdoor gym equipment has cropped up in town and cities nationwide with most London boroughs having at least one available for public use. Obviously hardcore gym-goers are not the target audience for these areas, but are ideal if you want to dip your toe into the water or even add something to the end of a run you've completed in your local park. There's no messing around with choosing the weight or speed, instead they use your own bodyweight so you're never going to bite off more than you can chew. Free, tgogc.com
RECOMMENDED: Outdoor Park Workout
6. Parkour Generations
If the closest you've come to trying parkour – running and clambering over urban obstacles – is watching the opening sequence of 2006's Casino Royale, well, you're in good company as it's still quite niche. That scene alone took the crew three weeks to shoot, but you can cram a decent amount in with just a two-hour class. The beginner sessions on Saturday mornings (held at a different London location each week) are one of four outdoor options available and will give you a thorough grounding of the basics. Sunday morning's Weekend Wakeup is also suitable for beginners and will give you an outdoor parkour-themed workout. If you're a little more advanced, the Monday and Tuesday evening classes may be more up your street. Or over it. From £12.50 a class, parkourgenerations.com
7. Zip Fit Club
Targeting office workers who are sick of being stuck at their desk, these sessions in Hyde Park offer intense bursts of outdoor exercise at Monday, Wednesday and Friday lunchtimes (three time slots for each day). You'll start with a jog and a stretch to get warmed up before 20 minutes of interval training taking in cardio work and bodyweight resistance. There are no more than 10 in each class, but if you want a private corporate workout these can be booked for Tuesday and Thursday evenings. Certainly a bit healthier than you and your workmates just heading to a beer garden. Although there's nothing to stop you going there afterwards. From £5 a class, zipfitclub.co.uk
8. Outdoor Fitness Collective
If you're looking for more ways to pack in a selection of activities under open skies, then joining the Outdoor Fitness Collective will give you ample opportunity to expand your horizons. It hosts a number of bike sessions – including the "Pre-Work Social Cycle" in Richmond Park before cars are allowed in – plus circuit-training options, boot camps, strength and conditioning classes, and even free group swims in the Thames. If this gives you the bug for outdoor adventure, then the Collective also runs an annual trip, which in 2017 will be whitewater rafting in Nepal. This will put the Thames swimming into perspective, at least. From £10 a class, outdoorfitnesscollective.co.uk
9. Basefit
Gyms are brilliant. They have a great selection of equipment and facilities all under one roof. But what if you took the roof off? The structural engineers among you may baulk at the suggestion so instead BaseFit just decided to leave it roofless in the first place (don't worry, the showers and changing rooms aren't exposed to the elements). While you can't just turn up and use the equipment on your own, like in a normal gym, there are alfresco classes each morning, lunchtime and evening, some of which are "open sessions" where you can do your own thing. From £9.17 a class, base-fit.uk
10. Free Fitness
If simply going out for a run in a local park isn't going to cut it for you, then this class could be the ideal fit. These Saturday morning classes on Clapham Common will have you running and sprinting your way to a full cardio workout with a selection of circuits to keep you busy. Don't worry if you're not that fast – or indeed that fit – because you'll be grouped according to your level so you're not staring into the distance at a bunch of experts you can't dream of keeping up with. Yet. £10 a class, freefitness.uk.com
Sign up for workout ideas, training advice, reviews of the latest gear and more.
Ben Isaacs was the features editor of the print edition of Coach until it shuttered in 2016. Ben is currently the features editor at The Week Junior.