What to Do if You Don't Have Time to Exercise
Lots of things stand in the way of getting fitter, here's how to deal with them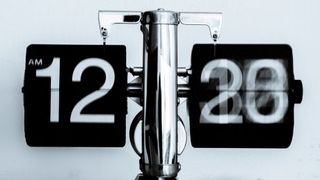 (Image credit: unknown)
It's all too easy to find an excuse to get out of going to the gym. But while missing the odd session won't derail your efforts to build a fitter and healthier body, making a habit of it certainly will. And while we are more cash-strapped, time-limited and energy-drained than ever before, it doesn't mean working out should ever be below catching Pokémon on your to-do list. Follow these five tips to turn your procrastination into motivation.
I don't have time
It's an appealing rationalisation to make: you haven't got a spare hour to spend at the gym so you might as well write off exercise entirely. Trouble is, it isn't true. Research from McMaster University in Canada indicates that exercising twice a week for 20 minutes each time can lead to "significant improvements in fitness".
RECOMMENDED: HIIT Workouts
The secret is bursts of high-intensity effort followed by minute-long rests. "For a short workout that's a brilliant conditioning tool yet still helps with muscle gain, nothing beats a barbell complex," says strength coach Chet Morjaria. "A barbell complex is simply a series of exercises done one after the other without putting the bar down."
Do five rounds of ten reps of the following barbell moves without putting the weight down between moves: deadlift, bent-over row, push press, back squat.
RECOMMENDED: A Barbell Complex for Your Lunch Hour
I always feel tired
When making it through the daily commute/work/TV grind is leaving you exhausted, anything else seems like a Herculean task. The solution is almost too obvious.
"Sleep is crucial, yet often neglected," says Morjaria. "And the quality of your sleep is as important, if not more so, than how many hours. To improve it, avoid blue lights in the evening (this includes TVs, computers and phones) because they suppress melatonin, the hormone that causes sleepiness. Also invest in blackout curtains. Deeper sleep at night will boost your energy during the day."
When the dawn arrives, embrace it – sunlight's the best source of vitamin D. "Take every chance to get out in the sun," says Morjaria. "A lack of vitamin D can negatively affect sleep, recovery and appetite, which can lead to fatigue. In winter, supplement with vitamin D to make up for the lack of sunlight."
I don't have any kit
Whether you can't afford gym membership or you're frequently stuck in cramped hotel rooms, it's tempting to write off training because you've got no access to a squat rack.
"Humans can squat, lunge, push and pull, and move in three planes of movement," says W10 Performance coach Tom Eastham. "These are our basic movements and you can do them without any specialised equipment. You can put together a workout that combines these and do it anywhere, while embracing your newfound freedom to move your body as nature intended."
For a training session that will push you to your limits whatever your environment, try the classic CrossFit workout known as Cindy. This involves doing five pull-ups, ten press-ups and 15 squats as many times as possible in 20 minutes. If you haven't got a pull-up bar, throw a towel over the top of a sturdy door (to protect your hands, not the door) and get to it.
RECOMMENDED: Home Workouts
My family life is busy
It's tempting to look at single/childless mates and conclude that they must have unlimited time to train. While that may be partly true, it's no excuse if you haven't, says Neil Sinclair, a former soldier and author of Commando Dad.
"Sacrifice everything that you don't know to be a productive use of your time," Sinclair says. "If you can't train because you need to schedule it alongside playing on the PS4, you need to re-evaluate your goals. And gain home support – I explained to my wife why I wanted to train, then worked to ensure she had as much free time as I had training time."
Finally, you could double up. "Making your training a family activity will let you train during normal hours and set an example to your children," says Sinclair. "Take them to a park and do some laps, and if you can, take them to watch you compete. Pictures of me doing the Tough Guy race have gained legendary status in our house."
RECOMMENDED: The Apprentice 2015 Winner Joseph Valente on Staying Fit When You Work All the Time
I'm carrying an injury
Who isn't? But if you don't want to let it prevent you from getting fit, you need to stop complaining and fix the problem.
"If an old injury is bothering you, chances are you gave up and didn't bother doing proper rehabilitation," says Eastham. "So the first step is to find someone who can guide you through a rehab programme. There's always something you can do, but it's usually simple and mundane so it puts people off – it rarely involves throwing huge weights around or running for miles, and you have to do the hard work to see any progress. Balance training is challenging and will test your stability while strengthening supporting muscles that are often the cause of injury or pain.'
Never been injured? Make sure you prehab properly and it should stay that way.
RECOMMENDED: How to Avoid Sports Injuries and Replacement Activities
Sign up for workout ideas, training advice, reviews of the latest gear and more.
Coach is a health and fitness title. This byline is used for posting sponsored content, book extracts and the like. It is also used as a placeholder for articles published a long time ago when the original author is unclear. You can find out more about this publication and find the contact details of the editorial team on the About Us page.