Christian Williams Turns To Juicing
It's week five of the Virgin Radio DJ's new fitness regime, and he's hitting the vegetables hard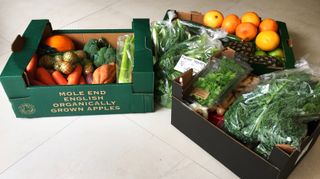 (Image credit: Unknown)
So, five weeks in and it's all going really well… I think? I'm slightly surprised I haven't turned into a vegetable though, the amount of them I'm eating. The Great British Bake Off could not have come at a worse time. WHY AM I STILL WATCHING IT WHEN ALL I AM EATING IS GREEN STUFF?
I said in a previous blog that I'm not even craving bad food any more – but I'm sure that when people try to give up smoking, they have days when they relapse and smoke a whole pack. All right, I can't keep it to myself any more – I had a burger yesterday. FAIL! But is it really?
I say that because – even though I'm proud that I've been eating so well – it tasted so, so good. Sometimes you just want to pig out, so I did. Sue me. I'm only human.
But in fact I am actually really enjoying eating healthily. There is so much choice when it comes to fruit and veg. I've become quite addicted to juicing, and my PT Ruben Tabares and his friend Alex are to blame. Alex runs a fantastic fruit and veg delivery service called the Organic Delivery Co, and he dropped off some food to help me start juicing while Ruben sent some recipes.
It's fun experimenting with different fruits and veg. Typically it's good to go three parts veg to one part fruit because fruit has a fair amount of sugar in it. My top tip? Be careful with the ginger – even the smallest amount really does pack a punch! I got it wrong and the taste of ginger overpowered everything else.
So apart from the burger, my diet's been both good and interesting. As well as lots of chicken and veg, I'm enjoying cooking fish, lentils and salads. Spinach is in nearly everything I cook now.
I'm amazed at how much I'm eating, yet not putting on any fat! My weight is going up slightly, true, but that's because the muscle I'm gaining actually weighs more than the fat I'm losing.
With my job it's really hard to stick to a meal plan but I'm doing the best I can. Sometimes I have to have an extra protein shake if I don't think I've eaten enough, but getting protein from a shake isn't as good as from the food itself so I'm trying to avoid that if I can.
RECOMMENDED: The Best High-Protein Diets
I'm still working out most days – even at the weekend now. It's hard work and takes up a fair bit of time. I'd like to take this opportunity to say sorry to my mates who think I'm not making time for them. Someone asked if it's because I have a new girlfriend – but actually I'm just in the gym!
I look at myself every day and, to be honest, I haven't noticed much difference in how my body looks. On the other hand a few of my friends and family have said I've "bulked out a bit". I guess that's a good thing, right?!
So I just need to crack on for another week or so before those final pictures… I'm excited to see how different I will look. But actually, what I'm happiest about so far is how my mental attitude has changed. Not only with how much I work out and what I do, but what I eat. OK, we all want a burger sometimes, but I swear it tastes better when you only eat it now and then rather than every other day, which I was doing before.
Stand by for the next blog and what might be a picture showing a great change in my body… or a picture of me crying. Let's stay positive!
RECOMMENDED: Read more from Christian
Christian Williams presents the weekend breakfast show on Virgin Radio, 6-10am.
Follow Christian's fitness journey at coachmag.co.uk/christian, on his show on digital radio, online at VirginRadio.co.uk or via the Virgin Radio app, and on Christian's Twitter and Instagram with the hashtag #coacheffect.
Sign up for workout ideas, training advice, reviews of the latest gear and more.
Christian Williams is a presenter on Virgin Radio and in 2016 Coach helped Christian get fit, and you can follow and learn from his progress here.