How To Train Like Anthony Watson
Use the England wing's training tips to build a grand slam body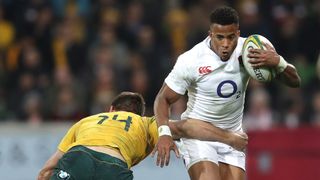 (Image credit: Unknown)
"Pressure is a privilege," says England rugby union winger Anthony Watson. "That's the phrase that stuck in my mind when I was working with a performance coach called Don Macpherson at my club, Bath. He said you only get pressure if you're in certain situations so there's no point in letting it get to you – use it to give yourself a boost."
It's advice that made an impression on the 22-year-old, and it seems to have been adopted by the entire national side since their failure in the World Cup group stages in late 2015. The players took the opportunity to regroup under new head coach Eddie Jones and stormed through 2016 winning every one of their 13 games, collecting a Six Nations Grand Slam and four wins against their arch-rivals Australia, including three in the Wallabies' own back yard, along the way.
Watson was a key part of that success and, as one of the younger members of the squad, looks set to be an important part of their redemption project at the next World Cup.
RECOMMENDED: Get Rugby Fit With England Hero Maro Itoje
It's no surprise to hear the players talk positively about Jones's impact. Before this year's Six Nations, Watson told a press conference that the Australian had given international training camps "a club atmosphere" – a sense of togetherness that has made them into a formidable team. Throw in a competitive instinct and you have a bunch of elite athletes all pushing themselves to be even better.
"It's always fun to do tests because everyone gets competitive," says Watson on the gym work that lays the foundations for success. "We do Wattbike sprint tests to assess our peak power and we also use a thing called Gym Aware, which can measure your bench press power. I'm pretty good on the Wattbike – I'd say I'm in the top five. I'm good at generating power on the light weights on the bench press, but I'm not as good when it gets heavy."
Players are often reluctant to single out team-mates for either praise or criticism but according to Watson, one player does stand out in training. "I'm always impressed by George Ford," he says. "He's a fly-half and there's so much pressure on him… he could get out of a lot of bits of training, but he gives it his all. My own mentality is, if you're in the gym, there's no point wasting time. If you only work at 50% effort it'll just take you longer to get to where you want to go."
The all-in mentality is clearly working for Watson and his team-mates. Read on to follow his training tips and achieve get your own elite-level performance and results.
RECOMMENDED: What You Can Learn From The Welsh Rugby Team's Training
Get explosive
"I've worked with Jonas Tawiah-Dodoo [coach to Chijunda Ujah, Britain's third fastest man over 100m] and we did a lot of plyometric work, trying to make me feel bouncy and light on my feet," says Watson. "We focused on the start of a sprint and how to shift your bodyweight faster. He got me to focus on trying to increase my leg speed while also lengthening my stride. You have to stay low and then be as smooth as possible as you transition into standing up."
Want to get even faster? Make sure you're pumping your arms, with elbows bent at 90°.
Short and swift
You'd be forgiven for thinking that training for speed involves lots of 100m sprints. In fact, sportsmen very rarely sprint for long distances, focusing instead on their pace over short bursts.
"If we're doing sprint repeats I try to limit the distance," says Watson. "A couple of years ago at Bath I did a 90m sprint all-out in training and pulled my hamstring. When you run at high intensity for longer distances you can increase your risk of injury. Now I keep it relatively short. A 100m sprint isn't likely to happen during a game – the maximum distance I'll probably have to run at top speed is 30-40m."
Build leg strength
If you want to get faster, you need to get stronger. "I've found recently that leg strength is key to improving acceleration,' says Watson. "For the last few months I've tried to do my key legs exercises as often as possible and I've found that has really helped and translated into improvements in my 10m speed. I've found doing Bulgarian split squats very helpful. I've tried a few different exercises and that's worked well for me – it has helped with rugby-specific scenarios such as 10m sprints. Every Monday I do three sets of four or five reps on each leg."
Harness power
"For rugby power, I do weighted box jumps," says Watson. "I also do hurdle jumps, with four or five lined up in a row, about one handle-width apart. The aim is to be quick off the floor to build reactive speed. Jonas said to me, 'Try to jump before you've landed'. The point is, you don't want to wait to feel the floor. Keep your toes up and be ready to go into the next jump."
If you're not an elite athlete, it's sensible to do box jumps without extra weight. And it's not the height that matters - it's the intensity. Go all out for three sets of three to five reps when you're fresh.
Last the distance
"I'm doing more speed work plus a bit of upper-body strength work at the moment," says Watson. "I'm also working on my recovery, making sure I warm down, have an ice bath, stretch and have a protein shake. It's not the exciting part of training but it needs to be done and I'm looking at the long term – I'll reap the benefits later in my career."
Let's face it, no-one relishes mobility work and stretching, but write it into your session plan before you get to the gym and you're less likely to skip it.
RECOMMENDED: How George North Got So Good
Anthony Watson is a Maximuscle ambassador and was speaking at the launch of Maximuscle's Home of Gains. Visit maximuscle.com/home-of-gains (opens in new tab).
Sign up for workout ideas, training advice, reviews of the latest gear and more.