Why Ant Middleton Ditched The Bench Press
The former SAS man turned adventure survival specialist on his go-to gadgets and why he switched from lifts to functional training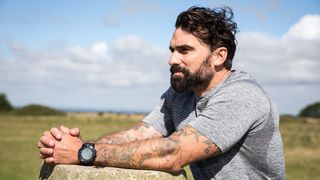 (Image credit: Garmin)
Look at Ant Middleton and three words spring to mind. Brick and house are two of them, but the former military man turned Channel 4 survival expert isn't moving iron in the gym to build his frame, as we found out when we spoke to him after he was announced as Garmin's new ambassador.
Sure, Middleton probably doesn't worry about hitting his 10,000-steps-a-day goal, but he still relies on fitness trackers – specifically, Garmin's multi-sport GPS Fenix range. We took the opportunity to quiz him about his training, how he uses the tech and his never-ending journey.
What kind of training do you do?
I do a lot of functional training, so anything from military circuits to resistance bands. I like that it's all about the movements used in everyday life. I do lots of explosive training as well – movements similar to when you sprint across the road, or run up a set of stairs, for example.
I'll throw in some kettlebells to get some muscle definition, but resistance bands are very good for that too if you use them right. I'm not snatching or bench pressing – when are you going to use the muscles you use in the bench press unless you're underneath a vehicle?
How often do you train?
Normally I train four times a week – but I'm always willing myself to get up every day and be ready to train. In my head, I'm prepared to go seven days a week. If I was aiming for three or four times a week and miss one or two, then that halves my output, doesn't it? I try not to fall into that trap.
Where did your emphasis on functional training come from?
I went through a stage where I was bench pressing 160kg quite easily, but I found I was getting too bulky and my movements were restricted. I'd go out on operations and I wouldn't be able to fit through certain doors or cubbyholes. And I was picking up some injuries, particularly in my shoulders, because I was just pounding it so hard.
A couple of years ago, in my early 30s, I realised that I needed to switch things up. I wanted a way of maintaining my high level of fitness so I jumped into functional training. And it really is functional – every day's a chest day, every day's an arm day, every day's a leg day. A lot of people make the mistake of transitioning too late in life. When I'm 70, I still want to be that guy who's in the gym and going out on 5K runs. I don't want to ever have to limit myself.
Is there anything you particularly enjoy doing as part of your fitness regime?
I like all the core stability stuff. I like advanced planks because it's not just a case of getting down and banging out ten press-ups. You really have to concentrate on holding that position to get the best out of it. Not only does it challenge you physically, but mentally too.
A lot of core stuff challenges you mentally, actually. You have to maintain a great posture to get it absolutely right, otherwise you're not getting the full benefit from that exercise, or you're risking an injury.
It sounds like you work on your mental strength, too…
I'm a very positive person. I like to keep a positive mindset. Rather than concentrating on and trying to right the negatives in my life, I'll focus on the positives and build on them. Doing that will not only help you find a positive mindset, but flush out the negatives too.
But I'm always challenging myself too. I know where my weaknesses are and I'm brutally honest with myself about them. If you know where your strengths and weaknesses are, then that can help massively with knowing your capabilities and risk taking. I'm not reckless with my risk taking – everything is calculated. Although I'm out of my comfort zone, I know that's where I operate best. There, the mind learns and grows. You need to challenge it to make that happen.
Mindset is very important to me. I'm not the fittest person out there, but I know I've got an edge because of my mindset. I know I could push myself further. I know what my body is capable of. I know where I can go.
You're always challenging yourself with demanding situations, be it surviving a plane crash scenario or being stranded at sea. Does having an end goal like that help with your training?
The end goal doesn't matter to me. I do have one, but whether I get there or not doesn't matter. As long as I'm headed in that direction, I'm good. What's more important are the lessons I learn along the way. Sure, you need a focus, but you may find halfway through the journey that your end goal changes. Or it's diverted you off to the left or the right. You need to allow that to happen.
You've recently become a Garmin ambassador. What kind of tech do you use for your training and how does it help?
I've used Garmin products for the past ten or 15 years. When I was in Special Forces, we'd get dropped 15km behind enemy lines and I'd use my Garmin Foretrex – a wrist-mounted GPS – and it would take me over mountains and always drop me right on target. It's sorted me out in a lot of sticky situations.
Nowadays I have a Fenix 5X. It's great for someone like myself. I'm a solo adventurer really – I like to take off mountaineering by myself – but I never feel alone with this on. My wife can track where I am and I can send out messages – there's a comfort in that. I can push myself a little further, because I have that safety net.
It's ideal for novices too. If it's your first time in the Brecon Beacons, for example, you tell the watch you fancy doing a 10K round route, and it'll ping up a route for you and guide you around it. You don't need any map-reading skills or compass knowledge – you're just off. It's incredible. There's no excuse not to get out there!
Finally settle this pub debate for us. We're in a desperate plane crash situation. Who should we choose to have with us: Ray Mears, Bear Grylls, Ed Stafford or Ant Middleton, and why?
Fucking hell, there's only really one real deal in that list and that's Ant Middleton. You've had too many pints if you're even asking that question.
Ant Middleton is Garmin's new outdoor brand ambassador and the face of the Garmin Fenix 5 range, visit garmin.com/fenix to view the Fenix range
Sign up for workout ideas, training advice, reviews of the latest gear and more.
Craft beer drinker, Devonian, fisherman and former content director of Coach online, Chris contributed style coverage and features between 2016 and 2019.