Sophie Anderton's Tough Mudder blog 2
Taking a break to the Bahamas didn't Sophie stop training... in fact, it had the opposite effect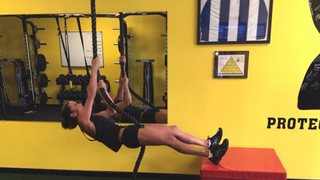 (Image credit: Unknown)
I've been away in the Bahamas for the past two weeks and it's been amazing. There's nothing like getting away from the chaos of London sometimes, and the break has been really good for my training, too. Don't get me wrong, though – daily runs in the 38°C heat with 80% humidity is not something I'd call ideal training conditions. That said, it has given me the chance to focus on my training and get into the strong headspace I need to be in when I take part in Tough Mudder.
Training in extreme temperatures has meant I really had to push my body to the limits. Over the two weeks I managed to slice four minutes off my mile times, going from 12-minute miles to eight-minute ones! I arranged a workout programme with Transition Zone so I could work with a trainer while I was out there. Jimmy Mac from MACFit360 helped me focus not just on speed, but also on strength and stamina. I did 15km speed walks to help build up strength in my ankles and knees, so I didn't have any problems when completing the obstacles or running on the slippery mud.
I'm feeling a lot more confident about Tough Mudder now, and I'd say that my training is definitely paying off. I was initially worried about the wall climb, but as I've been concentrating on improving my upper-body strength with the use of gymnastics rings and ropes, my fears are slowly dwindling away. For example, I could only hold myself (on the rings) for about ten seconds to start with, but now I can hang for around a minute.
I've also been ending each day with an AntiGravity yoga session to help me relax. This session took place at the Island House in Western Nassau, and it combined traditional yoga moves with aerial art, Pilates and dance. It helped improve my flexibility while enhancing my strength – and it definitely was a perfect thing to do in the run-up to doing a Tough Mudder! I'm almost ready... Bring on the mud.
Sign up for workout ideas, training advice, reviews of the latest gear and more.