Sophie Anderton's Tough Mudder blog 3
On her last week of training, Sophie ups the ante and gets serious about beating her previous Tough Mudder time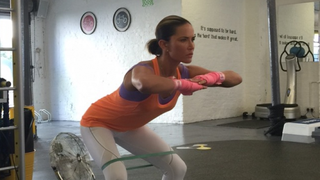 (Image credit: unknown)
Only one week of training left until Tough Mudder - and I am starting to get butterflies. I'm both nervous and excited. On one hand, I'm dreading it but on the other, I can't wait to complete it and see if all my hard work has paid off. I really want to beat my last Tough Mudder course time, and I'm feeling much more confident about that as the days go by because I can see how my strength and stamina have improved over the past few months of training.
My trainers at Transition Zone have been upping the ante over the last couple of weeks, too, to make sure I'm never slacking. It's been intensive training across the board to fully ensure I'm ready for all the different elements of Tough Mudder. We've been doing lots of boxing to work on my cardiovascular endurance, as well as short bursts of sprinting to improve on my speed and agility. And as ever, we've been doing lots of squats, on and off the rack!
I've been working hard to improve my weak right ankle and my upper-body strength by doing cross-training with lots of TRX and Reformer Pilates chair. These are both perfect for my core and upper body, as well as for building resilience – physically and mentally. Of course, I still have to ensure my diet and calorie intake are just right so I can give every session my best effort.
Now that I'm back in England after my trip to the Bahamas, I've been doing lots of Bikram Yoga in the evenings. The heat of the room really pushes me and improves my flexibility, stamina and endurance – and with these sweaty classes lasting 90 minutes, it's easy to pretend I'm back in the tropics!
During my taper period in the lead-up to the event, I'll keep working on my stamina, upper-body strength and core using the PowerPlate and TRX, but it won't be anything too challenging or intense so I don't overdo it or injure myself before the event. My last session before Tough Mudder will be on the Friday (the event's on Saturday 24th September) and we're planning to focus on my stretching and flexibility (and my game plan…) so I'm ready for all the obstacles they throw at us.
Transition Zone is packing a little pre-event energy snack pack for me, which will be all nutrient-dense, freshly made by their Recovery Café. But my post-event recovery massage is already booked – and I'm sure I'll need that! Fingers are crossed that I beat my last time… Wish me luck!
Sign up for workout ideas, training advice, reviews of the latest gear and more.
Coach is a health and fitness title. This byline is used for posting sponsored content, book extracts and the like. It is also used as a placeholder for articles published a long time ago when the original author is unclear. You can find out more about this publication and find the contact details of the editorial team on the About Us page.