The Chicago Marathon Course, According to Chicago Finishers
Prepare for a PR with this mile-by-mile guide to the fastest World Marathon Majors course in the US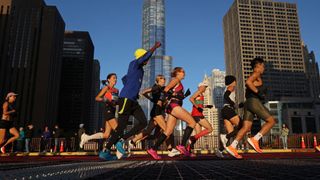 (Image credit: Antonio Perez/Chicago Tribune/Tribune News Service via Getty Images)
When most people think of the Chicago Marathon, the flat, fast course and supportive crowds spring to mind. In fact, it's the fastest of the three World Marathon Majors held in the US—the previous women's world record and current women's American record were both set in Chicago—which explains why thousands of runners make it their goal race each year. But while the course may be predictable, terrain-wise, it still pays to run smart, especially if the weather is on the warmer side, as it has often been in recent years.
"One of the beauties of the Chicago Marathon course is it's very flat, so you can try for super-even pacing and splits for basically the entire race," says Sage Canaday, a run coach and professional ultra-runner for Hoka who ran the Chicago Marathon in 2010. "Although it's called the Windy City, I found that the large buildings downtown often shelter you from the wind. With a lot of right-angle turns you are also changing direction a lot so this can mitigate the effect of any wind. It's not like running on the Chicago Lakefront Trail by the water."
"Chicago is a flat and PR-friendly course, but if you don't conserve energy you'll pay for it later, so my best advice is to not sprint out the gate," says Bridget Chamberlin, a Chicago-area resident who's run the marathon six times and is set to run it again this fall. "Flat means your quads and hamstrings don't take turns, so you're pounding your legs into the ground from start to finish."
Canaday also warns runners that the large buildings near the downtown start of the race can throw off the accuracy of your running watch, which can be tricky if you're trying to maintain a certain pace. "I suggest runners just manually split the miles at each marker," he says.
Chamberlin also notes that there are a number of turns on the course, since it's a loop, and recommends finding a balance between slingshotting the turns that will add distance and getting caught in the congestion.
"Sometimes being just off the blue line signifying the tangent line is best because all 40,000-plus runners will want to stick to that same line," she says.
Read on for a mile-by-mile guide to the famous Chicago Marathon course.
Miles 1-3
According to Kevin Colish, a native Chicagoan and four-time Chicago Marathoner, the race gets off to a crowded start as you run out of Grant Park and through the city's central business district. Known as the Loop, this is where crowds of spectators gather in increasing numbers as the morning goes on. The first mile is a good spot to toss extra layers to a friend or family member if you spot them on the side of the wide streets, he says.
"The kick-off beats of Start Me Up by The Rolling Stones are an incredible rush," he says. "It's easy to get swept off your pace as you try to beat the crowds out of the gates and run under a couple of overpass bridges with the first cheering fans, so try to maintain your cool for the first couple miles."
Miles 4-9
The entire first half of the marathon route is lined with cheering crowds as you head through the Loop, up to some beautiful (and shaded) north-side neighborhoods winding through Lincoln Park and running adjacent to Lake Shore Drive, Colish says.
"A few highlights are a retirement home at about mile 4 where many of the residents are watching from the windows cheering the racers on," Colish says. "At around mile 5.5, there are two quick turns where a live band usually sets up at a corner and belts out rock standards for hours. Music is heard all along the course, but something about the live energy of the band is always memorable to me, especially as you're working to hit the 10K mark and really settle in for the long haul."
As you approach mile 5, you'll also come into Lincoln Park, which is one of the quieter sections of the course according to Kari-Ann Wanat, a three-time Chicago Marathoner and RRCA-certified run coach based in New York City, who puts out race cheer zone guides on the Instagram account @runnrace_cheersquads.
"The park is one of the few sections of the race that's surrounded by grass and trees," she says. "There are still people cheering, but they don't roll as deep as they do in other parts of the course. Enjoy this calm section because before you know it, you will be out in the city streets again."
After you hit mile 8, you'll come back from the most northern point of the course to return to the Loop, meaning the scenery will still be similar.
"You'll also go through Northalsted (formerly and probably to many still known as Boystown), where drag dancers line the streets, and entertain crowds and runners with more great loud music," Colish says. "If you're not awake by now, the energy will get you amped as you run back to the Loop."
Since there are only a few blocks between the course going north at mile 7 and returning south around mile 9, it's especially easy for spectators to catch a runner going both directions regardless of how speedy the runner is and how slowly the spectators walk.
Miles 10-13
According to Chamberlin, miles 10-13 are particularly well supported as you run through the Old Town, Lincoln Park and River North neighborhoods.
"River North is a great place for people to have friends and family spectate," she says. "They can easily catch runners around mile 12 and then cross back over to the finish. It's also a good place to pay attention because people tend to recklessly cross the street here."
Just before you reach the halfway point, you'll be able to see the famous Sears (now Willis) Tower, says Kim Maves, a Chicago-based runner who has run the race three times.
Miles 14-19
The Chicago marathon can begin to feel hard after the halfway point, Colish says, because the route runs westward from the Loop into areas that have fewer spectators.
"The westward section runs out of the Loop once again into areas with more low-lying buildings as you approach the United Center (home of the Bulls and Blackhawks). If it's sunny, be prepared to deal with that sunshine for quite a while," he says.
Colish also notes that the route includes multiple bridge crossings over the branching river. Some of these are traditional metal grates, but there are carpeted sections along parts of these bridges as well.
"If the grates start to feel weird to run on over the course of the day, try running on the carpeted sections instead for a bit more even terrain, even though you will still feel the texture of the grate a bit beneath," he says.
The charity team cheer tunnel is around mile 15, Colish says. This will provide a hit of support, but the combination of sparse crowds, previous miles banked, lack of shade and straightaways can make this a tougher section.
Mile 17 features one of only two hills on the course, which is nothing major and shouldn't mess with your rhythm or pace. Around mile 19, you'll run through Pilsen, where runners are typically treated to music from live mariachi bands in this predominantly Latino neighborhood you can expect to be filled with spectators.
"My absolute favorite neighborhood is Pilsen—they bring the energy, and if you are having a fun day, sometimes they bring the tequila," Chamberlin says.
"Even though the Loop has huge crowds, the spectators here come out of their homes and some set up their own aid stations with water, candy and pretzels to keep runners going," Colish says. "Some also offer shots of tequila or cans of beer."
Other landmarks to look out for include the Chicago White Sox stadium at mile 22 before you enter the Illinois Tech campus just before mile 23.
Miles 20-22
Mile 20 also hosts 3run2's cheer squad, Maves' run club and one of Chicago's first run crews, which is celebrating its 10th anniversary this year.
"Be sure to run through for the extra boost and high-fives," Maves says.
As you approach mile 21 you will hear the drums beating in Chinatown, Maves says. "Spectators bring out lion [costumes and props], because in Chinese culture, these lions mean good luck."
You'll cross under the Chinatown gate at mile 22 and then about a half mile later, on Michigan Avenue, you will start to see other runners heading north toward the finish line, Maves says."It's a great opportunity to look for your friends and get that extra boost for a couple of miles."
Miles 23-25
You've only got 5K to go now, and at this point in the race things can get really tough as you are now past the 20-mile mark.
"There is still a super-long straight stretch down Michigan Avenue from miles 23 to almost mile 26 that seems to last forever," Canaday says.
Mile 26 To The Finish
Here, you'll hit the second hill just before the finish line. Most runners, including Canaday, describe this final stretch as significant, as you'll have to climb a bridge on E. Roosevelt Road on legs that have already covered 26 miles. Grit your teeth for the final push, so you can finish strong when you make your way back to Grant Park.
"It's not a big bridge, more like an overpass, and you are one left turn away from the final straightaway to the finish line, but at this point in the race, it can feel like a mountain," Canaday says. "When I was running Chicago for an attempt at an Olympic trials qualifying time in 2010 (sub 2hr 19min at the time) one of my team-mates with the same goal ended up missing the time standard by one second, and it was this final bridge hill that really cost him."
There you have it. As long as you run a smart race and don't let up too early, the Chicago Marathon offers a flat and fast course that is made for PRs.
Sign up for workout ideas, training advice, reviews of the latest gear and more.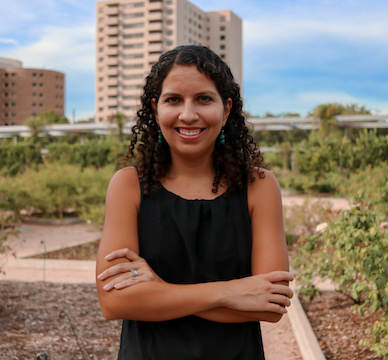 Emilia Benton is a freelance journalist primarily covering running, health, and fitness. She has more than 15 years of writing and editing experience and her work has appeared in publications such as Runner's World, SELF, SHAPE, Women's Health, Healthline, the Houston Chronicle, San Francisco Gate, and others. Emilia has also been a runner herself since she was a 16-year-old high school sophomore. She ran her first marathon at the 2010 New York City Marathon and has since gone on to run 11 more marathons including the Boston Marathon, as well as more than 30 half marathons. She is also a USATF Level 1-certified run coach.