What Is The Average London Marathon Time? We Have The Results By Age And Gender From 2022
Discover how quickly people completed the 2022 London Marathon with this exclusive data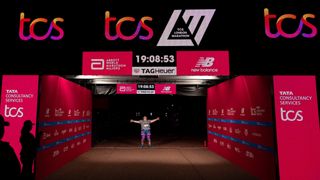 (Image credit: Felix Diemer for London Marathon Events)
More than 40,000 people will line up to run the 26.2 mile London Marathon route this Sunday. It's by far the largest marathon in the UK and one of the Abbott World Marathon Majors, making it one of the few opportunities for recreational runners to run alongside international elites.
Earlier this year, I gathered information to find out what is a good marathon time and got my hands on exclusive data from TCS, the title sponsor of the London Marathon. In case you're wondering how you compare with the elites and your peers, I've included this information below.
Just remember that whatever time you achieve, crossing the London Marathon finish line is an amazing feat and an unforgettable experience.
What is the average elite London Marathon time?
Last year the men's race was won by Kenyan runner Amos Kipruto in 2hr 4min 39sec and the women's by Ethiopian star Yalemzerf Yehualaw in 2hr 17min 26sec. But these were way ahead of even the elite pack: the average men's elite time was 2hr 14min 25sec and the women's 2hr 23min 19sec.
The men's elite average may rise this year with four of the fastest men in history going head to head in the race, including last year's winner.
Meanwhile, in the wheelchair race the 2022 men's average time was 1hr 45min 58sec and the women's was a swift 2hr 4min 12sec.
What is the average London Marathon time by gender?
The overwhelming majority of runners in the TCS London Marathon this weekend will be non-elites. Last year the average mass-participation finish time for women of all ages was 4hr 57min 26sec and for men it was 4hr 21min 09sec.
What is the average London Marathon time by age?
There are 10 age categories in the race from 18 to 80-plus, and the fastest average times are not clocked by the youngest runners.
In the men's race the average time for the 18-39 category was 4hr 18min 3sec while it was slightly faster at 4hr 13min 55sec in the 40-44 banding. Even the 45 to 49-year-olds were more sprightly than their younger counterparts with a men's average time of 4hr 16min 50sec.
From age 50 onwards the average times were progressively slower for each age category with 50-54 averaging 4hr 25min 34sec, 60-64 having an average finish time of 4hr 41min 17sec, 70-74 completing in an average of 5hr 14min 20sec and the final age band of 80 and above having an average time of 6hr and 14mins.
By comparison, the women's mass participation results did see the 18- to 39-year-olds finishing in the fastest average time, crossing the line in 4hr 53min 50sec. The next fastest category was 45-49 with an average time of 4hr 55min 11sec, followed closely by age band 40-44 with 4hr 55min 41sec. Women aged 50-54 completed the marathon in 5hr 1min 33sec on average, while the 60-64 group averaged 5hr 14min 42sec. In the older bandings those aged 70-74 raced in 5hr 40min 8sec on average and the 80+ female runners had an average time of 7hr 31min 1sec.
Swipe to scroll horizontally
Average London Marathon Times 2022 (Mass-Participation) By Age And Gender

| | | | |
| --- | --- | --- | --- |
| Age group | Average time | Average time male | Average time female |
| 18-39 | 4hr 33min 13sec | 4hr 18min 3sec | 4hr 53min 50sec |
| 40-44 | 4hr 31min 38sec | 4hr 13min 55sec | 4hr 55min 41sec |
| 45-49 | 4hr 33min 11sec | 4hr 16min 50sec | 4hr 55min 11sec |
| 50-54 | 4hr 39min 54sec | 4hr 25min 34sec | 5hr 1min 33sec |
| 55-59 | 4hr 46min 9sec | 4hr 32min 6sec | 5hr 7min 9sec |
| 60-64 | 4hr 53min 51sec | 4hr 41min 17sec | 5hr 14min 42sec |
| 65-69 | 5hr 3min 44sec | 4hr 52min 38sec | 5hr 23min 39sec |
| 70-74 | 5hr 21min 30sec | 5hr 14min 20sec | 5hr 40min 8sec |
| 75-79 | 5hr 40min 54sec | 5hr 33min 37sec | 6hr 2min 49sec |
| 80+ | 6hr 33min 15sec | 6hr 14min | 7hr 31min 1sec |
| Overall | Not given | 4hr 21min 9sec | 4hr 57min 26sec |
Is there a cut-off time?
The TCS London Marathon has an official cut-off time but runners won't be booted off the course if they exceed this. The cut-off is eight hours from the moment the last runner crosses the start line at 11.30am.
The tailwalkers, who start at the back of the final wave, will keep an eight-hour pace for the length of the course. Runners unable to keep this pace will be moved to the pavement and can cross the finish line at any pace. The drinks stations close once the eight-hour pace participants have passed.
Sign up for workout ideas, training advice, reviews of the latest gear and more.
Lily Canter has worked as a journalist for more than 20 years and currently specializes in running and fitness. She regularly contributes to Coach as well as Runner's World, Well+Good, Fit&Well and Live Science. Lily is a UK Athletics running coach, the founder of the Great Bowden Runners club and a participant in multi-day ultra races. Her biggest racing achievement to date is placing second at the Ultra Challenge 100km in the Lake District. She has a BA in English Literature, an MA in Print Journalism and a PhD in Journalism Studies. She is also co-host of the award-winning podcast Freelancing For Journalists and teaches feature writing, podcasting and freelancing to university students.