What Is A Good Marathon Time?
We got our hands on exclusive data from the TCS London Marathon, and matched it with results from Strava and others, so you can work out what to aim for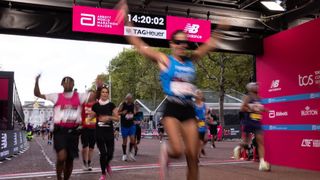 (Image credit: Felix Diemer for London Marathon Events)
Any marathon time is a good marathon time. Completing 26.2 miles is no mean feat and for most people it's the result of months of training. But to choose between marathon training plans it can be helpful to work out what is a good marathon time to aim for.
To help, we got our hands on exclusive data from 2022's TCS London Marathon, and gathered figures from Strava, Running Level and RunRepeat to identify average marathon times in the UK and abroad.
What is the average marathon time?
Across the world, more than a million people a year run a marathon. Once the domain of committed club runners, these races are now filled with couch-to-marathon runners and costume-wearing charity runners. As a result average finishing times are getting slower.
According to RunRepeat, which has collected 35 million results from 28,000 races around the world over 20 years, the average marathon finishing time has increased by 40 minutes since 1986 as participation numbers have soared. And participation among 40- to 50-year-olds continues to rise as people have longer racing careers.
Average marathon times rose by 36 minutes, between 1986 and 2001, going from 3hr 52min 35sec to 4hr 28min 56sec. Since 2001, the rise has slowed but average times have still increased by almost four minutes to 4hr 32min 49sec.
When comparing these results with Strava figures from the London Marathon 2021, it is clear the average Strava runner is quicker. Of the 80,000 people who completed the marathon in person and virtually, more than half were on Strava.
The average Strava uploader completed the marathon in 4hr 19min 54sec, just under three minutes quicker than the field as a whole (4hr 22min 50sec). That year, the top 25% of runners finished in 3hr 36min 45sec, while just over 8% of Strava uploaders registered a sub-3hr finish time.
But the averages are different when looking across UK marathons. Stats from Running Level, which is based on 50 competitive races between 2016 and 2020, calculate a good marathon time across all ages and genders as 3hr 48min 20sec.
The global statistics from Run Repeat paint a different picture again, albeit one more in line with Strava uploaders. From a worldwide perspective, an above-average marathoner should aim to finish faster than 4hr 26min 22sec. A sub-4hr marathon is achieved by only 30% of participants and the fastest 10% worldwide finish under 3hr 31min 46sec.
What is the average marathon time by sex?
Exclusive data from TCS London Marathon 2022 reveals the average mass male finisher time was 4hr 21min 9sec and was 4hr 57min 26sec for female runners. The men's wheelchair racers finished in 1hr 45min 58sec on average and the women in 2hr 4min 12sec.
Males in the elite category averaged 2hr 14min 25sec and females averaged 2hr 23min 19sec.
Worldwide, the data collected by RunRepeat from all 193 United Nations-recognised countries reveals that to be an above-average runner, women should be faster than 4hr 42min 9sec. To be among the fastest 10% of women, you should have a finish time faster than 3hr 49min 22sec.
To be an above-average male runner, you should be faster than 4hr 14min 29sec. If you can run a sub-4hr marathon, then you are faster than more than 70% of men worldwide. To be among the fastest 10% of men, you should have a finish time under 3hr 22min 40sec.
What is the average marathon time by age?
Good news – age is not necessarily a barrier to fast times. Examining the 2022 TCS London Marathon data, we found that non-elite runners aged 40 to 44 had the fastest average time, finishing in 4hr 31min 38sec, compared with 4hr 33min 13sec for 18- to 39-year-olds.
Meanwhile runners aged 80-plus averaged 7hr 31min 1sec in the women's category and 6hr 14min in the men's.
Which country has the fastest marathon time?
According to Strava, the country with the fastest marathon times is Mexico where the average upload is 3hr 26min 6sec. The other quickest nations are Norway (3hr 32min 22sec), Portugal (3hr 35min 46sec) and Poland (3hr 41min 30sec).
Marathon race finish times differ between apps, however. Run Repeat records the top three marathon nations as Spain (3hr 53min 59sec), Switzerland (3hr 55min 12sec) and Portugal (3hr 59min 31sec). The UK is ranked at 37.
What is a good elite marathon time?
The current men's marathon world record is held by Kenya's Eluid Kipchoge who ran 2hr 1min 9sec in Berlin in September 2022. He also ran a marathon in 1hr 59min 40sec during a Nike-sponsored event under controlled conditions.
The women's world record of 2hr 14min 4sec is held by Kenyan Brigid Kosgei who set the time in October 2019.
What time should I aim for?
If it is your first marathon then aiming to complete the course is often the best strategy, rather than focusing on a time. Our beginner marathon training plan is a great option for your first attempt at the distance and only requires you to run three times a week, albeit for 14 weeks.
However, if you have raced a number of half marathons then a good rule of thumb is to aim for a time that is 15 to 30 seconds a mile slower than your best half marathon time.
We've collected running pace charts for 5K, 10K, half marathon and marathon distances, and included the marathon pace chart below for you to refer to.
Marathon Pace Chart
Swipe to scroll horizontally
| | | |
| --- | --- | --- |
| Finish time | Min per-km pace | Min per-mile pace |
| 7hr | 9:57 | 16:01 |
| 6hr 30min | 9:14 | 14:52 |
| 6hr | 8:32 | 13:44 |
| 5hr 30min | 7:49 | 12:35 |
| 5hr 15min | 7:28 | 12:01 |
| 5hr | 7:07 | 11:27 |
| 4hr 45min | 6:45 | 10:52 |
| 4hr 30min | 6:24 | 10:18 |
| 4hr 15min | 6:03 | 9:44 |
| 4hr | 5:41 | 9:09 |
| 3hr 45min | 5:20 | 8:35 |
| 3hr 30min | 4:59 | 8:01 |
| 3hr 15min | 4:37 | 7:26 |
| 3hr | 4:15 | 6:52 |
| 2hr 45min | 3:55 | 6:18 |
| 2hr 30min | 3:33 | 5:43 |
We have two tried-and-tested programmes to choose from if you have a time in mind: a sub-4hr marathon training plan and sub-3hr marathon training plan. The paces can be adjusted in each if, for instance, you're gunning for, say, 4hr 15min, or 3hr 30min.
Sign up for workout ideas, training advice, reviews of the latest gear and more.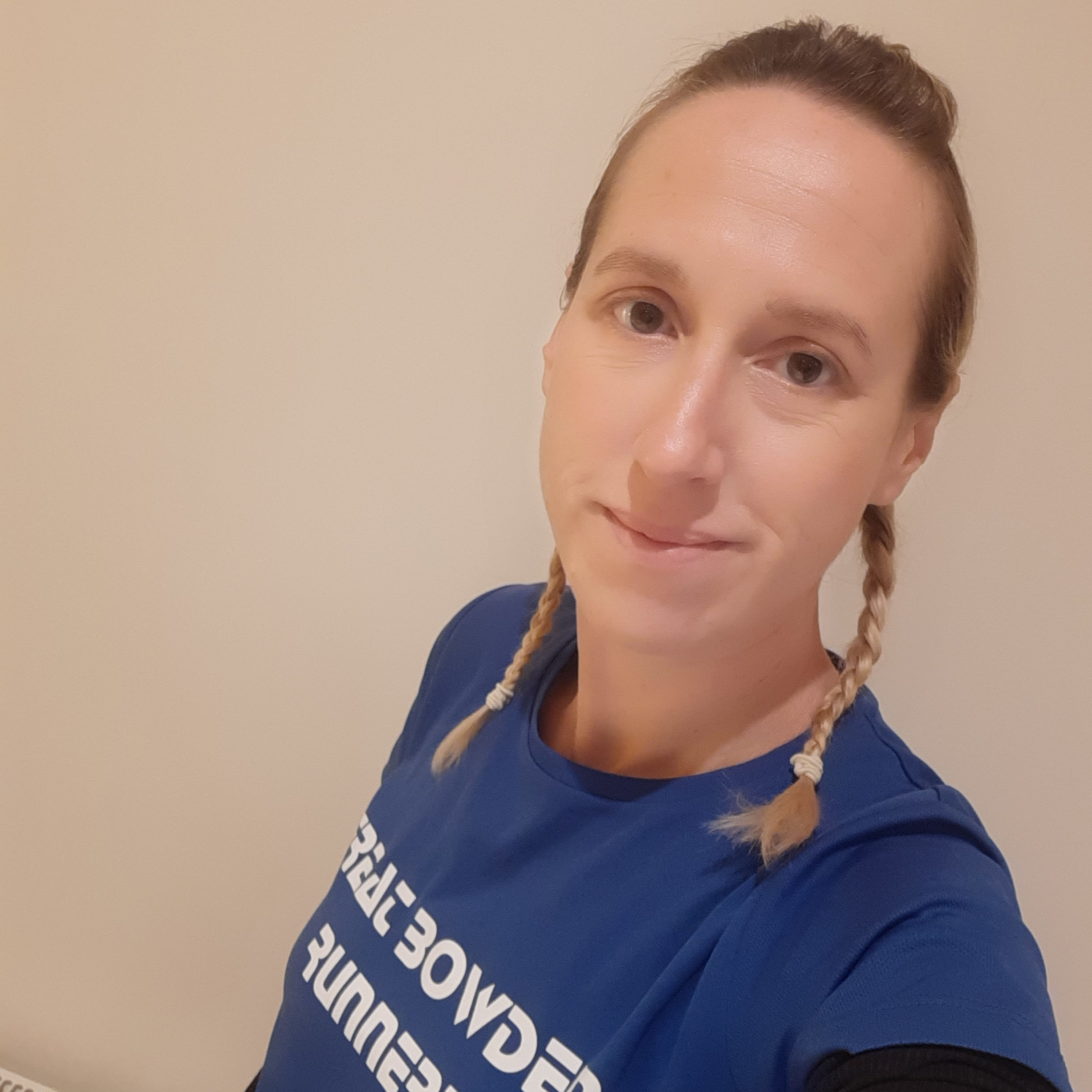 Lily Canter has worked as a journalist for more than 20 years and currently specializes in running and fitness. She regularly contributes to Coach as well as Runner's World, Well+Good, Fit&Well and Live Science. Lily is a UK Athletics running coach, the founder of the Great Bowden Runners club and a participant in multi-day ultra races. Her biggest racing achievement to date is placing second at the Ultra Challenge 100km in the Lake District. She has a BA in English Literature, an MA in Print Journalism and a PhD in Journalism Studies. She is also co-host of the award-winning podcast Freelancing For Journalists and teaches feature writing, podcasting and freelancing to university students.