All You Need Is 10 Moves In 10 Minutes To Get In A Good Cardio And Core Workout
Get a sweat on using just your bodyweight with this follow-along video from Frank Medrano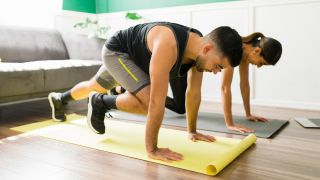 (Image credit: iStock / Getty Images Plus / Antonio Diaz)
Home workouts needn't be a tedious sequence of air squats and press-ups. Creative trainers can challenge your strength and endurance with bodyweight exercises alone, providing taxing twists on tried-and-tested classics to help keep your mind engaged while you work.
This workout from callisthenics expert Frank Medrano is a great example, using 10 different movements to work your entire body in as many minutes. And because it's a bodyweight workout, you can give it a go anywhere, although it can be handy to use an exercise mat to provide extra grip on slippery floors. If you don't own one already, consult our selection of the best exercise mats.
Medrano's session follows a simple formula: 45 seconds of work followed by 15 seconds of rest for each movement. No repeated movements, no mid-workout boredom.
Follow his video below to try the workout for yourself, and mirror his technique to ensure you're using the correct form for each movement.
This is an example of a HIIT workout, using short bursts of high-intensity activity interspersed with even shorter rest times to spike your heart rate. That makes it an effective way to torch calories – but the benefits don't end there. Regular HIIT sessions can also boost your metabolic rate and improve aerobic capacity.
This session is ideal for squeezing in some exercise when you're short on time. Given it lasts just 10 minutes, it will easily slot into your lunch break and still leave time for a warm-up (always warm up), a quick shower and something to eat. It's also a good option if you want to add a metcon element to the end of your hypertrophy workout, so you can bolster your cardiovascular fitness alongside your brawn.
Sign up for workout ideas, training advice, reviews of the latest gear and more.
Harry covers news, reviews and features for Coach, Fit&Well and Live Science. With over a decade of training experience, he has tried everything from powerlifting to gymnastics, cardio to CrossFit, all in a bid to find fun ways of building a healthy, functional body.