Born Barikor's Eight-Move Workout Builds Explosive Leg Power Without Any Equipment
The straightforward bodyweight session will also improve your cardio fitness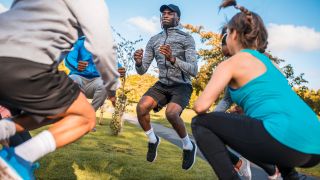 (Image credit: Getty Images)
It's great to have access to a state-of-the-art gym, but you don't need one to get a good workout in.
Someone who knows their way around bodyweight workouts is Tough Mudder UK's official fitness trainer Born Barikor, who recently shared this home workout for beginners with us. He's also the founder of Our Parks, which puts on free accessible outdoor workouts across the country, so Barikor knows how to structure a sweaty session with little to no equipment.
On his Instagram feed you'll find a range of testing workouts that use just a couple of dumbbells, a single resistance band or, in many cases, no kit at all. We asked him to pick a favourite workout from his feed and he served up a bodyweight session that will spike your heart rate, fire up your lower body and put your lungs to work.
"I like this workout as there is no equipment required and it's great to do with a workout partner," Barikor told Coach.
Watch the video below to find out which exercises await you, mirroring Barikor's technique to ensure your form is spot-on, then give his workout a go for yourself.
Barikor's circuit training session keeps the rest periods short so you're sure to work in a high heart rate zone for a sustained period, improving your cardio fitness. With the inclusion of plyometric exercises – explosive movements like tuck jumps, which require you to produce a lot of force in a short amount of time – it can also help build strength and power in your lower body.
A 2022 systematic review published in the Sports Medicine – Open journal, exploring the effects of plyometric training on lower-body muscle in healthy adults, found this exercise method led to an increase in muscle thickness, as well as improvements to jump and strength performance.
That's why we think you should jump to it and take Barikor's session for a spin – strength gains and sore legs await you. For similar sessions to add to your routine, try this shorter home HIIT workout that will hit your upper- and lower-body muscles in just five minutes, or head outside for this HIIT bodyweight workout.
Sign up for workout ideas, training advice, reviews of the latest gear and more.
Harry covers news, reviews and features for Coach, Fit&Well and Live Science. With over a decade of training experience, he has tried everything from powerlifting to gymnastics, cardio to CrossFit, all in a bid to find fun ways of building a healthy, functional body.