Shake Up Your Cardio Routine With This Three-Part Challenge
Sick of long slogs? Mix up your cardio with this 36-minute conditioning session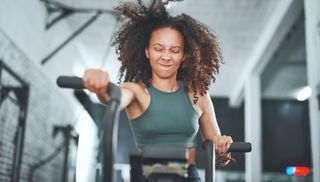 (Image credit: Getty Images / Jay Yuno)
Cardio can get a bad rep among gym-goers, but that's probably because they're thinking of low-intensity steady-state cardio – which can become a bit ponderous even with a podcast – rather than a conditioning workout like this one. It's been created by Sarah Ryder (opens in new tab), a level 3 personal trainer and founder of BEAR Fitness (opens in new tab). She was also a recruit on SAS Who Dares Wins, which might give you a hint of what you're in for.
"This is a fantastic workout because it's a great one for cardio lovers to keep coming back to – but it's not for the faint-hearted," says Ryder.
"Conditioning pieces can sometimes make you feel like you are a hot mess from start to finish. This workout can allow you some time to recover between blocks and the ability to choose what you will get from the session."
The cardio workout is split into three blocks of work, each just 12 minutes long, and you'll need a treadmill and two of CrossFit's most loved (or hated!) pieces of cardio equipment – the SkiErg and the assault bike.
You have to cover a set distance on each block, but you don't start the next block until the 12 minutes of the block has elapsed. The quicker you complete the distance the longer you have to rest.
Want to make it harder? Increase the distance in each block and speed up. For instance, if you're a fast runner, set yourself the distance of 3km and aim to run at a pace of 4min/km, or faster if you want a breather before starting the next block.
If you find one of the blocks is harder than the others, work on that one with our treadmill workout plan, SkiErg workouts or assault bike workouts.
1 Run 2km
Time 12min
Use a curved self-powered treadmill if one is available to test your stamina a little more.
2 SkiErg 2km
Time 12min
Set the damper on the SkiErg between six and eight. Find a comfortable rhythm that you can maintain for the duration.
3 Assault bike 5km
Time 12min
Sign up for workout ideas, training advice, the latest gear and more.
Lucy is an experienced health and fitness journalist, and was formerly health editor for TI Media's portfolio of women's titles. Lucy qualified as a level 3 personal trainer with Train Fitness in 2016, and also holds qualifications in pre- and post-natal fitness, as well as in nutrition for exercise.