Challenge Yourself With This Full-Body Conditioning Workout
Keep the pace high in this session that uses Tabata intervals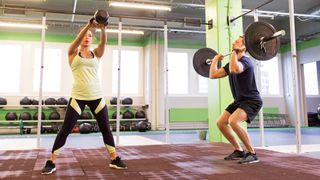 (Image credit: Shutterstock)
If you're in good condition and are looking for a new challenge, Tabata-style workouts are worth trying. It's a type of interval training, with a 20-second burst of all-out work followed by a brief 10 seconds of rest, repeated eight times. It all lasts for four minutes, but if you're doing it right it will feel like a lot longer. One redeeming feature, though, is that even at the hardest points you're never more than 20 seconds away from a rest, albeit a short one.
This workout from the team at fitness brand Meglio uses Tabata intervals for the first section, before you move on to a metcon section with a 21-15-7 sequence of reps commonly found in CrossFit WODs. You can do just one round of the two sections, or repeat it two or three times if you're feeling up to it.
Power through the workout with minimal breaks and it will be over before you know it, but you can also get great results while resting a little more if you're not used to the volume of reps. Ideally you'll have a kettlebell, barbell and gym ball to hand to complete the workout, but you can use a kettlebell for all the weighted moves if you don't have a barbell.
Warm-Up
Skipping
Time 5min Work 30sec Rest 30sec
Skip for 30 seconds then rest for 30. Repeat until the five minutes is up.
Section 1: Tabata
Work as hard as you can for 20 seconds, rest for 10 seconds, then move on to the next exercise. There are eight moves listed below to fill the full four minutes, but two can be skipped to extend the rest periods.
Time 20sec Rest 10sec
From standing, lower by bending your knees and place your hands on the floor, then jump your legs back so you're in a top press-up position. Drop your chest and hips to the floor so that your entire body is flat, then push back up and jump your legs forwards again to return to standing, and jump straight up. Aim to do this in one fluid motion.
Time 20sec Rest 10sec
Hold the kettlebell with both hands in front of your thighs, standing with your feet wider than hip-width apart. Bend your knees and hinge your torso forwards from the hips, then straighten to swing the kettlebell up to shoulder height. Control the swing down back between your legs, keeping your chest up and not letting your shoulders drop.
Time 20sec Rest 10sec
You can use the full 30 seconds here to rest, or complete 20 seconds of unweighted squats. Stand with your feet hip-width apart. Bend your knees and sit your hips backwards to lower until your thighs are parallel to the ground, then push back up.
Time 20sec Rest 10sec
Start in a top press-up position, making sure your shoulders are directly above your wrists. Bring your knees towards your chest one at a time, making sure your shoulders don't start to move backwards and keeping your back flat. Squeeze your core tight and keep your neck in a straight line without dropping your head.
Time 20sec Rest 10sec
In the same starting press-up position, jump your legs out to the side, then jump them back in repeatedly. Again, keep your shoulders directly above your wrists, and keep your core tight and stable.
Time 20sec Rest 10sec
7 Abs blaster
Time 20sec Rest 10sec
Lie on your back and squeeze a gym ball between your ankles. Keeping your hands, arms and head flat on the floor, use your abs to raise both legs straight up while continuing to squeeze the ball between your ankles. Slowly lower the ball and repeat.
Make sure to breathe steadily throughout the exercise and push your arms into the floor for support. Don't worry if your back comes slightly off the floor, but stop if you feel pain or your back arches severely. This means you need to strengthen your core before doing this advanced exercise. As an easier alternative, do sit-ups or crunches.
Time 20sec Rest 10sec
Start in a lunge position with your right foot forwards, with both knees bent at 90°. Then jump straight up and swap the position of your legs in mid-air so that you land in a lunge position with the left foot forwards. Repeat, swinging your arms for propulsion and keeping the motion as fluid as possible.
Section 2: Metcon
Rest for as long as you need after the Tabata section. The rep routine for this section is 21-15-7, which means you will cycle through all three exercises for 21 reps each, then all three for 15 reps each, then all three for seven reps each. Try to do the whole thing in one go, but rest when needed.
Hold a barbell on your chest. Keeping your elbows high and your back straight, drop into a front squat, then immediately power back up and push the barbell straight above your head. Control the barbell back to your chest and repeat in a fluid motion. Don't pick a heavy weight – this is a conditioning workout, not a strength workout.
Place your hands on the floor slightly wider than shoulder-width apart and place your feet hip-width apart. Lower until your nose touches the floor, then push back up. Drop to your knees if necessary.
Meglio is a fitness and physiotherapy brand that sells home fitness equipment ranging from foam rollers and yoga mats to resistance bands and skipping ropes.
Sign up for workout ideas, training advice, reviews of the latest gear and more.