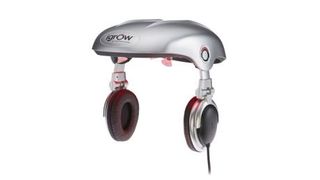 (Image credit: unknown)
I'm now nearing the end of my iGrow trial, and the Robocop-esque helmet has become as much a part of my weekly regime as going to the gym. In fact, more often than not, the 25 minutes I spend laser-zapping my scalp in front of the TV three times a week feels like training for my head. I even took it on holiday with me to Spain without getting any funny looks at customs.
During the (occasionally) sweltering heights of summer, the head-warming effects of the iGrow were slightly unpleasant in my oven-like flat. But with temperatures dropping as autumn approaches, this has actually become something of a bonus benefit.
To be completely honest, the results haven't been mind-blowing in terms of actual hair regrowth, with the downy hairs that sprouted after the first few months failing to solidify into regular strands. But after my most recent consultation with consultant trichologist Iain Sallis (that's a 'hair doctor' to you and me), I was pleased to hear that I've not lost any hair during the past half-year – and at the end of the day, prevention is better than cure.
If my nine months of three weekly sessions (followed by once weekly sessions thereafter for maintenance purposes) can help largely maintain my current hairline throughout my 30s and beyond, that'd constitute a major success – especially given my family's genetic predisposition for eventual thinning and baldness.
iGrow is available to buy at www.igrowlaser.co.uk
Sign up for workout ideas, training advice, reviews of the latest gear and more.
Between 2010 and 2016, Ben was the deputy editor of Men's Fitness UK, which predated, and then shared a website with, Coach. Ben also contributed exclusive features to Coach on topics such as football drills, triathlon training plans and healthy eating.