The Best Waterproof Jackets For Men: True Weather Beaters
Rain, rain, come and stay, because I'm well protected by my superb waterproof jacket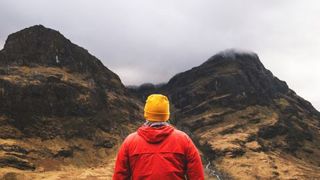 (Image credit: Unknown)
The 21st century has produced many modern marvels, including completely waterproof jackets that will save you from soggy shirts in even the most torrential of downpours. One of those might be overkill, however, if you're just walking to the cinema in a bit of drizzle, so for this winter-ready rundown of the best rain-beaters we've selected a mix of waterproof and water-resistant models. From the original packable mac and heritage garms that got the pioneers of the Yukon through some tough old times, to new-skool anoraks and revolutionary materials, these are the ten best rain jackets a guy could wish for on any given (rainy) day.
---
The Hundreds X 686 Gore-Tex Anorak
Inspired by mid-'90s mountainwear, the Californian streetwear heroes at The Hundreds and the off-piste riders of 686 have gone back to a time when snowboarding was a dirty word for this retro collaboration. Bold colour blocking and a baggy fit provide the nostalgic vibes, while a double layer of Gore-Tex and all the mod cons you'd expect from a contemporary snow jacket (helmet compatibility, thumb grips, inner media pocket) bring this beauty screaming into 2019.
Buy from The Hundreds | £400
---
Rapha Explore Hooded Gore-Tex Pullover
This will look just as good in the saddle as it will on the bus, up a tree, under a bush, outside a coffee shop, inside a hot air balloon – you get the idea. Although its number one job is to keep you out on your bike for longer and get you to new places, it's a packable, breathable and waterproof anorak that'll look grade-A excellent in every single situation you could possibly think of. Like, on top of a camel, or when eating soup, or…
Buy from Rapha | £250
---
Huf Taos Reversible Puffer
Quite the odd couple, this waterproof. On one side, a shy and retiring black and grey colourway, and on the other, an in-yer-face brighter-than-bright orange retina blaster. Whichever way you wear this fully insulated heat-keeper from skateboarding legend Huf, one thing's for certain – all that micro-ripstop nylon with durable water-repellent finish is keeping the wet stuff firmly in its place.
Buy from Huf | £190
---
The North Face Flight FutureLight Jacket
Whooosh, here comes the future. Not content with setting the pace in outdoorsy mountainwear, The North Face has turned the whole thing on its head with an all-new fabric that takes the bar, lashes it to a rocket and raises it on a stratospheric scale. FutureLight, created through something called nanospinning, is more breathable, more waterproof, more sustainable and more durable than those that have gone before it. You might only be wearing this eye-catching trail-running jacket to walk the pooch around the park, but you'll be doing it in the most up-to-date and advanced protection out there.
Buy from The North Face | £225
---
Gramicci started life with the sole purpose of kitting rock climbers out with everything they needed to progress higher and further than before. Now, with 37 years of toying with fabrics and functionality under its belt, the brand is giving soft-handed folk a look-in too, with garms like this cracking nylon-blend shell jacket with absurdly long chest zips designed for the average sea-level dweller.
Buy from Peggs & Son | £180
---
Planks, a relative newcomer to the outerwear game, suggests this is the perfect jacket for "shredding the mountain with your friends". We think "shredding the mountain" is interchangeable with "hitting your local" as an equally appropriate scenario for this bold colour-blocking rain-slayer.
Buy from Snow And Rock | £249.95
---
See related
Not many people would actively choose to use their one stint in a time machine to head back to the frostbitten and hellish Great Klondike Gold Rush of late 19th-century North America. But if you did, this is the kind of jacket you'd see on those fortune-seeking pioneers. CC Filson's outerwear brand was made to serve those hardy Pacific Northwesterners enduring the most harrowing experiences and weathers of the Yukon, with tough yet comfortable clothing that'd withstand the harshest of environments. This nearly bomb-proof tin cloth jacket, treated with a rain-repellent oil finish, embodies his ethos perfectly.
Buy from Filson | £355
---
Denver's Topo Designs hails from the shadow of Colorado's Rocky Mountains, and as such, you can fully believe that this crew know a thing or two about making functional and beautiful outerwear for all conditions. Topo has taken a timeless anorak silhouette and crammed it full of moisture-crushing features, such as three-layer bonded nylon and tapered seams, to send its waterproof rating through the roof.
Buy from Topo Designs | $189 (around £150)
---
Norse Projects Ystad Nautical
Is a white winter jacket just asking for trouble? You betcha. But is wearing this high-quality and ultra-tough seafaring-inspired beauty worth the constant and agonising anxiety every time you pass near a muddy puddle? The results are in and it's a solid yes from us.
Buy from Oi Polloi | £295 (currently reduced to £176)
---
In the beginning, there were macs and there were sacks. It took the big brain of one rain-drenched Parisian by the name of Leon-Claude Duhamel to clap the two together in 1965 and create a lightweight nylon jacket that was fully packable, too. The pac-a-mac was born, and so too was his K-Way brand. Decades later and the inventive rain-stopper is still a firm favourite, with this new city-ready snow camo option – made from 100% water-resistant nylon ripstop – earning a place on our list.
Buy from K-Way | £89.95
Sign up for workout ideas, training advice, reviews of the latest gear and more.
Craft beer drinker, Devonian, fisherman and former content director of Coach online, Chris contributed style coverage and features between 2016 and 2019.