Brompton C Line Vs Brompton T Line
The fold-up bicycle brand's classic and concept models go head to head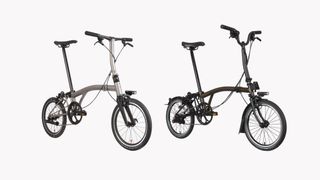 (Image credit: Brompton)
The Brompton C Line and Brompton T Line both have stand-out features that put them among the best folding bikes for cycling to work. Their qualities aren't only about the commute to the office, though, and either will be a solid buy for anyone who wants a great all-round bicycle.
Despite their similar silhouettes, there are big differences between the two models, and the final choice will come down to the most important factors for you – including budget and how light you need your fold-up bike to be when carrying it.
Frame: Steel
Weight: 12.1kg (Explore)
Drivetrain: 6-speed (Explore)
Accessories: Mudguards, pump
The original Brompton, the C Line, is an iconic design. The steel-framed fold-up bike is robust, reliable and fun to ride, and its six-speed Explore model is comfortable and adaptable enough to be your day-to-day bike.
For
Great gearing range
Good handling
Perfect for commuting or limited storage space
Mudguards included
Against
Heavy
Expensive compared with other commuter bikes
Frame: Titanium
Weight: 7.95kg (Urban)
Drivetrain: 4-speed (Urban)
Accessories: Mudguards
The T Line is at the cutting edge of bicycle manufacturing, taking the much-loved folding framework of the original C Line and reimaging it with a focus on reducing the weight, regardless of cost. Its price puts it out of range for most, but as a concept it's tough to beat.
For
Lightweight
Amazing components and spec
Great on the hills or flat
Easy to carry
Against
Seriously expensive
Handling is twitchy at high speeds
Gearing range could be better
Price And Availability
The Brompton C Line was released in October 2021 and was a rebranding of the traditional steel range. The C Line starts with the Urban model, which costs $1,490 in the US and £1,195 in the UK, and goes up to the $1,680/£1,350 Explore model that I tested.
The Brompton T Line also came out in October 2021 and is available in two models: the single-speed, 7.45kg One ($5,225/£4,180) and the four-speed, 7.95kg Urban ($5,500/£4,415). The T Line is only available direct from Brompton.
How I Tested These Bikes
I have written both the Brompton C Line Explore review and Brompton T Line Urban review for Coach.
I tested the Brompton C Line and T Line for roughly two months each, using them for everyday riding around my local area in north London, as well as further afield with rides of over an hour. I also took the C Line in the boot of my car during a trip to Devon and used it to complete a circular ride around the River Exe. I tested the T Line's fold-up functionality by taking it into restaurants and bars and on the London Underground.
Design
The Brompton C Line has fundamentally the same design and construction as the original Brompton, which was released in the mid-1970s. Its frame and fork are made from steel, it has 16in wheels, and the main differences between the various C Line models are the gearing. The Urban has a two-speed derailleur-actioned drivetrain, while the Explore combines a three-speed Sturmey-Archer hub and a two-speed derailleur to give you six gears.
Brompton tore up the rulebook when designing the T Line, taking the 150 parts that make up the standard C Line and rethinking them with a focus on being light yet strong. Its frame is handmade from titanium, and it has a suite of carbon fibre components (fork, crankset, handlebars) and a carbon fibre seatpost in a 0.3mm steel armour that reduces weight while remaining strong. The result is a Brompton that weighs 7.45kg – the same as a high-end carbon fibre road racing machine.
Its differences don't end there. Brompton used the T Line as a chance to make upgrades on the original design, such as self-aligning hinges, a spring-loaded handlebar catch and a four-speed compact cassette-based drivetrain. In fact, the only feature the C Line and T Line share is the rim brakes.
The Ride
Bromptons are renowned for being fun to ride, and the C Line and T Line left smiles on my face each time I saddled up.
The C Line Explore I tested was the heaviest model Brompton makes (12.1kg) outside of its electric range, but its six-speed gearing meant that the additional load of the drivetrain wasn't immediately noticeable when riding. It felt sturdy and reliable at high and low speeds, and I didn't have to get off and push at all – even on steep hills. Its steel construction absorbed most potholes and bumps in the road, while it even remained comfortable on light towpath gravel.
The T Line Urban was just as enjoyable to ride, though for different reasons. Its lightweight nature meant ascents were a breeze, while the titanium frame kept the ride comfortable. Its carbon fibre crankset meant I was able to achieve top speed promptly from a standing start, although at high speeds (in excess of 20mph), its handling started to get twitchy. The only flaw I could find in its four-speed gearing set-up was that its top gear wasn't quite big enough, but in the stop-start nature of city-based riding, it's rare that you get a chance to encounter this problem.
Weight
There are big differences between the C Line Explore (12.1kg) and the T Line Urban (7.95kg) on the scales because one has been designed to be light regardless of the cost. So, in practice, how noticeable is the difference?
When folded, the C Line Explore is bulky. It may weigh the same as a dumbbell that you'd lift in the gym, but that soon starts to take its toll when you're carrying it up stairs or through a crowded bar.
On the other hand, the T Line feels like you're carrying a bag of shopping or rucksack by your side. During a journey on the London Underground, my arm didn't get tired despite long transfers between lines, and it was easy enough to take up three flights of stairs during a visit to a bar.
While it might only be 4kg difference, if you're taking a Brompton up and down stairs to your flat every time you head out for a ride, or lifting it into a luggage rack on a daily commute, that strain (and pain) can soon add up.
---
Sign up for workout ideas, training advice, reviews of the latest gear and more.
Charlie Allenby is a journalist with a passion for pedalling. He contributes features and buying advice about cycling, and is Coach's dedicated turbo trainer reviewer. He is also Coach's chief whey and casein protein powder tester, trying as many brands as possible.
Charlie's first book, Bike London, is out now. He has written for The Guardian, The Independent and BikeRadar, among others.