The Best Folding Bikes For Cycling To Work
Add some pedal power to some or all of your commute with one of these compact folding bikes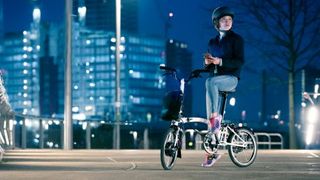 (Image credit: Unknown)
Commuting by bike is the best way of getting to work – no question – but it can seem impractical for many people. For instance, if you have to travel a significant distance then riding may seem like a non-starter. If you have a small home with limited room, or live in a block with stairs to tackle, securely storing a full-sized bike is out of the question.
There is a solution, though: the folding bike. These once-niche products are continuing to gain favour among suburban rail commuters who want to avoid parking fees, or to sling it in the boot to use at the other end of their train journey. City dwellers too have turned to folding bikes, which can be tucked in a corner or cupboard when folded and carried up stairs more easily.
Below you'll find a selection of the best models to suit different needs, including picks for short and long commutes, plus our favourite electric options.
---
Brompton Classic
Best Folding Bike For Commuting
(opens in new tab)
Pioneered in the mid-1970s, Brompton has become almost synonymous with folding bikes. Often imitated, the the London-based manufacturer's design remains hard to beat thanks to its durable steel frame that is as strong as it is small, and a folding action that means you're able to roll it around easily – even when fully folded down – avoiding the need to always carry it.
The standard Classic comes with three-speed hub gearing (meaning the cogs are inside the wheel rather than outside as on most modern bikes), but can be customised to your heart's content. Whether you want more or fewer gears, a sportier handlebar or a fancy Brooks seat you can get it – for a price, naturally.
Buy from Brompton (opens in new tab) | From £1,175
---
B'Twin Tilt 900
Best Budget Folding Bike
(opens in new tab)
A penny less than £500 might not sound like a budget buy for a bike, but it's worth not going too low when buying a folding steed. While you could probably pick up a hybrid bike with similar components for less, you're paying extra for the ability to fold – and it's best not to skimp. The B'Twin Tilt 900 is a case in point. Although Decathlon's in-house brand also does the £150 cheaper Tilt 500 (opens in new tab), we recommend stretching your budget to the 900 if you can. While it uses the same aluminium frame as its more affordable sibling, the Tilt 900 benefits from a lighter aluminium fork, a higher-spec nine-speed gearing and ergonomic features to make riding even more comfortable. While it doesn't fold down as much as a Brompton, it manages to tip the scales at just 12.2kg – not bad for a bike that's less than half the price of the big-name brand.
Buy from Decathlon (opens in new tab) | £499.99
---
Hummingbird Single Speed
Lightest Folding Bike
(opens in new tab)
If weight is a dealbreaker for you (but money isn't), then turn your attention to this featherweight option. The carbon fibre-framed fold-up is just over half the weight of a Brompton at 6.9kg and includes some of the most high-tech componentry you can find on any bike, foldable or otherwise. If the price doesn't put you off, its single-speed build might – especially if you live anywhere hilly where having an easier gear can come in handy. In that scenario, check out the four-speed build (opens in new tab), which adds another 1.3kg and £245.
Buy from Hummingbird (opens in new tab) | £3,495
---
Brompton Electric
Best Electric Folding Bike
(opens in new tab)
Electric bikes are on the rise as people discover an even easier, but no less joyous, way to get around. But just because you want to go electric doesn't mean you have to say sayonara to the advantages of folding bikes. While it wasn't the first brand to do it, Brompton has perfected the genre since it launched its Electric range in 2018. Using the brand's iconic folding bike as its skeleton, it features a front-hub based motor and a removable battery that is mounted onto the bike's headtube when in use. Its range of 30-70km (depending on rider weight, support mode used and hills ridden up) should see you through a number of journeys before it needs charging, and the detachable battery means it's easy to top up the charge in between rides.
Buy from Brompton (opens in new tab) | From £2,875 | Brompton Electric review
---
See related
Gocycle G4
Best Folding Bike For Long Commutes
(opens in new tab)
If you have a bit more room to play with than a cupboard at home and a desk at the office, but still want the convenience of a foldie, the Gocycle G4 will provide that and make short work of most commutes. That's partly because it's an e-bike and will chew up any hills you encounter, but also because the tyres are larger and the geometry is like that of a traditional bike, factors that make it easier and more enjoyable to ride long distances on. It doesn't fold up very small at all, but it is still much smaller than a full-sized bike, and great fun to ride. It's definitely worth considering if you're keen on a foldie and plan to ride it for longer than 20-30 minutes regularly. Just make sure you have somewhere to keep it under lock and key, because it's gorgeous and therefore a target for thieves.
Buy from Gocycle (opens in new tab) | Buy from Velorution (opens in new tab) | £3,399 | Gocycle G4 preview
Sign up for workout ideas, training advice, reviews of the latest gear and more.
Charlie Allenby is a journalist with a passion for pedalling. He contributes features and buying advice about cycling, and is Coach's dedicated turbo trainer reviewer. He is also Coach's chief whey and casein protein powder tester, trying as many brands as possible.
Charlie's first book, Bike London (opens in new tab), is out now. He has written for The Guardian (opens in new tab), The Independent (opens in new tab) and BikeRadar (opens in new tab), among others.