The New Brompton Electric P Line Makes Life Easier, But You Don't Want To Know How Much It Costs
It's lighter and that really does make it better, but it comes at a price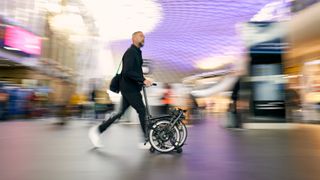 (Image credit: Brompton)
Brompton has announced its next e-bike, the Brompton Electric P Line. It's lighter than other models, making it easier to lug about and can be fitted with a roller rack so it can be wheeled around when folded. Other key upgrades include four-speed gearing and Continental tyres which should cut down on punctures.
It does cost significantly more than the current Brompton Electric C line models, the two-speed Urban which starts at £2,800 (UK only) and the six-speed Explore which starts at $3,850/£2,995.
The Brompton Electric P Line starts at – drumroll please – $4,700/£3,695, or $4,810/£3,775 with the roller rack.
So, why make a more expensive Brompton Electric? I put that question to Brompton CEO Will Butler-Adams. "What we're trying to do is make something that's useful and that as many people as possible can use," says Butler-Adams. "It's not expensive for the sake of being expensive – it delivers a different experience.
"We spent ages developing the electric drive [on the first Electric C Line] and refining it to get the most efficient, light, useful drive, but the reality is it's still heavy and for some customers, it's too heavy."
The same Brompton battery and motor is used on the new P Line. It has a range of 20-45 miles (30-70km) and a zippy ride that eats up hills and delivers assistance that is powerful without being jerky, which is no mean feat. That has required changes to be made elsewhere to make the P Line lighter.
One of the major weight savings comes from the use of titanium in the rear frame – a material that doesn't come cheap – but refinements and developments have been made throughout the bike, like the four-speed gearing, to make it as light as possible.
Minus the battery, the Electric P Line weighs 28lb (12.7kg), compared with the Electric C Line Urban which weighs 32.2lb (14.61kg) and the Explore 34.24lb (15.53kg).
"For the Brompton, weight really does matter," says Butler-Adams. "With all respect to people who spend a lot of money making their bikes lighter, it doesn't really make a huge amount of difference when you get on the bike for the average user. But for the Brompton, it makes a massive difference when it's dangling on the end of your arm."
I reviewed the Brompton Electric C Line Explore, and I've ridden 70 miles (114km) on the Electric P Line so far. The lighter weight is a noticeable improvement, making it easier to take the bike into shops with you. As I – and a colleague who reviewed the Brompton C Line Explore – discovered, the convenience of storing and accessing a Brompton over a regular-sized bike is what makes it a worthwhile purchase.
That means the more expensive version with the roller rack is another welcome development – it's easy to wheel along supermarket aisles or station platforms. It's also something that distinguishes it from the Electric C Line, as it's the new rear frame (seen in the top-of-the-line, er, T Line) that can accommodate the roller rack.
While we continue our testing ahead of a full review, we recommend UK readers brush up on the Cycling To Work scheme, which can help you save up to 39% on the sticker price and spread the cost.
Sign up for workout ideas, training advice, reviews of the latest gear and more.
Jonathan Shannon has been the editor of the Coach website since 2016, developing a wide-ranging experience of health and fitness. Jonathan took up running while editing Coach and has run a sub-40min 10K and 1hr 28min half marathon. His next ambition is to complete a marathon. He's an advocate of cycling to work and is Coach's e-bike reviewer, and not just because he lives up a bit of a hill. He also reviews fitness trackers and other workout gear.