Fitbit Ionic Recall: 6 Things To Know
Fitbit has issued a recall of its discontinued smartwatch – here's what to do and how to get a refund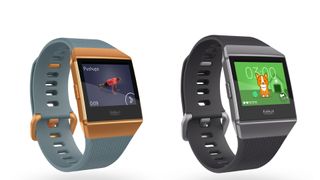 (Image credit: Fitbit)
On 2nd March 2022 Fitbit issued a voluntary safety recall of the Fitbit Ionic and on 4th March it emailed users who had connected an Ionic to their account.
Fitbit worked with the US Consumer Product Safety Commission (CPSC) to issue a Fast Track Recall. Details on the recall revealed that the battery on the Ionic could overheat, "posing a burn hazard". There were 118 reports of burn injuries which included two reports of third-degree burns in the US.
The Ionic was Fitbit's first smartwatch and launched on 1st October 2017. The watch was discontinued in 2020, having been superseded by the Fitbit Versa line and, later, the Fitbit Sense. However, the Ionic continued to be sold from third-party retailers and reselling sites.
The recall notice listed about one million devices sold in the US and in the region of 693,000 sold in the rest of the world.
Fitbit's email and the CPSC recall directs customers to Fitbit's help page for region-specific information about the recall as well as how to claim a refund. We've pulled out some of the more salient information for you below.
1. Stop using the Fitbit Ionic
That's an easy one.
2. You can keep using other Fitbits
The safety recall was only for the Ionic. The Fitbit help page says no other devices – smartwatches or bands – are affected.
3. You won't get a replacement Fitbit Ionic
Manufacturing ceased in 2020 – there won't be any models with new batteries so you can't get a like-for-like replacement.
4. You will get a USD $299 refund
That's the launch RRP from 2017. You need to register and, once your account is verified, will receive payment via your choice of Mastercard Debit Card or Paypal. One further wrinkle is that non-US customers are at the mercy of local exchange rates. The refund will take three to six weeks to arrive.
5. You can choose to spend the refund on a new Fitbit
You're under no obligation to, but if you want a current Fitbit you will be offered 40% off up to five new Fitbits and an extra band for each. These can only be purchased through the Fitbit Ionic Discount Store and there's a 90-day time limit on the offer.
6. You may need to dispose of the Fitbit Ionic yourself
In the US, the CPSC says you will be provided with packaging to return the device. However, if you are in the UK, registering for the refund involves agreeing to dispose of the device yourself, "in accordance with local requirements for recycling or disposal of lithium-ion batteries and electronic devices". Not sure where to recycle these? Check Recycle Now to find recycling points near you and also find out how to erase data from your Fitbit.
Sign up for workout ideas, training advice, reviews of the latest gear and more.
Jonathan Shannon has been the editor of the Coach website since 2016, developing a wide-ranging experience of health and fitness. Jonathan took up running while editing Coach and has run a sub-40min 10K and 1hr 28min half marathon. His next ambition is to complete a marathon. He's an advocate of cycling to work and is Coach's e-bike reviewer, and not just because he lives up a bit of a hill. He also reviews fitness trackers and other workout gear.