The Best Women's Hiking Socks
Discover what makes a good hiking sock and shop our top picks for different conditions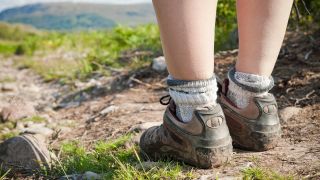 (Image credit: Getty Images / georgeclerk)
It may seem insignificant, but the humble sock can make or break a day's hiking. If you've ever suffered from blisters, cold toes or sweaty feet, you'll know that choosing the right sock is really important.
It's a reasonably straightforward task, too, unlike deciding on other kit like waterproof jackets, but there are a few things to be aware of which we'll run through first. And if you can, get your socks sorted before shopping for walking boots or hiking shoes, so you can try them on while wearing the socks you'll be walking in.
Hiking Socks Buying Advice
What's The Difference Between Hiking Socks And Regular Socks?
Most hiking socks have some sort of body mapping or zoning in them. That translates to cushioning underfoot where it's most needed, a performance-mesh construction in other areas of the foot to better regulate temperature and moisture, and a tighter weave around the arch for support and to keep the sock in place.
Some of the socks suggested below are all about keeping your feet warm while some are about helping to keep them cool as your needs change with the seasons.
What Are Hiking Socks Made Of?
Merino wool has become the yarn of choice for hiking socks over recent years. It's soft against the skin, has great moisture-wicking properties, is a natural temperature regulator and stays warm when wet.
However, Merino wool isn't without its issues – there have been some concerns about the welfare standards of Merino sheep farms. To mitigate these issues, choose a brand that guarantees cruelty-free wool, using a certification standard like ZQ. Or, if you're keen to avoid wool altogether, there are a few vegan-friendly suggestions to check out below.
Merino on its own also isn't all that durable, so most brands will blend Merino with a synthetic yarn like nylon or polyester, and many brands are now trying to incorporate some recycled content within these.
The Best Women's Hiking Socks
Smartwool Women's Hike Light Cushion Crew
Good all-rounder
Specifications
Materials:
Merino, polyamide, elastane
Reasons to buy
+
ZQ-certified Merino
+
Seamless
This is a staple for the outdoorsy person's sock drawer. If all other choices are too confusing, this sock is a failsafe choice that has been going strong for 25 years. Lightly cushioned along the entire bottom of the foot, with mesh venting to aid temperature control and moisture management, the sock has seamless construction to avoid rubbing. It's made from ZQ-certified Merino and partially recycled nylon content, and is available in four colours.
Buy from Smartwool | £19.99
---
Smartwool Women's Mountaineer Classic Edition Maximum Cushion Crew Socks
Good for epic days out in the cold
Specifications
Materials:
Merino, nylon, elastane
Reasons to avoid
-
Overkill for casual hiking
This is a full-on trekking sock for long or cold days out. Bear in mind that a really heavy-duty sock like this will need pairing with a boot that still leaves a bit of wiggle room for your toes. Maximum cushioning will help keep your feet warm and absorb a little of the impact from carrying a heavy pack. A blend of "responsibly sourced" Merino (74%) and nylon (partly recycled) makes these a reasonably ethical choice too.
Buy from Smartwool | £24.99
---
Sealskinz Waterproof Cold Weather Mid-Length Sock
Good for boggy terrain and stream crossings
Specifications
Materials:
Nylon, elastane, hydrophilic membrane, Merino wool, acrylic, polyester
Reasons to buy
+
Waterproof and breathable
Reasons to avoid
-
Unnecessary if you wear a waterproof shoe
-
Expensive
Fed up with puddle water seeping into your socks? Waterproof socks might sound uncomfortable for long hikes, but SealSkinz has developed a sock that has a breathable waterproof membrane: it looks, feels and wears just like a normal sock but keeps water off your feet. Many hiking shoes and boots are waterproof so this may not be of use to everyone, but it can help if your boots aren't waterproof, or if you're walking somewhere particularly boggy, with a lot of stream and river crossings. Keep in mind that these socks will probably be too hot for summer wear.
Buy from Sealskinz | £40
---
Bridgedale Women's Lightweight Coolmax Comfort Boot
Good for summer hikes
Specifications
Materials:
Coolmax polyester, combed cotton, nylon, elastane
This is a good choice for warmer weather and for those wishing to avoid a sock with Merino in it. Coolmax is a polyester blend that's great at moisture management and helping to keep your feet cool. There's the obligatory padded heel and toe, and open-mesh construction to help with moisture wicking. The flat toe seam helps avoid irritation. It's available in three colours.
Buy from Bridgedale | £16
---
Rohan Women's Trail Sock
Good for warmer climates
Specifications
Materials:
Coolmax polyester, polyamide, polypropylene, elastane
Reasons to buy
+
Lightweight
+
Anti-insect treatment
Reasons to avoid
-
Smaller than usual range of sizes
This thinner sock with no cushioning is ideal for summer hiking, or trips to tropical climes. Made from Coolmax polyester blended with polyamide, it has a soft feel and decent moisture management. The fabric has been treated with Insect Shield, a permethrin-based product which discourages insects from landing on the material, in an effort to keep your ankles bite-free.
Buy from Rohan | £19
---
Stance Quarter Hiking Sock
Good for use with shoes or low-rise boots
Specifications
Materials:
Nylon, Merino wool, polyester, elastane
This quarter-height sock is a great choice to wear with shoes or mid-boots. It's made with a nylon-Merino blend that's extremely durable – so durable, in fact, that Stance's Infiknit lifetime guarantee will replace any sock that rips. The construction mixes cushioning at the heel and toe with supportive performance mesh around the rest of the foot.
Buy from Stance | £19.99
---
BAM Bamboo Unisex Boot Socks
Good for a thicker Merino-free option
Specifications
Materials:
Bamboo viscose, polyamide, elastane
Reasons to avoid
-
Cheap
-
Smaller than usual range of sizes
Bamboo socks feel pleasantly soft against the skin, and they don't do a bad job of managing moisture and regulating temperature either. These socks are padded throughout, rather than having just a cushioned heel and toe. Bamboo viscose has some pretty good eco-credentials, and this is a great vegan choice if you're looking for a thicker sock that will do the job when paired up with the right boot or shoe.
Buy from BAM | £15
Sign up for workout ideas, training advice, reviews of the latest gear and more.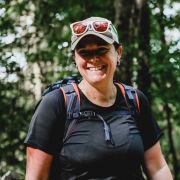 Vikki Hughes is a full-time mountain leader and outdoor activity instructor, and covers outdoor and hiking kit for Coach. She also spends a lot of her free time outdoors, so has plenty of opportunity to put gear through its paces.