The Best Men's Hairstyles Of 2018
Get the latest catwalk looks with our expert guide to new hair trends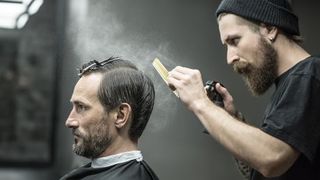 (Image credit: Unknown)
For the past couple of years, working out what to ask for when you get your hair cut hasn't been particularly difficult. You just do what everyone else does. Short back and sides, swept over on top. The only decision was whether or not you wanted to look like a footballer ("fade from zero to four, please") and how high you wanted to go with your quiff.
But now that look faces the chop, judging by the catwalk cuts seen at the recent Men's London Fashion Week. Mens Fitness's resident barber Anthony Mayes is here to help you navigate these new stylistic waters.
"One thing I noticed was the number of different styles we saw at the shows," says Mayes. "You saw shows in previous years where everyone would walk out looking quite uniform, whereas now the models all have very different looks. We've identified three key trends but there are still a lot of styles that sit in between these ones. So be playful with what you've got and experiment a little.
"I think the 'neatly styled' look is moving out and we're seeing more of a street culture. People are following other people, everyone gets inspired by different things, and as a result there are a lot of different looks out there.
"As a stylist, I like to work with different looks. I don't just want to work on one trend and give everyone the same look. I've done a lot of side partings, fades and quiffs recently and, as good as they look, it's refreshing that people are now wanting something different."
Mayes has selected three key hair trends that will ensure you're ahead of the hair game next time you visit your barber.
Buzz cut
As seen at Blood Brother (pictured), Alex Mullins, Tonsure, D.GNAK
The look A buzz cut can vary in length. It doesn't necessarily mean going down to a grade one all over.
Who it suits Not everyone is going to suit a buzz cut or a crew cut. Normally round, rather than square, head shapes suit the style because the hair is cut primarily in one length all over the head, and a symmetrical face is good. You can get away with going shorter if you have darker hair – blond hair tends to look shorter than dark hair even if it is the same length. If you've got dark hair you can get away with a grade one or two, but if you have light hair you may want to stick with three or four.
Stylist's tip There are ways you can adapt the look. If your head is too round then you can go slightly shorter on the sides to give it a tapered, tailored finish. You often see a lot of strong edges and definite lines but I like to loosen it up a bit by tapering it on the edges to give it more of a finished look, as opposed to buzzing it around and squaring it off at the edges, which can look a bit harsh. Of course it comes down to personal preference but personally, I like a softer look.
Fringes
As seen at Craig Green, Ben Sherman, Lou Dalton (pictured)
The look The trend is for shorter, textured, broken-up fringes, quite directional as well. Most fringes tend to be pushed to the side for a softer look, but there are variations: you see some guys with sweeping, below-the-eyebrow fringes, although that's a bit more high-maintenance.
Who it suits You can adapt a fringe to suit almost anyone. Recently everyone's been wearing their hair swept back with a parting so it's a nice change.
Stylist's tip It'll change the way your face shape looks, closing the face in a bit and making your forehead look smaller. If you're in doubt, or you're used to wearing your hair off your face, then keeping the fringe on the longer side is definitely a better option – if it's long you can always sweep it out of the way (or even trim it). Things you can't change, like swirls and widow's peaks and cowlicks, can be anywhere along the front hairline but they don't mean you can't have a fringe. That said, certain fringes will be difficult to achieve – you'll probably have to keep it either really long or really short.
Long hair
As seen at Blood Brother, Alex Mullins, Ben Sherman, Xander Zhou, Tonsure (pictured)
The look There are many variations – partings, fringes, below or above shoulder length –but what we're seeing on the catwalk is often shoulder length, sort of rock star hair. It's versatile, and you can wear it in many different ways – sleek, textured, layered, not layered – and then there are up styles, such as in a bun or a Samurai or a topknot.
Who it suits If your hair is very thick then it'll normally grow out before it grows down, which can make it tricky to get a stylish long-haired look. If you have finer hair, steer away from layering it because you're taking weight away from the bottom of the hair and that can make it quite wispy on the ends. Medium hair thickness is probably the easiest to manage.
Stylist's tip If you're growing hair from short to long, there are going to be periods where you're not really sure where you are with it! When you're growing it, don't try to style your hair as if it is long before you've got properly long hair. Some try to squeeze it into a little bun at the back when there's only about an inch of hair. Don't.
Anthony Mayes is barbering director at the Refinery Mayfair and an ambassador for Hanz de Fuko. anthonymayeslondon.com
See related
Ruffians Barber Shop's Best Men's Hairstyles Of The Year
We also asked Ruffians Barber Shop to detail the looks you should be asking for – as seen on Celebrityland's leading men – as you plonk yourself in the salon chair, because it's easier to ask for a Bruno Mars than a disconnected wide mohawk with a tapered nape. Read on, find your favourite and bump "get my hair sorted" up – and then off – that to-do list.
Nick Jonas
What is it and who does it suit? It's a suede or crop cut that suits hair of medium to thick density, and it's a convenient style for men who find that their hair verges on the uncontrollable. It's great for square or heart-shaped faces.
How do I style it? On towel-dried hair, work in a small amount of styling paste and use either a wide-tooth comb or your fingers to give it direction. Air drying it will keep in the texture.
Bruno Mars
What is it and who does it suit? This style, a disconnected wide mohawk with a tapered nape, works with a range of face shapes from heart to square, but it works especially well for those with smaller foreheads because it elongates the face. With this look, the contrast created by disconnection may be enough without having a fade. You could choose to have the shortest part at a grade two to keep a strong outline.
How do I style it? Use a low hairdryer setting and swap between directing your hair with your fingers and using a vent or medium round brush to smooth out the fringe. Use a creamy finishing product to hold the style in place and moisturise the hair.
Liam Hemsworth
What is it and who does it suit? It's a textured graduation cut, suiting hair that has a slight wave or straight texture, and a lighter colour on the mid-length and ends.
How do I style it? Blast dry with a hairdryer on a low setting – if the flow is too high it can straighten the hair out too much – and then work in a little rough matte clay all over, starting at the crown and working your way to the perimeter.
Cillian Murphy
What is it and who does it suit? The high disconnected cut is a style that will stay with us for a good while yet. It's a good choice for those with a squarer face shape and hair with medium to thick density.
How do I style it? Rub in a little pomade on towel-dried hair and dry in to give a more unwashed look. Finish with some dust to give a drier and messier texture.
Christian Bale
What is it and who does it suit? The long square layers seen on Bale brings out of the texture of wavy hair and is great on rounder faces.
How do I style it? Blow-drying this style to a good standard needs a little practice (and a round brush. If you have a special occasion you may want the help of a professional, but at home you can use a blow dryer and your hands to smooth it out as much as possible. At the very least, you will achieve a more "beachy" hair look.
Usher
What is it and who does it suit? This shorter version of the wide mohawk has tapered/faded sides with a strong outline. By keeping a little length through the middle at the back to the nape, you create more smoothness in the silhouette. The sharp, razored-in hairline adds definition.
How do I style it? Less is more. Use some heat protection product and a dryer on a low setting, and use your fingers to shape in to place. Finish with a creamier, moisturising product to style and protect.
Michiel Huisman
What is it and who does it suit? It's medium-length graduation and it's great for fine to medium-density hair with a wavy texture.
How do I style it? Simply work in a little leave-in conditioner or some sort of curl cream and comb it into the direction you would like it to sit with a wide-tooth comb. Then finish by using your fingers as a comb to loosen the wave, and air-dry.
Brooklyn Beckham
What is it and who does it suit? This graduated or Prince Charming cut has an air of '90s Hugh Grant. The width of the cut suits narrower faces and is a smart pick for medium-density hair with a slight wave.
How do I style it? Depending on the hair, this can be blow-dried with a vent brush, scooping the hair up to encourage volume – or if the hair is naturally smoother, you may get away with using just your fingers. Finish with styling paste.
Dev Patel
What is it and who does it suit? This mid-length graduated cut suits narrower faces as it adds width and is fantastic on hair with a slight wave as it will help keep it in place. An important thing to remember when working with mid-length hair is, when washing, use a tiny amount of conditioner on the mid-length and ends only. Too much conditioner on the scalp may lead to over-nourishment and cause the hair to become greasy and floppy.
How do I style it? Styling depends on the amount of wave, but always use a little heat protection on the mid-length and ends, and use a dryer at a low setting. Sometimes it's nice to keep a little moisture in the hair as you'll get a touch more texture if it finishes drying naturally. Finish with a light curl cream but, again, avoid product on the scalp.
Zac Efron
What is it and who does it suit? Short back and sides with texture. What makes this cut is the shorter hair towards the front hairline to create texture. A cut like this looks great on a squarer face and most densities from fine to thick because you can vary how much hair is chipped out.
How do I style it? Blow-dry with your fingers and then run some straightening irons through it before working in some rough matte clay.
Bradley Cooper
What is it and who does it suit? This medium-graduated cut has been requested more and more at Ruffians. The classic shape suits square to wider faces because the hair peeking out behind frames the face. It works well on medium-density hair with a slight wave.
How do I style it? Depending on the hair texture, you may get away with blast-drying and using your fingers to lift off the scalp to encourage volume, or use a vent brush for a more polished finish. Use styling paste on th
Sign up for workout ideas, training advice, reviews of the latest gear and more.
Coach is a health and fitness title. This byline is used for posting sponsored content, book extracts and the like. It is also used as a placeholder for articles published a long time ago when the original author is unclear. You can find out more about this publication and find the contact details of the editorial team on the About Us page.