The Best Men's Hair Products
Get your head around the vast array of styling product options with advice from Men's Fitness' resident hair expert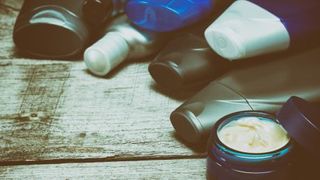 (Image credit: Unknown)
"Product is normally formed of hold factor and finish," says Men's Fitness's resident hair stylist Anthony Mayes (opens in new tab), Hanz De Fuko ambassador and barbering director at The Refinery London. "By finish, I mean anything from very shiny to very matte and dusty. Within each category there are different levels of hold. There are so many options out there now. There are matte clays. There's a matte paste that I use that's almost a bit gooey in the hands. But then I've also got a matte clay that almost feels like a wax. If the product is watery or gooey, that tells you that there's a lot of water in it and you can guess what that's going to be like. Whereas if you use a paste or something that you almost have to melt in your hands, then you can anticipate the finish and the look it is going to give you." Here's your expert guide to hair product mastery.
Pomades And Gels
"If you want a high shine you're looking at pomades and gels and that is ideal for a swept-back look, maybe for a black tie event. High shine doesn't always mean a lot of hold but they are often linked. Pomades tend to be quite light –it's a bit like you have an ointment in your hair. You can re-comb it and it will still stay quite slick. A gel can sometimes form in a very hard shape."
Stylng tip: "The gel is going to be worked quite a bit," says Mayes. "First you'd use your hands but then you might use a comb. If you're combing it through then you'll make sure it isn't clumpy. If you want something tight and close to the head, use a fine tooth. If you want something with more of a bounce to it, use a wide-tooth comb. This works with long hair or slicked-back styles."
---
Kiehl's clean styling gel
Top pick
(opens in new tab)
A world away from the cheap goo you used as a teenager. This non-shiny gel contains essential oils to nourish your hair. £20, buy on kiehls.co.uk (opens in new tab)
Paste And Gums
"If you want something more creative but with a shine element then you'd use a paste, cream or gum. They tend to be a little more forgiving in terms of their hold factor. Most of them provide medium hold but they give a bit of a glossy finish to the hair."
Styling tip: "With pastes, you rub the product into your palm then use your fingertips with a raking motion through your hair to apply it in the direction of your style. My tell-tale sign that you have too much product is that you'll be able to see it in your hands. The exception is products that go white when you rub them into your hands – they tend to be pastes. Most good-quality products dissolve into your palms and then you get the desired look when you run your hands through your hair."
---
Sashajuan fibre paste
Top pick
(opens in new tab)
This is a really subtle product, which allows you to be very precise with your styles while keeping them natural looking. £22, buy on sachajuan.com (opens in new tab)
---
Putty And Mud
"These tend to give a matte finish and have a stronger hold. Most people would use these on shorter hair because matte finishes are usually associated with texture. However, people are starting to wear matte finishes on longer hair now."
---
Hanz De Fuko heavy made
Top pick
(opens in new tab)
One of the best hair stylers we've used. It gives your hair character without making it look like you've used lots of product. £16, buy on mankind.co.uk (opens in new tab)
---
See related
Powder And Dry Shampoo
"These can be used for all lengths. Dry shampoo eradicates grease in the hair, which is a benefit in itself but also means it can be used as a styling product to give your hair texture and volume. It's good for finer hair types where you don't want to be running your hands through it or getting too much separation. Powders can expand in the hair to add volume too. But be careful because if you use too much then your hair can look too matte and you can get a build-up of white particles."
Styling tips: "There are a couple of ways of using a powder. I prepare by dusting it into my hands first because that gives me control over how much I'm using. Once it's in my palm I gently pat my hands together, without losing the product, then I skim over the hair. If you've got thick hair and you really want to get it into the roots, then you'd use your fingertips. If you're working over more of a sleek surface and you want something more styled, you'd just use your palm.
"Normally dry shampoo comes in a spray form, so hold it at arm's length from your head and 'mist' it on. Don't get too close because it can actually become a bit wet – it's a bit like spraying deodorant. Also, never touch your hair as soon as you've sprayed it on. Give it at least 30 seconds to set and start to work."
---
Fudge urban powder styler
Top pick
(opens in new tab)
Add texture and the appearance of extra volume to your style without leaving a sticky residue, using this simple-to-apply powder. £5.99, buy on boots.co.uk (opens in new tab)
Sign up for workout ideas, training advice, reviews of the latest gear and more.
Coach is a health and fitness title. This byline is used for posting sponsored content, book extracts and the like. It is also used as a placeholder for articles published a long time ago when the original author is unclear. You can find out more about this publication and find the contact details of the editorial team on the About Us page.