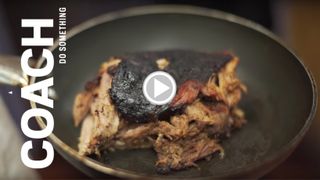 (Image credit: Unknown)
A staple of any good pub menu and medieval-themed event, pulled pork is simply the one. While it's loved by most, surprisingly few people make it themselves, but as soon as you realise how easy it is to create this basic booze food, you'll curse yourself for not trying it sooner.
All you need is a quick visit to the butchers and an oven. Oh, and some seasoning, lots of seasoning. So nip to the butchers now, buy a fat block of pork, spend five minutes watching this and preparing your meat, then enjoy a well-earned sandwich at some point on Saturday morning/afternoon/evening when you wake up after Friday's night out.
We've signed up Richard Coates, co-founder of London's best barbecue joint, Bodean's, to school us in the art of manly cooking. He'll be covering everything, from culinary hacks like pimping a humble can of baked beans to essential man skills like searing a steak to perfection and making this pulled pork sandwich.
Step 1: Season the life out of a block of pork. Well, it should be dead already but, yeah, absolutely cover it in seasoning.
Step 2: Place the seasoned block in a pan and cover with foil.
Step 3: Place in oven for 3-4 hours at 160˚C/gas 3.
Step 4: Toast a bun and season with BBQ sauce.
Step 5: Pull the pork apart and season with Carolina sauce (or anything peppery and hot).
Step 6: Combine the two to create the most formidable pig sandwich your mouth has ever experienced.
P.S. If you're worried about the recent negativity surrounding pork in the news, read this so you can go back to enjoying the stuff.
Want Coach to teach you a particular skill in the kitchen? Follow us on Twitter here and hashtag your culinary request #CoachEats
Sign up for workout ideas, training advice, reviews of the latest gear and more.
Sam Razvi wrote for Men's Fitness UK (which predated and then shared a website with Coach) between 2011 and 2016.