Why Do My Balls Ache?
Dr Nick Knight explains what can cause testicular pain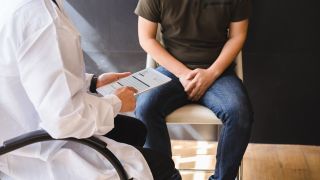 (Image credit: iStock / Getty Images Plus / Korrawin)
About our expert
Dr Nick Knight is a doctor in a London hospital, with a degree in exercise and sports sciences and a PhD in human performance. Dr Knight has trained a four-man crew to row 5,000km across the Indian Ocean and has carried out medical research at Mount Everest Base Camp.
Discomfort in your delicate man-region is an especially worrying occurrence and it's easy to fear the worst. But are we right to jump to conclusions when we get an ache in our testicles? Dr Nick Knight explains that what feels like a pain in the balls can be caused by any number of things, from hernias to infections, dilated blood vessels to kidney stones.
What is ball ache?
Ball ache is something that affects many men from time to time. But what exactly is it? "To answer that question, we need to think about the anatomy down below," says Knight. "And it's actually quite complex. You don't just have the ball – the testicle – you've also got the blood vessels, you've got the plumbing where we make our sperm. We've also got the scrotum, ie the sac, and you've got your groin muscles and even your tummy nearby."
What could be causing it?
While it might feel like you've got an ache in your balls, it might not actually originate in your balls. "You may have an infection known as epididymitis, where the tube at the back of your testicle gets inflamed. Your testicular pain may be related to a dilated blood vessel called a varicocele. Or you might have a hernia or a kidney stone." There are many potential causes for pain in your balls and your doctor is best placed to find out what's causing it in your case.
There's one possibility that you may be more anxious about. "If you're worried about testicular cancer," says Knight, "bear in mind that often this cancer is painless. Check for a hard lump in your testicle, like a lump of wood." It's a good idea to learn how to examine your own balls to look for things like testicular cancer. As Knight says, "It's very important that you go to your GP and get a lesson on how to examine them. It could be life-saving."
The UK charity Macmillan Cancer Support has excellent advice on how to check your testicles and it's one of the five simple male health checks you can do in five minutes.
For more from Knight, see his explanation for the difference between a strain and a sprain and how to stop snoring. Struggling to nod off at night? He explores the possible answers to the question why can't I sleep?
Sign up for workout ideas, training advice, reviews of the latest gear and more.
Craft beer drinker, Devonian, fisherman and former content director of Coach online, Chris contributed style coverage and features between 2016 and 2019.