How to Stay Healthy at Music Festivals
From spiteful bacteria in festival food to dancing injuries, beware the pitfalls of the festival circuit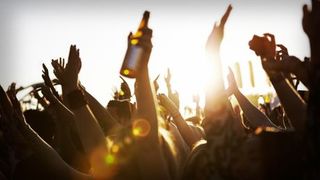 (Image credit: unknown)
The festival season is nigh, meaning the chance to forget your troubles and go wild in a field for a weekend. The delirium of shouting lyrics that perfectly articulate your feelings in a warm meadow while dressed as an air hostess… these are the memories that last a lifetime.
But whether you favour the megalopolis of Glastonbury, the rural intimacy of Barn on a Farm or some foreign and unpronounceable gathering of the goths, all festivals come with a health warning. Think about it – crowded "stages" full of revellers, the blazing sun/lashing rain giving you sunstroke/trench foot, enough booze to sink a ship. So before you whip your top off and start clambering on your mate's shoulders to get a better view of The Kooks, take a moment to heed this potentially festival-saving advice.
1. Dehydration
The most common mistake people make is that they drink alcohol to quench their thirst. Hence festivals are teeming with dehydrated people who haven't been to the loo for a while and are totally parched yet can't figure out why they feel like passing out. Exposure to the sun won't help, either. "Dehydration is a huge issue," says Matt Harrap, a festival manager from event organiser Count Of Ten. "It's often hot, people get excited, they'll drink a few pints and not have any water and will start to feel ropey. Every time you order a drink, just fill up with some water too."
Leave room in your rucksack for: A big bottle of water
2. Excessive Drinking
People think they know their limits, but then they don't really factor in other elements, such as the weather, and the fact that they started chucking them back just after breakfast. "If you see someone floundering, contact the nearest steward or go to the medical staff," says Sue Lees, project manager for the Liverpool International Music Festival. "It's really easy to spot the people who are feeling unwell," continues Matt, "and luckily there's a real sense of community at most festivals, so if people see strangers in trouble, they will often go out of their way to help them."
Leave room in your rucksack for: Self-discipline
3. Twisted Ankle
Festivals are the place where you can unleash your inner princess, but the wise man still knows to keep it sensible when it comes to footwear, because rolling fields can prove a hazardous terrain, and it's easy to twist an ankle. "I know it's cool to wear sandals or flip-flops, but think of your feet," says festival medic Peter Hollely. "If you haven't got decent ankle support you're increasing the risk of going over on it and causing yourself damage." The first signs of this are excruciating pain, followed by enormous unattractive swelling.
Leave room in your rucksack for: Sensible, comfortable footwear
4. Sunburn
It's many a poor bugger who forgets to pack their factor 15, so at festivals sunburn can be rife. Reddening skin, feverish, flu-like symptoms – if you spot a pal hitting lobster levels, the generous thing to do would be to provide some kind of shade or protection. "We advise that people look at the weather forecast beforehand and bring their sun cream, because that's the main mistake people make – they don't prepare in advance," says Sue. "We've even had incidents of heat exhaustion, which is completely avoidable because we provide free water."
Leave room in your rucksack for: Strong sun cream
5. Dancing Injuries
Whenever you see Glastonbury on the telly, you'll spot revellers in the crowd swaying from side to side on their pal's shoulders. What you don't see is the snaking queue outside the medical tent of groaning casualties with their limbs pointing in the wrong direction because they fell off. "You get the odd broken leg," says Matt. "I'll always remember this guy who was enjoying The Prodigy so much that he decided to climb up the pole in the middle of the tent, and then jumped down and broke his leg – the next day he came back in a wheelchair!"
Leave room in your rucksack for: Common sense
6. Diarrhoea
Big communal showers, muddy puddles, dodgy food trucks flogging half-cooked chicken – these things are a breeding ground for germs, and you could end up with all manner of bugs. Think ahead and take along wet wipes, and some of that terrific sanitiser you get in hospitals that dries off on your hands. "Judge your food by how horrendous the vehicle it's being sold from is too," says Kieran Delaney, organiser of the Offset Festival. "If it's a rusty old van, the burger might be worth a miss – you wouldn't eat a curry from a skip."
Leave room in your rucksack for: Imodium, wet wipes and hand sanitiser
7. STIs
Great music, booze, Camberwell Carrots circling bonfires – chances are lots of people are going to go beyond social intercourse. In many ways this is great, because sex is a nice thing to do. But then again, festival conditions don't exactly shout "use protection", which means that old pals such as syphilis and chlamydia could find themselves headlining your underpants tent in the weeks following the trip. "Generally STIs don't present immediately," says Peter. "But it's quite common to get people coming to us looking for the morning-after pill."
Leave room in your rucksack for: Condoms
8. Hypothermia
It's easy to forget that even sunny days transform into chilly evenings, and you must remember those images of hippies swimming in lakes of mud. It's not unfathomable for it to pour with rain at a festival – it shares that rain-bating trait with Wimbledon. So think ahead and be prepared: pack some extra layers of warm clothing and something waterproof, because if you spend the evening shivering, pale, and feeling increasingly weak, it could mean you have mild hypothermia.
Leave room in your rucksack for: Waterproofs and thermals
9. Forgetting Your Medication
In the mayhem of attempting to pack everything you need for a festival, one health threat is to forget your regular meds if you suffer from a condition. Or you may unwittingly find yourself feeling perplexed and anxious. If that's the case, the best thing to do is to let your friends know, and to relocate to a quieter area, or visit the on-site medical team. "We do get people coming to us with pre-existing conditions that have been triggered somehow," says Peter. "They might be feeling depressed, or they might not have responded well to being in a crowd."
Leave room in your rucksack for: Your medication
10. Stumbling into things at night
While the main stages are alive with light shows, once you're trudging back to Far Away Field #27, you might notice that less has been invested in keeping that area illuminated. That makes it a potential minefield, with cars, tents, and sleeping revellers all lying in wait like bear traps. "If it's an overnight festival, bring a torch," says Sue. "It's the best way to ensure that you don't bump into things or people, and give yourself a completely avoidable injury."
Leave room in your rucksack for: A torch
Festival Food Roulette
With its mystery pies and stir-fried objects, the festival menu can be make or break.
Do
Think about going veggie: Experience says "go veggie" when you're dining off the grid, and these festivals are essentially mini-travelling experiences. Also: "eat good carbohydrates that support your absorption of alcohol," according to medical nurse, Peter.
Go high end, if you can afford it: "You can get stuff like lobster and champagne at Glastonbury now," says festival fan Louise, making a good point. These things aren't run from knackered old food trucks, so stuff some extra notes in your "fanny pack" and go posh.
Get some sugary doughnuts: Fairgrounds have been churning out doughnuts for donkey's years without too much bother, so they make a great sugary snack. "I love the doughnuts you get at them," says keen festival-goer Nick, "they're great if you need a bit of energy."
See what food is on offer first: "This year, we are planning to take the kids to Wilderness Festival because there's really great healthy food on offer," says festival fan Carl.
Don't
Eat too many natural laxatives: "A friend of mine thought she was being dead clever by bringing lots of dried apricots to get her five a day," says Louise. The upshot is you'll be the one known for rushing to the toilet every 20 minutes.
Throw a BBQ next to your car: "Don't try to light a disposable barbecue in the footwell of your car," says rock fan Mike. Alcohol made me think this might be a good idea but it wasn't, and as flames licked the steering wheel, reality bit."
Try the place without the queue: If the father/son burger van isn't getting much traction, don't risk it. "I've made that mistake," says festival regular Travis. "I went to a place with no queue, and spent the rest of the weekend barfing."
Take along half a supermarket: "I thought I'd save some money by stocking up on tins of beans and soup for every meal," says music fan Joe. "Then it dawned on me that you're not going to want to trudge a mile back to the tent every time you want to eat something. Massive waste of money."
The Medical Man
Experienced emergency nurse Peter Hollely has applied the plasters in countless fields.
What sorts of festivals have you worked at?
All sorts. I've been working at festivals for 12 years in a medical capacity, ranging from rock festivals, pop festivals, comedy festivals, and more subdued classical events.
Do you get casualties at classical concerts?
Not really – a classical audience is older, which means you have different problems. At those you might see people with medical complaints rather than alcohol-induced problems. There's not quite the same amount of vomit.
What about the bigger music festivals?
Where to start? You get more injuries from people crowd-surfing and jumping around in mosh pits – muscular and skeletal injuries, a lot of sprained ankles. Occasionally you might even get people who just see the medical facility and think it's a handy source of health access: "Can you check on this problem I've had for a couple of weeks?" That's not quite what we're there for.
People use you as a drop-in clinic?
Yeah, like we're a GP practice.
So what are the most common mistakes that people make at festivals?
By far the most common one is that they get dehydrated. People go to festivals, they get excited, they forget to eat a proper lunch, they drink a lot of alcohol, it's a hot day, and they don't think to top up with water. There's only one way that can go.
How do you tend to them?
In a number of ways. They're always eager to get back to having fun as quickly as possible, and often see visiting the medical area as a massive inconvenience, but you have to be reasonable about it – we explain that they might need to stay in the facility for an hour or so, so we can get them back to a state where they'll be able to enjoy the festival again without having to worry.
And do they listen to you?
By and large, yes. They're mostly party-goers, up for a good time, and the cliché that we hear year after year [from their friends] is "Oh, I've never seen them like this before", but they've forgotten that at a festival you're thrown out of your normal routine. You've probably not had a good night's sleep because you got up really early, you're a bit excited about going to a gig. There are lots of factors that affect how your body is going to behave.
Do you get lots of aggro?
Not really. People at festivals tend to be kind-spirited, they very rarely become aggressive when we're treating them.
What about overenthusiastic dancing accidents? You must get loads of those.
We do. People will often get carried away when they're dancing, and they'll go over on their ankle then style it out and carry on – possibly because suddenly collapsing in a heap or hobbling away would be a bit embarrassing in front of their mates – but then all of a sudden the pain kicks in, and they can't cope any more. Or you get people who have climbed on someone's shoulders to watch a band, and they've fallen from a height and they're complaining of neck pain. We'd assess that and treat it the same way as if someone had fallen off a ladder.
Sign up for workout ideas, training advice, reviews of the latest gear and more.