You Me At Six's Drummer Dan Flint on Not Drinking For A Year
"I felt so good the whole time"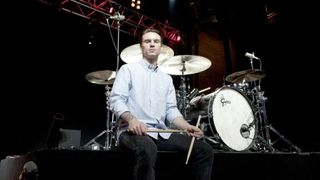 (Image credit: Unknown)
How do you avoid the lure of the service station pasty?
After years and years of being on tour, I've realised how much they just make you feel awful afterwards. We're only young guys but after doing it for 10 years we all decided we had to start looking after ourselves if we wanted to make this a long-term thing. I make granola dust at home and bring it away with me and I drink lots of almond milk – get something good inside your belly early morning and it really sets your day up well.
What's your most impressive personal best?
I did score a goal at Wembley with Umbro once, so that's up there. It's not really a fitness personal best, but in terms of sport it's definitely the one for me.
Which excuse for not going to the gym/working out are you most ashamed of?
Usually that I'm too hungover, that's the only one. "I had a few drinks last night, got a bit excited – I'm not doing it today." I still usually try and drag myself in, even if I only end up being in the gym for 20 minutes – at least I've walked through those doors and can feel a little bit better about myself.
Is being in a rock band unhealthy?
When we're on our bus I make sure I do some research, then get off early and head to a local gym and get in a good workout. Or have a steam room, go for a swim, sauna – that kind of stuff. By the time I head back to the venue, I've been out for a couple of hours and I'm feeling fit and strong – everything improves, including my playing. It's easy to do once you get into that routine of getting up and doing it.
Have you ever secretly impressed yourself with a feat of strength?
Oh every day. No, I'm a bit of a self- loather really – I'm always like "You can do more! Why can't you do that?" I'm more on that train.
What's the most extreme thing you've done in the name of good health or fitness?
The most extreme thing I've done is not drinking for an entire year. I went in pretty heavy – I was doing the Paleo diet and just trying to keep myself as fit and healthy as I could. For some people that might not be that impressive, but when you play in a band and are on tour, you'll turn up to a venue and there's just free alcohol being poured down your neck. It's quite a feat really, but I felt so good the whole time.
RECOMMENDED: Try Giving Up Alcohol For a Year
What is your guilty pleasure?
Definitely chocolate, 100%, a million times. It's gotta be Dairy Milk, always – it's the only type for me. Dairy Milk Easter Egg is the one.
At what point in your life were you fittest, and why?
When I was about 15 I used to be a bit of a health freak. I was a sprinter and played basketball and football, so cardio-wise I was probably a bit fitter back then. But in terms of overall body and strength, I think I'm getting close to it now.
Do you ever seek the guidance of a fitness app?
I do actually use one, it's called JeFit. You can select a muscle group that you want to isolate and it comes up with new exercises to keep it fresh and interesting. I think that's something people struggle with: not knowing what to do, it can be quite overwhelming. Also it's easy to get bored of just doing the same thing over and over.
What's the worst type of gym behaviour?
People who wear jeans – that always really frustrates me – wearing shoes and a polo shirt, I'm like "What are you doing?" Also, I was in the gym the other day and there was this guy lifting weights – in between sets he was dancing really elaborately to the music. I should've filmed him, although he was massive – if he'd caught me he might have dumped me over…
You Me At Six will headline the Dr Martens Stand For Something Tour at London's Dingwalls on November 26.
Sign up for workout ideas, training advice, reviews of the latest gear and more.
Gary Ogden wrote for the print edition of Coach between 2015 and 2016, writing features, interviewing celebrities and covering entertainment. He has also written for ShortList.