The Best Apple Watch Fitness Apps
Put that smartwatch investment to good use with these free and cheap fitness tools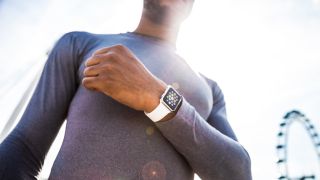 (Image credit: Getty Images / iStock / Leo Patrizi)
Both the Apple Watch Series 8 and Apple Watch Ultra are among the best fitness smartwatches available, and that's true even if you never download a single third-party app to them. The native sports tracking on the watches was upgraded considerably with watchOS 9 and this applies to all versions of the Apple Watch dating back to the Series 4.
However, adding some of the best fitness apps to the Apple Watch still improves it greatly. Indeed, access to the App Store is perhaps the main feature that makes the watch stand out from its competitors. So don't miss out – here are the best fitness apps for the Apple Watch that you should consider.
The Best Apple Watch Fitness Apps
Best for guided workouts
Specifications
RRP:
$9.99/£9.99 a month or $79.99/£79.99
Reasons to buy
+
Variety of workouts
+
Top-notch trainers
+
Great integration with Apple Watch
Reasons to avoid
-
Greater workout variety on other apps
Fitness+ is one of the best guided workout apps and if you have an Apple Watch then it's certainly worth giving the free one-month trial a whirl. The app contains a range of training types, including strength and HIIT sessions, yoga, and workouts you can do on cardio equipment like treadmills and exercise bikes if you have access to one. It works seamlessly with the Apple Watch, so you can start, pause and end workouts from the watch, and your heart rate and calorie stats are taken from the watch and shown on-screen during workouts. The Fitness+ service is contained within the native Fitness app, so you don't need to download anything new to use it – just sign up for the service.
Read more in our Apple Fitness+ review
---
WorkOutDoors
Best for runners
Reasons to buy
+
Loads of stats and customisation
+
Great navigation with maps
+
Low one-off cost
Reasons to avoid
-
No always-on display option yet
If you love the smart features on your Apple Watch but wish it had the functionality of a sports watch, WorkOutDoors will make any regrets you had over choosing Apple disappear. The app transforms your Apple Watch into a proper sports watch at a stroke. The only things missing are an always-on screen (though this could be coming through an update, since Apple now allows third-party apps to use it) and the beefier battery life of a Garmin.
---
EXi
Best for starting to exercise safely
Reasons to buy
+
NHS-approved
+
Takes medical conditions into account
+
Training plan builds gradually
+
Workout suggestions for all settings
Reasons to avoid
-
Not for experienced exercisers
If you've been diagnosed with a chronic condition or are returning to exercise after a long sedentary period, and you aren't sure how to start working out safely, EXi is the solution to all your exercise-related problems. This NHS-recommended app has been created by a team of medical experts and will generate a free personalised 12-week training programme for you based on your fitness level and any medical conditions you have. This programme will automatically take into account the medical guidelines for your condition, so you can be confident you're not taking any unnecessary risks.
The smartphone app is great for everyone, but a dedicated app means it's even better for Apple Watch owners. The device will guide you through the workouts in your plan, making sure you're working at the right intensity using your heart rate. As well as giving you visual feedback on your heart rate on the screen, the app provides haptic feedback that alerts you if you're in the wrong effort zone.
---
what3words
Best for staying safe
Reasons to buy
+
Free
+
Provides precise location
+
Used by emergency services
Reasons to avoid
-
Will go unused most of the time
-
Adding this app to your watch is a no-brainer, since it's free and could save your bacon if you find yourself in trouble in the great outdoors. What3words divides the world up into 57 trillion 3m squares, each of which has a unique three-word code assigned to it. If you're lost or hurt and can't see a landmark that will help describe your position, then simply giving the three-word code for your location will help your contacts or the emergency services find you. The app is used by over 85% of the UK's emergency services, including 100% of ambulance services. The watch app will show your current location and code when you open it up, and you can also use a voice search to find other people using it.
---
MyFitnessPal
Best for counting calories
Specifications
RRP:
Free, premium $9.99/£7.99 a month
Reasons to buy
+
Huge database of foods
+
Can align tracking with different diets
+
Easy to track macros on Apple Watch
Reasons to avoid
-
Database doesn't have everything
It's the biggest and best diet-tracking app around, and MyFitnessPal's watch app provides the info on how many calories you have left for the day, and breaks them down by protein, carbs and fats. It also tracks your step count and tells you how many calories you've earned by pounding the pavements.
---
Sworkit
Best bodyweight workout app
Reasons to buy
+
Variety of workouts
+
Quick workout builder
Reasons to avoid
-
Only kids' content is free
The king of bodyweight exercise apps, Sworkit builds workouts for you to follow based on four different categories – strength, cardio, yoga or stretching. You can also choose which part of the body you want to focus your workout on, or opt for a full-body session, and set how long you want to exercise for.
The instructions on the phone app are good, but it's even better to have them beamed to your smartwatch, which displays what you're meant to be doing and buzzes when you need to switch up your exercise.
---
Nike Run Club
Best for guided runs
Reasons to buy
+
Audio-guided runs from coaches and athletes
+
Promotes better mental health with Headspace
+
Free
Reasons to avoid
-
Actual tracking is fairly basic
-
Extensive Nike branding can become distracting
If you've opted for the Nike version of the Apple Watch then this popular running app is baked into it, but even if you have the regular Apple Watch, runners of all stripes should give the Nike Run Club a try.
The clear interface excels on the small screen, showing all the info you need about your run, but it's the added extras – particularly the guided runs – that make Nike Run Club stand out. You can do training sessions where elite athletes like Eliud Kipchoge or Mo Farah talk you through the intervals, or relax with runs produced in partnership with mindfulness app Headspace.
---
Headspace
Best mindfulness app
Specifications
RRP:
Free, premium $12.99/£9.99 a month
Reasons to buy
+
Helps you learn to meditate
+
Good free content to try
+
Guided exercise sessions
Reasons to avoid
-
Subscription is expensive
This popular mindfulness app is full of guided meditation sessions that can help you relax and get to sleep. Having Headspace on your wrist is often even more useful than having it on your phone, because you can fire up a quick session to help you take a moment on, say, a busy train. The app also contains guided mindfulness sessions to do when walking or running, when having it on the watch is very handy.
---
None To Run
Best beginner running app
Reasons to buy
+
Aimed at complete beginners
+
Clear, progressive training plan
Reasons to avoid
-
Some might find it too easy
There are several great couch-to-5K apps available on the Apple Watch, with WatchTo5K being a strong low-cost option, but if you find that programme too challenging then None To Run is a fantastic alternative that tweaks the approach to give beginners a shot at getting into running.
The 12-week programme advances slowly and focuses on running for time, rather than completing a set distance, and it also includes strength workouts which can help you avoid injury as you start to exercise more frequently. The first week of the plan in the app is free, but from then on it costs $5.99/£5.99 a month, though you can also get the complete plan for free on the None To Run website.
Find out more about the None To Run running app
---
Footpath
Best route-planning app
Specifications
RRP:
Free, premium $3.99/£3.49 a month
Reasons to buy
+
Create and follow routes
+
Tracks exercise while navigating
+
Free version is still useful
Reasons to avoid
-
Turn-by-turn directions only with premium
The native Workout app does not offer any integration with Apple's navigation features, but Footpath is one app that steps into the breach to offer route-planning features to runners, hikers and cyclists. You can easily create routes in the partner app by drawing them on a map, then sending them to the watch to follow. The free version of the app will get you from A to B with a trail overlaid on a map, and you can upgrade to the Elite version to get turn-by-turn directions and more detailed maps.
---
Hole19
Best golf app
Specifications
RRP:
Free, premium $7.49/£9.99 a month
Reasons to buy
+
Free version does everything you need
+
Shows yardages and tracks score
Reasons to avoid
-
Premium version is expensive
Golfers are well served by this excellent app, which allows you to track your score across a round and provides distance to the front, middle and back of the green throughout each hole you play. The app also lets you note down how many putts you hit on each hole and whether you landed on the fairway with your drive, so you can pore over the stats at the end of your round.
---
Gymaholic
Best gym workout app
Reasons to buy
+
Great for tracking weights workouts
+
Useful for planning sessions
+
Exercise form guides
Gymaholic provides a selection of workout plans for all abilities, and you can also create your own from the vast library of exercises, each of which comes with a visual guide showing how to do it correctly and which muscles it targets. You can see this on the Apple Watch during your workout, and there is also a short text description to help you ensure you're doing the move correctly. The level of detail provided by the app is fantastic and keen gym-goers will spend many a happy hour diving into their stats and planning workouts.
---
Pocket Yoga
Best yoga app
Reasons to buy
+
Low one-off cost
+
Form guide for poses
+
27 guided sessions
Reasons to avoid
-
Other apps have more content
For those keen to take to the yoga mat, but not quite ready to do so under the scrutiny of a group class, this app can be your guru instead. Over 200 different poses are explained and used in 27 different sessions, and having the images on your wrist as well as your phone means you can keep an eye on the guide no matter what contorted position you end up in.
Sign up for workout ideas, training advice, reviews of the latest gear and more.