The None To Run Running App Is An Easier Alternative To Couch To 5K
This beginner plan will help anyone to start running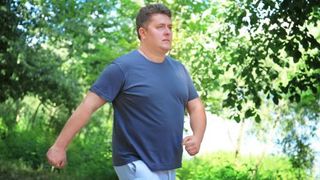 (Image credit: unknown)
For many people running is a truly enjoyable way to get fit and keep fit, but there's no doubt that when you first start out it's hard. Depending on your prior level of fitness, it can be downright awful in fact, but rest assured with a proper plan you'll quickly find it moves from intolerably hard to tolerably hard and start to enjoy running.
For many people Couch to 5K, which aims to get someone to run 5km continuously after nine weeks of training, is the beginner plan of choice. While it is an excellent pick that has helped many people complete that goal, some may find it ramps up the amount of running too quickly.
None To Run is a free alternative that takes things at a slower pace: the plan is 12 weeks long and has an overall time goal rather than using distance. It also provides strength and mobility sessions that new runners would be wise to do to limit their injury risk. There's also a paid-for app which can guide you through each run on your iPhone or Apple Watch.
We spoke to two successful None To Run graduates to find out more about the plan and why they opted for it.
Why did you decide to do the None To Run plan?
"I'm not your typical runner," says Curtis Ledger, a 46-year-old chartered accountant from Leeds. "I'm 23 stone [146kg], tried to do Couch to 5K, and got to around week three or four and failed.
"About four years later I took my kids to a junior parkrun, and I wanted to go around the course with them and keep up. I found None To Run via a search for 'Couch to 5K for obese people' and found it was a more sensible structured plan for me than Couch to 5K."
"I stopped drinking last year around the end of April – I used to drink too much," says Charles Doherty, who works in IT in Kirkcaldy. "I needed to do something else, so I started running to get fit. I started doing Couch to 5K but at 56 years old, never having done any exercise, it was a bit too much. I lasted the first two weeks. I found None To Run, which is a gentler introduction to running, and it worked out a lot better."
What problems did you experience with Couch to 5K?
"It started too quickly," says Doherty. "I tried running for 30 seconds that first week and it was the longest 30 seconds of my life, then the shortest two minutes of walking!"
"Couch to 5K is so popular and it's seen as one-size-fits-all, but I discovered it wasn't," says Ledger. "If you go on the None To Run Facebook group it's full of people who describe themselves as failed Couch to 5Kers.
"It's the speed at which it ramps up. The first five-minute run interval you do in Couch to 5K is in week four, whereas in None To Run it's in week nine. Similarly, for the 20-minute run interval, you're looking at week five versus week 10. For beginner runners it's all about that steady build-up. If you've not run before or if, like me, because of your weight you're giving yourself a lot of punishment, you need that long build-up.
"I've now done the original Couch to 5K as a way to get through lockdown, so I can compare the two, and there's no way I'd have been able to do Couch to 5K without having done None To Run first, even though it was two years apart."
See related
Did you find the strength training advice useful?
"That's something I found a lot better than Couch to 5K," says Doherty. "In the beginning it's two sets a week, so you do it in your non-running days over the five days. It made me invest in it a lot more rather than if I was just running. It made it easier, I think."
"I definitely found it useful in the early weeks, because it's all about injury prevention," says Ledger. "Couch to 5K doesn't really cover it. I know a lot of people on None To Run don't really do the exercises, but having them flagged up is important. And the exercises change throughout the programme – there are simple ones to begin with, then it develops.
"It's good because it focuses the mind on injury prevention. The worry about Couch to 5K is people look at it and think they should be able to do it, but they can't cope with the acceleration of the programme or they get injured. Your body is just not used to it in the first few weeks, it's a shock to the system."
Do you have any advice for people starting None To Run?
"You've always got to focus on the next week and not what's coming further down the line," says Ledger. "And if you're worried you're not going to be able to do the runs in the next week, don't give up on it until you've given it a go. A lot of people are scared to go on to the next week because they think it's too hard, when actually they should try to do it. And if it is too hard, that's fine, repeat the week before."
"The Facebook group for None To Run is great," says Doherty. "There are a lot of people who have done it and they've all got tips. When I was making the jump from five minutes to 20, one of them said 'just think of it as four lots of five minutes'. So I set my watch up to do four five-minute intervals, so the walk interval on my watch was still a run interval. I was getting the beeps every five minutes, which was something I was used to, and it felt comfortable."
See the plan on the None To Run website | Free
Download the app on the App Store | £4.99 a month, £29.49 a year. Seven-day trial available
Sign up for workout ideas, training advice, reviews of the latest gear and more.