How To Start Running
There are many ways into running, as these inspiring tales from runners of all stripes show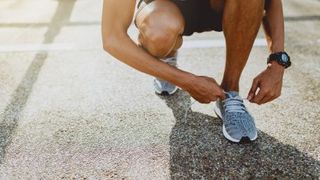 (Image credit: unknown)
Running is a wonderful activity – it keeps you fit, gets you outside, and helps you meet people and discover new places. Running is also, however, not very much fun at all the first time you do it. Within minutes you're out of breath and muscles you didn't know existed are starting to hurt, and the idea of enjoying your surroundings or chatting with others seems ludicrous.
Stick with it, though, and after just a few outings all those benefits start to become clear. If you're completely new to running then one of the best ways to start with the sport is a couch to 5K programme. Coach has an eight-week couch to 5K plan, but there are also many apps (not all of them free) that offer plans and the NHS has a free nine-week programme with podcasts explaining the workouts you'll do. If you seek out your local running club, you'll probably also find that it puts on regular beginner groups that build up to running a first 5K.
Community spirit can also be found at This Mum Runs, a group that holds free women-only runs on Wednesday evenings and Saturday mornings in 60 locations across the UK, including Bath, Bristol, Portsmouth, Cardiff and Yeovil.
One of running's great advantages compared with other sports is the minimal equipment you need, but it is worth investing in a dedicated set of shoes when you're starting out. This will help ensure you have the cushioning you need to protect your body from the impact of pounding hard pavements (strength and conditioning workouts will also protect your body, but you'll probably want to focus on running for now), and generally make the experience of running that little bit more comfortable and enjoyable.
You don't need to spend three figures on a premium set of running shoes, though if money is no object we rate the Brooks Glycerin shoes as the most comfortable option for beginner runners. If you're looking for something more budget-friendly, then Decathlon has a range of cheap shoes for (men's from £9.99, women's from £9.99) with cushioning for running that will serve you very well when you first start out with a couch to 5K programme.
For more inspiration on how to start and keep running, along with some advice on avoiding common rookie mistakes, we enlisted a few of the Asics FrontRunners and some Runners Need Just Run Club Legends. Asics Frontrunners is a team that includes people of all levels – from parkrunners to ultrarunners – from all over the world who are intent on inspiring others to take up the sport. The Runners Need Just Run Club is a free club based in branches of the running retail chain all over the UK. You can find your local group on the Runners Need website.
Why did you start running?
"I needed to do some regular exercise and a friend of mine persuaded me to start running home from work with her. We started with a programme that was a mix of running and walking until we built up the ability to run the whole way. I found I really enjoyed it – it wasn't just a means to get me home, but a way to help keep fit physically and mentally. We then joined the Sweaty Betty run club and the Runners Need club. That was around 5½ years ago." – Jemma Tack, Runners Need Just Run Club
"I started running after successfully losing weight at a gym and gaining the confidence to get out and run. My dad persuaded me to try for my first timed 5K at Brighton and Hove parkrun and I got hooked." – Charlotte Rawlinson, Runners Need Just Run Club
"I first started running regularly when I moved to Houston. My heart is in cycling, but unfortunately I was working a lot of hours so I did not have much spare time and Houston is not a very cycle-friendly city. Luckily there are a lot of running trails available, and I can knock out a run in under 30 minutes, feel like I have had a good workout and get on with my day. Living in London makes that even better, as the weather is much better for running, and the different trails around the commons provide the opportunity for a new route every run." – Cade Timbers, Runners Need Just Run Club
"I got into running when I realised I was no longer the fit teenage football player I used to be! I wanted to take control of my health and weight, and raise money for a cancer charity after my dad died of prostate cancer in 2007." – Liam McEntegart (@tri_liam)
"The reason I started running was because I had an after-school detention. I didn't want to go because I had arranged to kick a football around with my mates at the local park. I ran away from my detention and my PE teacher chased me! He called my mum and told her I need to go to the local athletics club!" – Chey Kemp (@chey.kemp)
"I wasn't a runner growing up and made up every excuse in the book to avoid it at school. But in 2014 I decided to raise money for Parkinson's UK and in a moment of madness I signed up for my first ever race, the London Marathon!" – Hannah Leith (@escapingthecity)
"I started running to impress my boyfriend – I secretly hated it. But soon after I started, I fell in love with it." – Corey Melke Hinz (@coreylearn)
"I started running to get out of the house after the end of a relationship and I also wanted to raise money for charity." – Pete Nicholson (@sprintkitchen)
How did you stick with it?
"Everyone in my personal and work life knows that I go to a running club every Wednesday which has helped to ensure that it is locked in my diary and I attend! Having made a number of friends at the club I also attend for the social aspect, and running with a group helps to push me because there is always one of us who is having a good week and setting the pace for the others. There is always lots of talk of various races, which also encourages me and I've now done a number of half marathons which I could never have imagined doing before! I also ensure I run at the weekends and love the fact that I can just go out whenever I am ready, whatever time of day and for however long I feel like." – Tack
"Organised runs such as parkrun and the Runners Need run club helped me to keep running a regular part of my weekly routine. I prefer little and often – 5K to 10K runs before or after work. The social aspect of the Clapham Junction Runners Need club has also been a massive boost in making running a part of my social week, and I have built friendships with a group of people who enjoy running and the odd post-run drink!" – Rawlinson
"Being involved in a running group helps me stick with doing it. Knowing that I have a group run to attend during the week helps ensure that I schedule the time and do the weekly run. Also, being around other people who are talking about what runs they did over the weekend or seeing them post runs throughout the week on social media helps keep me motivated to run on the weekends." – Timbers
"I started because I wanted to burn calories on a treadmill, but I stuck with it because I discovered the outdoors, the trails and how amazing running is when you take it outside a gym." – Sarah Booker(@mia79gbr)
RECOMMENDED: Want To Get Into Trail Running? Here's Where to Start
"I kept running because I realised how much it meant to me and also that whatever I put into running I got back in terms of satisfaction and mental health benefits." – McEntegart
"What kept me going was the camaraderie within the running community, whether that's online, at clubs, at parkrun or within teams like ours. Seeing the progression week on week and having something to work towards gave me tangible goals and targets. When I was finishing my PhD, or whenever I've felt stressed or anxious, running has kept me going. It's not about staying with running, it's about how running stays with me – it's the one constant in my quite hectic lifestyle!" – Becca Burns (@thisbunnyruns)
"I stuck with it after running with a local group and enjoying the social aspect of running with others. I felt part of a community in a way I never had before." – Nicholson
RECOMMENDED: The Best Free London Running Clubs For 2018
"The training [for the London Marathon] was tough – really really tough. Slowly but surely I got fitter and fitter, enjoyed the training more and more, and by the time the marathon came around and I crossed that finish line I was hooked! That feeling of achievement is addictive. I love to push my limits, and run longer and longer races each year." – Leith
"I started running again a few years after a life-changing incident and surgery in 2008, when I was told I might not be able to return to any sport, and especially running, because of the injuries I sustained to my lungs and heart. After my first half marathon in 2012, I started learning that we are capable of so much more than we can imagine. The body has an amazing ability to strengthen itself and adapt to new challenges. In fact my body is now stronger than it ever was before the incident, and I'm so thankful. I could honestly never have imagined that I would run even one marathon, let alone 20 marathons and ultramarathons! It's my belief that the camaraderie in the global running community is unmatched to any other sport." – Anna Pearce (@annarunsmarathons)
See related
What mistakes did you make early on?
"I would not say that I made mistakes early on because getting into running is a learning process, and one which requires getting to know your mind and body. Learning about breathing, pacing, training and kit has helped me become a better runner and enjoy it more so that it feels less like a chore and more like a form of self-care. I have also learned to value the post-exercise high, which comes even on days when I didn't feel like getting out – there's no such thing as a bad run and I haven't regretted one yet." – Rawlinson
"I think my biggest early mistake was in judging effort. I used to have a very bad habit of starting off too fast and burning out before I reached my goal. This was a hindrance to increasing my distance and discouraged me from running. Using an app to monitor my pace started to help and getting a GPS watch was a real game-changer for me. I became much more aware of my pace and effort level, particularly when I was pushing too hard too early. I now have a very good understanding of what my target pace is for different distances and once I learned how to manage my pace throughout a run, I was able to start challenging myself to improve it. And now if I want to go for a long run to just explore an area, I know where to keep my pace so that I'm getting a good workout and will still be able to make it home." – Timbers
"When I first started out running and taking part in races I thought that I had to run as hard as I could from start to finish. This unfortunately left me picking up lots of shin and knee injuries. Over time I've learned the importance of listening to my body, running slower and giving myself the chance to recover. These days when it comes to races I'm still guilty – I get caught up in the buzz at the start line and adrenaline takes over, so I still tend to go off too fast and I still usually regret it when my legs start to burn! That's the best thing about running, though – we're always learning, tweaking our approach, pushing ourselves to do more, be stronger and run faster." – Peter Butler (@peteruns26.2)
"One of the early mistakes I made was running round the same parks in the same direction several times a week, resulting in muscular imbalance and then injury." – McEntegart
"My biggest mistake was not trusting myself. At times my own doubts would mean I set the bar too low. Now I set much more ambitious goals. After all, it's better to shoot for the stars and miss than regret what you didn't do!" – Burns
"My mistake when starting out was to train completely on my own. If I'd had a running team or group to share my ups and downs with, and to draw inspiration from, I'm sure the start would have been far more enjoyable." – Leith
"One mistake I made was underestimating the importance of adequate rest in a heavy training programme and not listening to my body, which resulted in a lower leg bone stress injury. Injuries are part of a runner's life, and I'm determined to be a wiser runner and to value rest days as much as the training ones." – Pearce
"My new runner tips are to take a bin bag to wear to your race to stay warm at the start. Don't run ten minutes after a curry – I discovered this in the past week – and most importantly don't underestimate the benefit of a decent pair of trainers!" – Booker
Sign up for workout ideas, training advice, reviews of the latest gear and more.