Trail Running For Beginners
Keen to get into running off-road? Here's how to start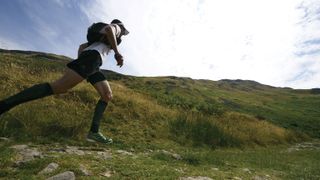 (Image credit: Unknown)
In many ways trail running is a completely different sport to road running. There are similarities of course, but when you're off-road pacing and kilometre splits tend to go out the window as you focus on tackling rugged terrain and exploring beautiful places, and trail running also has the potential to lift the spirits in a way that chugging along the pavements near your house struggles to do.
It's a little trickier to get into than road running, but with a bit of planning you'll find that there might be a host of great trail running spots far nearer to you than you think. You'll find some great runs from the National Trust below, but before we get to that, we have some wise words from British ultramarathon runner and The North Face ambassador Jez Bragg about how to get into trail running.
Do you need trail-specific shoes for off-road running?
In the summer, no, but you do in the winter when you have to deal with cold and wet conditions. You want something that's cushioned with good grip on all different types of surfaces. It has to have wicking properties – to keep water out and let vapour out – and be light too, because you'll really feel the extra weight if you're covering any real distance. You should also carry a small rucksack or hydration pack. Put a spare waterproof, base layer, map, food, drink and mobile phone in it so you can cope with changing weather and getting lost or injured.
Should you change your running style on treacherous trails?
Aim to look about 6-10m ahead so you have time to adjust your speed or change direction. It takes a bit of getting used to but having to focus on finding the smoothest, most direct route takes your mind off running and some of the pain you're enduring.
What's the best way to tackle hills?
When climbing, shorten your stride, lean forwards and settle into a steady rhythm. Depending on how steep the hill is, you will probably find it more comfortable to run up it on your toes. When running down a hill you'll be moving faster so look a few metres further ahead than if you were on the flat. This will help you pick the right line. Avoid slowing down because it'll tire you and sprinting because it can stretch your quads to the point of injury. Try to relax and let the gradient of the hill turn your legs over – you'll know when you're moving at the right speed because you'll be exerting the minimum amount of effort.
Can you train for trails without actually running on them?
You need good core and lower leg strength to help your body withstand the rigours of running across rough and uneven terrain and you can build this in the gym doing moves, such as planks and weighted lunges. Ankle strength is also key but is something that can only be developed through running. Hills are a big part of trail running so you also need to include hill work in your runs. Don't worry if you need to walk the hills to start with – it will still help you build up solid leg strength.
What are some good places to go trail running?
The UK has one of the best networks of footpaths in the world. Get a local Ordnance Survey map, plot a route and run it. Having to navigate and overcome challenging terrain will make the runs seem much shorter and interesting than pavement plodding.
I love running in the Peak District, along the Jurassic Coast in Dorset and in the Scottish Highlands. All three places offer awesome terrain and fantastic views. If you're planning on a trail-running weekend, try looking up some local hostels or bunkhouses where you can get a bed for the night for £15 or so. Works for me!
See related
11 Great Trail Runs For Beginners To Try
If you're not sure about plotting your own route using an OS map, look up your local National Trust properties. NT is keen to encourage trail runners to visit and its rangers have created 11 Ranger Runs for people to try. A couple of them are only for experienced trail runners, but there are nine great options that beginners can tackle, and you can tweak the harder routes to suit all levels. Or you can just walk the uphills!
These are a great place to start with the sport, because you'll know the length of the route, which is mapped out, and have a good idea of the terrain you'll cover. You can even tackle them in the company of others if you'd prefer – the National Trust is putting on free monthly 10K events at the Ranger Run locations plus other great trail-running spots.
Polesden Lacey, Surrey
This 10.9km run is only an hour away from central London, and it's a great way to escape the bustle of the city and clear your head with some epic views of the North Downs countryside. There's a fair bit of uphill work to tackle to earn those views, but you can always stroll those bits.
Rhossili, Gower
Rhossili Bay in Wales is the location of one of the finest beaches in the entire UK and you get to explore a 4.8km stretch of it with this easy run. It includes a small loop of Worm's Head headland to provide the best views of the bay.
Craflwyn, Snowdonia
This run requires a fair bit of fell running experience, with over 16.8km of mountainous trails to complete. Beginners can base themselves in Craflwyn or nearby Beddgelert and explore the Nant Gwynant valley through shorter runs, but make sure to earmark the route to come back and conquer once you're a trail-running regular.
Blickling Estate, Norfolk
An easy 10.1km loop around the grounds of a Jacobean mansion featuring a mix of woods and parkland. Take it slow and look out for barn owls.
Coleton Fishacre, Devon
This undulating run follows the Devon coast for around half of its 9km length, but don't get too distracted by the sea views – there are cliff edges and uneven sections of the path to keep your eyes on.
East Soar, Devon
If you're seeking something longer, this 19.2km jaunt around Devon where Dartmoor meets the coast is a great option. The route isn't too hilly, and wildlife fans will enjoy passing long-horned Highland cattle and Dartmoor ponies along the way.
Fountains Fell, Yorkshire
This 13.6km route in the Yorkshire Dales takes in the glacial lake of Malham Tarn along the way to the summit of Fountains Fell, from where you follow the ridge-line and enjoy the views of the Yorkshire Three Peaks.
Golden Cap, Dorset
Head to the Jurassic Coast for this 9.9km figure-of-eight run that includes a trip to the summit of Golden Cap cliff, the highest point on the south coast of Britain.
Longshaw, Derbyshire
Set in the heart of the Peak District this run is a very reasonable 6.1km long, though some steep sections will make it feel a little longer. A highlight of the route is the Tumbling Hill outcrop, which offers outstanding views of both the Derwent and Hope valleys.
Souter Lighthouse, Tyne and Wear
You'll be amazed at how much wildlife you get to see over the course of one 2km lap of the Whitburn Coastal Park Nature Reserve on this run. So amazed you might just want to run another lap.
Tarn Hows, Cumbria
This 6.4km loop circles around an ornamental lake surrounded by huge trees. It's one of the most popular tourist spots in the Lake District, so try to avoid peak season if you don't want to run around the crowds.
Sign up for workout ideas, training advice, reviews of the latest gear and more.
Nick Hutchings worked for Men's Fitness UK, which predated, and then shared a website with, Coach. Nick worked as digital editor from 2008 to 2011, head of content until 2014, and finally editor-in-chief until 2015.