The Best Yoga Mats For Practising Yoga At Home
We've been working our way through the best yoga mats, so whether you're dedicated to your practice or just starting out, we can help you find the right one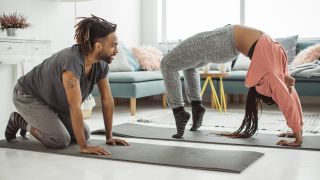 (Image credit: Getty Images / svetikd)
Once, before COVID-19, only people who had seriously caught the yoga bug considered buying their own mat – beginners could just use one of their studio's communal mats. Now that we're all using yoga apps to practise at home, more people may be persuaded to buy their own – but don't fall into the trap of thinking you have to have one.
We asked Hannah Barrett, who teaches through her eponymous app for her advice. She said you don't need one to practise yoga, and which to choose is down to the individual – it's not as if one type of mat is especially well suited to a specific type of practice.
"I prefer a thin mat so I can feel the ground beneath me and so it's easier to carry around," says Barrett. "If you have sensitive knees then a thicker mat is a good idea, or use a rolled-up blanket under the knees. Alignment lines can be useful for beginners to use as a prompt when needed, and one thing to note for those who love hot yoga is using a yoga towel over your mat reduces the chance of slipping. A towel will also prolong the life of the mat."
If you decide you'd like a mat to practise on, browse our picks to find one that meets your preferred combination of thickness, grip, material, portability and price.
And if you find your normal workout wear is getting in the way, try options from our selections of the best yoga clothing for men and best yoga leggings for women.
The Best Yoga Mats
1. Yogi Bare Paws
Best yoga mat
Specifications
Size:
71in x 26in / 180cm x 66cm
Reasons to buy
+
Exceptional grip
+
Stylish alignment guide
+
Biodegradable and Yogi Bare will recycle it
To their credit, yoga brands are more concerned about their environmental impact than most, and many mats are now biodegradable. Yogi Bare is next-level though: not only will it accept its mats back to recycle into playground surfacing and give you 15% off your next one, it will accept any mat made from PU rubber. Top marks.
The Paws is a great mat, with helpful alignment markings and a firm-gripping surface. We can't emphasise that last part enough. We may not be advanced yogis but found you can push through your hands in downward-facing dog with no fear of slipping. Even at 4mm thick, we still found it stable enough to move confidently through one-foot balance poses. Unlike other mats, there's no aroma either.
---
2. Lululemon The Mat 5mm
Best yoga mat for flowing in comfort
Specifications
Size:
71in x 26in / 180cm x 66cm
Reasons to buy
+
Ample cushioning
+
Grips well
Reasons to avoid
-
Strong rubber smell
-
Relatively expensive
-
Strap costs extra
Towards the thicker end of the spectrum, this high-end mat was gentle on our knees, and that was on the non-slip side – flip it over and the rubber base is even softer. The flip side of a mat this thick is that it's chunky when rolled, so it's unlikely you'd want to lug it to a studio, but it's ideal for home use. The textured rubber base stayed put on a rug, but did have the tendency to move on hard floors. We weren't going anywhere, though, and found there was no danger of slipping during intermediate vinyasa. Even after a few years, a strong rubber smell remains, which we don't mind, but some might.
---
3. Manduka Begin
Best yoga mat for beginners
Specifications
Size:
68in x 24in / 172cm x 61cm
Reasons to avoid
-
May be too short for taller people
This brand has a pro mat that is in the same ballpark – quality- and cost-wise – as Liforme, so it's nice to see a more affordable option designed for beginners. The textured surface means there's plenty of grip and at 5mm thick it'll go easy on your knees too. Its eco credentials are all in order and it's light enough to transport easily.
---
4. Liforme Yoga Mat
Expert-approved, firm-gripping mat
Specifications
Size:
72.8in x 26.8in / 185cm x 68cm
Reasons to buy
+
Good grip
+
Alignment markings
+
Carry bag included
This mat may be expensive, but boy does it deliver bang for its buck. Boasting the "grippiest material available on Earth" even when wet, it should see serious yoga warriors through all types of practices. The alignment map in the design works as a navigational guide to help develop your skills and with a few inches more than your average yoga mat, it gives you the space to move freely. It's also PVC-free and biodegradable, and there's a neat carry bag included.
It also comes with Barrett's seal of approval. "I love Liforme mats and use the regular mat when I need a little extra padding – it's so thick and lovely – and the travel one for everyday use."
---
5. Domyos Dynamic Yoga Mat
Best budget mat for dynamic flows
Specifications
Size:
72.8in x 25.6in / 185cm x 65cm
Reasons to buy
+
Alignment lines
+
Comes with a strap
Reasons to avoid
-
Not suitable for gentler styles
French sports retailer Decathlon brings its affordable ethos to yoga with a new collection of clothes, props and, of course, a wide range of mats. As we learned at the launch, the French lean towards gentler styles like Yin and looser clothing, while the UK tends towards figure-hugging garments and dynamic disciplines like vinyasa. This 3mm mat is suited to the latter, with a rubber base to keep the mat in place and a top layer that will absorb sweat and aid grip. There are alignment marks too to keep you in line while you flow quickly from pose to pose.
---
6. Lululemon Carry Onwards Mat
Best travel mat
Specifications
Size:
71in x 26in / 180cm x 66cm
Reasons to buy
+
Folds small enough to fit in a bag
+
Good grip
Portability is the star feature of this mat, which can be folded into a neat little package (quoted as 16.5cm x 34cm x 5.5cm, but we got something like 15cm x 30cm x 10cm with an imperfect fold) and secured with the attached strap so it fits into a backpack. Of course, portability isn't the only thing the mat offers: there's no point carrying around a terrible or tiny mat no matter how easy it is – and the Carry Onwards is large enough to accommodate even taller yogi (even gangly six-footers like us will have no problems), with microfibre texture that provides all the grip you need for your flow.
---
7. Meglio Yoga Mat
Best yoga mat for savasana
Specifications
Size:
72in x 23.2in / 183cm x 59cm
Reasons to buy
+
Maximum cushioning
+
Comes with a strap
If comfort and support are top of your list, look no further than this 10mm-thick mat. You may wonder why all mats aren't this luxuriously thick, but it's because it can make standing poses feel less stable. Of course, if you plan on indulging in only a bit of gentle yoga that's not so much of an issue. The Meglio mat rolls up into a fairly small package, and it comes with a strap you can loop on to make it easy to carry around. It's quite the bargain too, although it's made from synthetic rubber so it's not as environmentally friendly as our other recommendations.
Sign up for workout ideas, training advice, reviews of the latest gear and more.
Jonathan Shannon has been the editor of the Coach website since 2016, developing a wide-ranging experience of health and fitness. Jonathan took up running while editing Coach and has run a sub-40min 10K and 1hr 28min half marathon. His next ambition is to complete a marathon. He's an advocate of cycling to work and is Coach's e-bike reviewer, and not just because he lives up a bit of a hill. He also reviews fitness trackers and other workout gear.