The Best Earplugs For Swimming, Flying, Working And Concertgoing
Block unwanted noise with our pick of the best earplugs to buy right now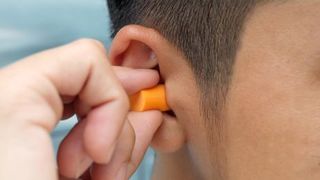 (Image credit: Unknown)
Life in the 21st century seems to have been turned up to 11, and there are seemingly endless sources of noise and disruption destined to irritate or even damage our hearing. Night offers no respite either, with urban noise pollution or snoring partners potentially disturbing those precious hours of rest. When it all gets a bit much, a good pair of earplugs can make all the difference.
Most earplugs aren't designed to block out noise completely, which means they can be used without fear of missing alarms or other essential sounds. They also have uses beyond simply blocking unwanted noise: protecting the inner ears of people predisposed to infections while swimming, for example, or equalising pressure on aeroplanes during take-off and landing.
The level of sound reduction (technically referred to as attenuation) required depends on where and how you plan to use your earplugs. If you frequently attend concerts or those who work in a loud environment such as a building site, you may need something on the higher end of the scale, but if you're simply using them to sleep then you can go much lower. For context, normal speech reaches around 60dB, while a live rock concert hits about 110dB.
Whether you're after single-use earplugs that can be disposed of without fuss or expense, or something more heavy-duty, we've rounded up the best earplugs you can buy.
---
3M E.A.R Classic
Best Budget Earplugs
(opens in new tab)
Disposable and very affordable, these earplugs are often given out free at concerts or similarly loud situations because of their ability to filter out higher frequencies. Because of their spongy texture, you won't have any trouble fitting them in your ear, and they're easy to use without any fiddling. On the other hand, they're easy to lose and equally likely to get mucky. Our advice is to buy plenty (they come in packs of 50) and dispose of them after each use.
Buy on Amazon (opens in new tab) | £7.99 for 50 pairs
---
Alpine PartyPlug
Best For Parties
(opens in new tab)
If you're a frequent visitor to clubs or other loud social scenes, PartyPlug's filtering technology will help protect your hearing from damage while still letting you talk to friends. The trade-off is that they're not as powerful as some of the other examples on this list, with 19dB of attenuation. But they're relatively inexpensive and come with a handy keyring case so you can carry them around ready for whenever you need them. Our pick for those with a hectic social calendar.
Buy on Amazon (opens in new tab) | £16 for one pair
---
Howard Leight Bilsom Clarity 656
Best For Noisy Workplaces
(opens in new tab)
For anyone who needs to protect their hearing at workplaces like construction sites or warehouses, the Howard Leight Bilson Clarity earplugs are ideal because they still enable you to listen for sounds such as alarms, so you can work in safety. They can be worn around the neck when not actually in use, with a cord connecting the two plugs, and a carry case is also provided. Once they have been used, just wash them with soapy water, leave to dry, and repeat.
Buy on Amazon (opens in new tab) | £4.99 for one pair
---
See related
Why you can trust Coach Our expert reviewers spend hours testing and comparing products and services so you can choose the best for you. Find out more about how we test.
---
Flare Audio Isolate Ear Protection
Best For Live Music Fans
(opens in new tab)
These earplugs look tough and don't mess about when it comes to protecting your hearing. The Flare Audio Isolates offer 36dB of attenuation so, if you're often exposed to particularly high levels of noise or attend concerts more frequently than the average person, these could be for you. You'll be able to stand as close to the stage as you like with less risk of suffering hearing damage, although they're not as good for situations in which you need to hear things like alarms or colleagues. Don't buy them to sleep in, either – the design means they will become uncomfortable during the night.
Buy on Amazon (opens in new tab) | £22.95 for one pair
---
BioEars Soft Silicone Protection
Best For Swimmers
(opens in new tab)
Recommended for swimmers who want to protect themselves from ear infections, the BioEars Silicone earplugs are also incredibly soft and flexible. They're not that powerful, with just 20dB of attenuation, but if you're only looking to protect your ears from the bacteria in water and not a ton of extraneous sound, that won't matter so much. They even have added aloe vera, which offers another layer of protection. All that said, you can wear them in any situation, such as sleeping, and they'll be equally effective.
Buy on Amazon (opens in new tab) | From £4.59 for three pairs
---
EarPlanes
Best For Frequent Flyers
(opens in new tab)
If you experience discomfort while flying because of ear pain caused by the air pressure shifts, these earplugs are designed to help you. The ribbed silicone plug seals the ear while the ceramic section regulates the pressure, thus preventing the intense pain many feel during take-off and landing. The EarPlanes work by gently equalising the pressure between your ears and the air around them, and they're also effective for reducing the surrounding noise during the flight – or in general noisy situations.
Buy on Amazon (opens in new tab) | £4.85 for one pair
Sign up for workout ideas, training advice, reviews of the latest gear and more.
Caroline Preece worked as a central e-commerce writer at Coach's former publisher, Dennis Publishing, between 2019 and 2020, contributing buying guides and product recommendations.