How To Make Junk Food Healthy
Don't give up on your favourites – just tweak them to greatness with advice from the experts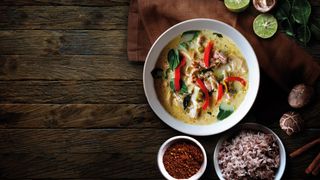 (Image credit: Unknown)
For curry go Thai
Instead of going for the traditional tikka masala – heavy on the ghee, and a touch too creamy – pack in veg with a classic Thai green curry. "Marinate a chicken breast in green curry paste – or, if you're going for yellow, some cod or salmon –then grill it or pan-fry it with a little coconut oil," says Preechaya Phetprasert, head chef at The Coconut Kitchen. "Add sliced courgettes and baby sweetcorn, as well as some broccoli florets and mange tout to the pan if you want some extra vegetables. Serve it up with brown rice, sesame seeds on top and a wedge of lime."
For burgers switch to poultry
Fresh chicken mince isn't always easy to source, but it's easy to toss a breast or two in a food processor – then just form them into patties and fry on each side for three to five minutes. "Can't resist adding mayonnaise?" says Jordan Moore, recipe developer at Gousto. "Replicate the creaminess by mashing ripe avocado – it's high in healthy fats, and perfect served over a chicken burger coated in Cajun spices. Oven-baked sweet potato 'fries' are also a better alternative to chips – get the oven and tray really hot before cooking them for maximum crispiness."
For pizza choose no-dough
The trick to making cheese-wheels less calorific? Surprisingly, it's all about that base. "Try using a low-carb cauliflower pizza base," says Jessica Andersson, in-house nutritionist at Gousto. "Simply blend together one cauliflower with 100g of ground almonds in a food processor. Add two eggs and one teaspoon of oregano, spread out on a baking tray and bake in the oven for 20 minutes then add your favourite pizza toppings before returning to the oven for a further ten minutes." Don't be afraid to add parmesan – it's the most protein-packed of cheeses, with 38 grams per 100g.
For kebabs make your own
"Lamb kebabs are a favourite but high in saturated fats and calories," says Andersson. "Try a chicken kebab instead. Simply thread chicken breast cubes on a skewer with some pieces of red pepper alongside other veg if you like. Season well, drizzle over some olive oil and lemon juice, and grill for ten minutes while turning frequently. It goes perfectly with wholemeal pitta bread and Greek yogurt mixed with garlic. It's much healthier than a lamb kebab, with a good combination of protein and complex carbohydrates… and tasty too."
See related
For fry-ups ignore the name
"Even for a classic full English, you want to try and limit the amount of frying you do, because this will reduce the amount of fat you use," says chef Margie Broadhead, host of the Desert Island Dishes podcast. "Poach eggs with a splash of cider vinegar to make it easier, and bulk out your breakfast with tomatoes and mushrooms - just toss them under the grill for faff-free cooking. Sausages tend to ramp up the amount of fat and salt in a fry-up, so swapping these for veggie versions really cuts back on calories – but if you can't contemplate a fry-up without meat, switch from pork to a leaner meat like turkey."
For fish and chips batter up
There's not much wrong with fish, but the casing it comes in is a deep-fried nightmare. "Instead of heading to the chippy, make your own with tempura batter," says Broadhead. "Mix 150g of plain flour, 100g of corn flour and 10g of baking powder, then add water a little at a time until the batter will coat your finger. Gently coat your chosen fillet – cod works best – then fry it in oil for a couple of minutes each side. Feeling fancy? Add tartare sauce by mixing yogurt, capers, parsley and lemon, or healthy pea purée by cooking up some peas then blending with yogurt, lemon and mint." And sweet potato fries, natch.
Sign up for workout ideas, training advice, reviews of the latest gear and more.