Put Your Christmas Leftovers To Good Use With This Turkey Curry Recipe
Forget the usual Boxing Day sandwiches, whip up this creamy coconut treat instead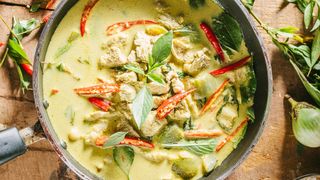 (Image credit: Laura Tilt)
Given the amount of other food that adorns the Christmas dinner table, it is perhaps not surprising that people tend to end up with turkey leftovers. As tasty as the festive bird is, when you're also shovelling down fistfuls of pigs in blankets and mounds of roast potatoes smothered in gravy, it's tough to go back for seconds.
You can simply shove as big a pile of your leftovers as possible into a sandwich, but a more exciting Boxing Day option for your turkey is this creamy coconut curry recipe, created by dietitian Laura Tilt.
Method
Put the garlic, ginger, coriander stalks and half the chilli in a food processor or blender and blitz to a rough paste.
Heat the coconut oil in a large saucepan, add the onion and cook until golden.
Add the paste to the pan along with the ground turmeric, cumin and coriander and cook for a few minutes until the spices are fragrant.
Add the coconut milk, stock cube and water and bring to a simmer. Cook for ten minutes until the sauce has reduced and thickened slightly.
Add the turkey and cook for a further ten minutes or until the meat is piping hot.
Stir in the coconut cream and the lime juice. Add the peas and cook for a final minute to two to heat through. If the sauce needs thickening you can add a little cornflour mixed with water.
Transfer the curry to a large serving dish and scatter with the toasted coconut flakes, the remaining half of the chilli and chopped coriander leaves. Serve with lime wedges and flatbreads or rice.
Ingredients (Makes Four Servings)
4 garlic cloves, peeled
15g fresh ginger, peeled and chopped into chunks
1 red chilli, sliced (optional)
20g coriander stalks (save the leaves for garnish)
1tbsp coconut oil
1 large onion, diced
2tsp turmeric
1tsp ground cumin
1tsp ground coriander
1 can coconut milk
1 chicken stock cube and 100ml water
2 limes, one juiced, one cut into wedges
500g cooked roast turkey, skin removed and diced
150g frozen peas
Salt and freshly ground pepper
2tbsp coconut cream
3tbsp toasted coconut flakes, to serve
Nutrition (Per serving, not including rice)
Calories 554 (450 if using light coconut milk)
Protein 44g
Carbs 12g
Fat 34g (24g if using light coconut milk)
Sign up for workout ideas, training advice, reviews of the latest gear and more.