This Bombay Potato And Chicken Wraps Recipe Is Certified Heart Healthy
Because it's from charity Heart Research UK's free* Happy Healthy Heart Cookbook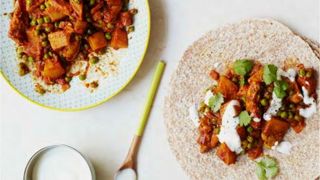 (Image credit: Unknown)
Isn't it nice to look forward to lunch? Today we are, because we made this dish last night and there's a Tupperware full of leftovers in the fridge that we're due to dig into in 30 (long) minutes.
Can't. Wait.
But we will, so we can tell you that this easy-to-make tasty recipe is taken from the new, free (*but donations welcome) Happy Healthy Heart Cookbook (opens in new tab), put together by Heart Research UK, a charity that funds medical research, education and health campaigns. It's a collection of starters and mains from food bloggers and professionals, which Heart Research UK have assessed and OKed as part of a healthy lifestyle.
The cookbook features plenty more curries and dishes inspired by Indian cuisine (we're planning on turning our hand to the vegetarian mulligatawny soon), and more besides – we've got our eye on the couscous bowl with harissa chicken.
But we started with this one because we're a sucker for anything you can wrap up and eat with your hands. It's also a dish that doesn't take a lot of active cooking time – the 20 minutes of prep time is pretty generous – but it does take a fair bit of time to simmer and then reduce, so it might not be best for a midweek meal unless you get home early or don't mind eating late.
Right, that's it. We can't hold out any longer. Never go food shopping on an empty stomach and never write about recipes before lunch. You can find the recipe below and download the cookbook here (opens in new tab) – we're making for the microwave.
Bombay Potato And Chicken Wrap Recipe
Recipe by Sally Bee (opens in new tab)
Ingredients (Serves Four)
A light spray of rapeseed oil
1 large red onion, peeled and finely chopped
Garlic cloves to taste, peeled and crushed
200g skinless, boneless chicken thigh fillets, sliced
3tbsp tikka curry paste
400g can of chopped tomatoes
2 large potatoes, washed and cut into 2cm cubes
Freshly ground black pepper, to taste
250g frozen peas
8 wholemeal wraps or chapatis
140g low-fat Greek yogurt or low-fat crème fraîche
See related
Method
Heat the oil in a large non-stick frying pan over a medium heat, then add the onion and fry for a few minutes until softened.
Add the garlic and stir for a further minute, then add the chicken and cook, stirring until browned.
Stir in the curry paste, tomatoes, potatoes and half a can of water. Season well with plenty of black pepper, then cover and simmer for about 20 minutes, until the potatoes are just cooked.
Remove the lid and simmer for a further ten to 15 minutes until the liquid has reduced and the sauce is sticking to the potatoes and chicken.
Stir in the peas and cook until they are ready, then serve with warmed wraps or chapatis and low-fat yogurt.
The Happy Healthy Heart Cookbook has been produced by clothing retailer Damart (opens in new tab) to help raise money for Heart Research UK
Sign up for workout ideas, training advice, the latest gear and more.
Jonathan Shannon has been the editor of the Coach website since 2016, developing a wide-ranging experience of health and fitness. Jonathan took up running while editing Coach and has run a sub-40min 10K and 1hr 28min half marathon. His next ambition is to complete a marathon. He's an advocate of cycling to work and is Coach's e-bike reviewer, and not just because he lives up a bit of a hill. He also reviews fitness trackers and other workout gear.