Healthy Brunch Ideas From Recipe Book Brunch Life
Brunch can be indulgent without completely sabotaging your fitness goals. Just turn to these delicious, nutrition-packed dishes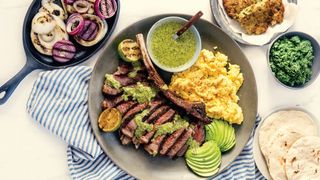 (Image credit: Unknown)
"Brunch is all about satisfying a craving," says Matt Basile, a chef and co-creator of the Toronto-based Fidel Gastro street food company. "You look at a menu and ask yourself: which dish will really hit the spot? Is it something for your sweet tooth? A deep-fried option? Spicy? Or even something as simple as a few runny eggs? Sometimes you get a dish that checks off several boxes, and for me that's always huevos rancheros. My version is hearty and saucy, and it's got spice and runny eggs. If you want to cool it down a bit, add more sour cream and queso fresco, or use only half the green chilli. You can serve it vegetarian, like I do here, or add whatever toppings you want, like shrimp, more guacamole, extra jalapeños, refried black beans, tortilla chips or salsa verde."
These recipes, from Basile's new book (opens in new tab) with his partner Kyla Zanardi, will hit that spot – hard.
Huevos Rancheros
Ingredients (serves four)
For the salsa
1tbsp rapeseed oil
3 shallots, roughly chopped
2 cloves garlic, roughly chopped
1 sweet red pepper, cut into 5mm slices
1 large green chilli pepper, diced (use half if you don't like it spicy)
125ml water
4 Roma or plum tomatoes, chopped
1tbsp chilli powder (chipotle if you can find it)
1tsp salt
¼tsp black pepper
2tsp unsalted butter
250g canned black beans, drained and rinsed
For serving
2tbsp rapeseed oil
4 large eggs
4 small (15cm) corn tortillas
3tbsp crumbled queso fresco (or any soft fresh cheese)
4tbsp chopped coriander
2tsp sour cream (double this if you don't like it spicy)
To make
First make the salsa. Heat the rapeseed oil in a medium saucepan over medium-high heat. Add the shallots and garlic and sauté for two minutes, or until they become translucent. Add the red pepper and green chilli pepper and continue sautéing for another three minutes.
Add the water, tomatoes, chilli powder, salt and black pepper. Stir to combine, turn the heat down to medium, add 1tsp of the butter and cook for ten minutes, stirring occasionally.
Turn the heat down to low, add the black beans and the remaining butter, stir thoroughly, then remove from the heat and keep warm.
Now for those huevos! In a medium frying pan, heat the oil over medium-high heat. Crack the eggs into the pan and turn the heat down to medium. Cook the eggs sunny side up for about five minutes. At the same time, heat a large frying pan over high heat and lightly toast the tortillas on both sides.
Arrange the tortillas on plates and top each with one egg. Spoon the salsa around the eggs and over the tortilla. Garnish with crumbled queso fresco, coriander and a drizzle of sour cream.
Eggs Cilibir
"Turkish food may not be at the top of your mind when thinking up brunch ideas. However, sometimes the most unexpected inspirations end up being the best," says Basile. "Kyla made this dish for me, and I was blown away. Poached eggs served in yogurt with some pita and a refreshing cucumber salad – it sounds so simple, yet the little hits of acid and spice all come together in a delicious, different dish."
Ingredients (serves four)
For the cucumber salad
100g diced cucumber
4tbsp diced red onion
1tbsp olive oil
1½tsp white vinegar
¼tsp harissa paste
Salt and black pepper
For the spicy clarified butter
225g unsalted butter
1 clove garlic, smashed
2tbsp harissa paste
1tbsp cayenne pepper
For serving
250g plain Greek yogurt
125g cream cheese, at room temperature
Juice of ½ lemon
1tbsp rapeseed oil
100g sliced leeks (white and pale green part only)
4 pittas
8 poached eggs
To make
In a small bowl make the cucumber salad by combining the cucumber, red onion, olive oil, vinegar and harissa. Stir well, season with salt and pepper and set aside.
Now melt the butter in a small saucepan over medium heat and bring to a simmer. As the butter simmers, use a ladle to skim off the white froth that forms on the surface. What you are left with is clarified butter.
Turn the heat down to medium-low and add the garlic, harissa and cayenne pepper. Allow everything to simmer for four minutes. Pour the seasoned butter through a fine-mesh strainer and collect the clear, red butter in a bowl. Set aside.
In a food processor combine the yogurt, cream cheese and lemon juice, and whizz until pureed.
Heat the rapeseed oil in a small frying pan over medium-high heat and fry the leeks for two to three minutes, until crispy.
Toast the pittas and poach the eggs.
Spoon a quarter of the yogurt mixture onto each of four plates and use the back of a large spoon to swirl it around the plate. Top each plate with two poached eggs, a drizzle of spicy clarified butter, and a sprinkling of fried leeks. Serve the toasted pittas and cucumber salad on the side
See related
Family-Style Chimichurri Steak And Egg Tacos
"The first time I saw steak and eggs on a brunch menu, I was convinced it was a mistake – I honestly thought the diner meant bacon instead of steak. Sure enough, I was wrong," says Basile. "My love for steak is as strong as my love for sunny-side-up eggs, and in that moment, my worlds collided. As much as I love this classic dish, I've also been burned by many badly cooked steaks. Without a proper thick-cut, well-marbled steak, this dish just shouldn't exist. This version really does focus on the steak part. Yes, the eggs matter, but for this dish to shine, it's a good idea to make friends with a butcher."
Ingredients (serves four)
For the steak
900g bone-in rib steak, about 6cm thick
1tbsp rapeseed oil, plus more for rubbing steak
1tsp salt
1tsp black pepper
For the grilled onions
1 red onion, cut into 1cm-thick slices
1 white onion, cut into 1cm-thick slices
1tbsp rapeseed oil
For the chimichurri sauce
6 cloves garlic, peeled
Bunch of coriander
Juice of 2 limes
125ml extra virgin olive oil
1tsp salt
For serving
6 large eggs
1tbsp unsalted butter
8 corn tortillas
To make
Preheat the oven to 180°C/gas 4. Allow the steak to rest at room temperature for 15 minutes, then rub both sides with a little rapeseed oil and season with salt and pepper.
Heat a large cast-iron frying pan over high heat. Pour 1tbsp oil on a piece of paper towel and wipe the pan. Add the steak to the pan and sear for three minutes on each side. Be sure to stand the steak on its side and render the fat for two to three minutes.
Lay the steak down in the pan, transfer the pan to the oven, and cook for 12 minutes for a medium-rare steak, 15 minutes for medium, or 18 minutes for medium well done. Remove the steak from the oven, transfer it to a cutting board, and set aside to rest.
Heat the rapeseed oil in a griddle pan over medium-high heat. Add the onions and cook for five to six minutes, or until they begin to soften. Remove from the pan while they still have a little firmness and are not too soggy.
To make the chimichurri sauce, place the garlic, coriander, lime juice, olive oil and salt in a food processor and blend for a minute or two, until the garlic and coriander are fully processed.
Crack the eggs into a bowl and whisk until smooth. Melt the butter in a large non-stick frying pan over medium heat. Pour the eggs into the pan and cook, stirring frequently, until cooked through but still soft and moist, about eight minutes. Use a wooden spoon or rubber spatula to remove the scrambled eggs from the pan.
In the same pan over medium-high heat, lightly toast the tortillas.
Slice the steak off the bone, then thinly slice the meat against the grain. Serve "family style" by fanning steak slices on a large plate beside the bone. Drizzle some chimichurri sauce over the steak. Arrange the scrambled eggs, onions and tortillas on a platter and serve the rest of the chimichurri sauce on the side.
This is an edited extract from Brunch Life: Comfort Classics And More For The Best Meal Of The Day (opens in new tab) by Matt Basile and Kyla Zanardi
© Matt Basile and Kyla Zanardi 2018. Published in the UK by Prentice Hall Press on 13 September 2018, RRP £19.99
Sign up for workout ideas, training advice, reviews of the latest gear and more.
Coach is a health and fitness title. This byline is used for posting sponsored content, book extracts and the like. It is also used as a placeholder for articles published a long time ago when the original author is unclear. You can find out more about this publication and find the contact details of the editorial team on the About Us page.