Pinch Of Nom Recipes For A Taste Of The UK's Fastest-Selling Non-Fiction Book
Eating a healthy diet won't seem like you're punishing yourself if you cook these mouth-watering low-calorie dishes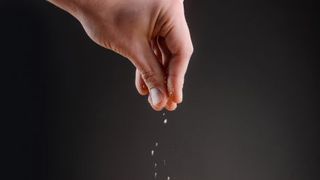 (Image credit: Unknown)
Move over Joe Wicks – in 2019 a cookbook became the fastest-selling non-fiction book since records began. It also claimed the ninth spot on the UK list of fastest-selling books of all time, and five of those were Harry Potter.
Pinch Of Nom is written by Kate Allinson and Kay Featherstone and is the paper extension of their wildly popular social media accounts and website. The pair started posting recipes online when they noticed people going to weight loss meetings had no idea how to cook for themselves. Within two months of its launch, the couple's Instagram page had 8,000 followers; now it's over a million.
Their popularity shouldn't be much of a surprise. Their recipes look mouthwateringly tasty, as well as being simple to cook, affordable low-calorie meals that fit with mainstream diet programmes like Slimming World and Weight Watchers, although they could just be enjoyed as part of a healthy diet.
To allow you to see what all the fuss was about, we've picked some of the more popular video recipes from their Facebook page. For the full recipes click through to Facebook and you'll find a link to ingredients and written instructions on the Pinch Of Nom website. If these five whet your appetite, why not give the book a go? You can buy it from Amazon for £10.
Ten Incredibly Popular Pinch Of Nom Recipes To Try Tonight
Comfort food doesn't get more comforting than mac and cheese, but it's rarely a savvy pick for people aiming to eat a healthy diet. The Pinch Of Nom version of the dish swaps out some of the pasta for courgette and cauliflower to make it healthier and help you hit your five-a-day. It's also simple and quick to make, and still delivers that satisfying cheesy hit.
Who says quiches need crusts anyway? Remove them and you end up with a tasty dish that contains only 154 calories per serving. The Pinch Of Nom crustless Quiche Lorraine makes for a filling lunch by itself or you can serve it with some carbs and veggies for dinner.
This zesty, spicy salmon dish takes just 25 minutes to make and is a perfect dish for sunny summer days. You can also swap out the salmon for chicken if you prefer, though that will increase the cooking time a little.
The calorie count is 431 per serving with these baked oats – so pretty much bang on the 400-600-600 rule of thumb – and with 31g of carbs it's a great way to prepare for active days, with the oats providing slow-release energy. The cherry jam, and almond and vanilla flavourings, on the other hand, provide quick-release Bakewell tastiness.
If you're a fan of bloody Marys then this soup will go down a treat at lunchtime, when it's generally frowned upon to swig a glass of the cocktail itself. It's easy to make using ingredients that will probably already be in your cupboard, and you can throw in as much or as little Tabasco as you like.
6. Bacon, Onion and Potato Bake
It's bake to basics with this three-ingredient dish. You'll need some onions, a whole lot of bacon and 1kg of potatoes. The keen-eyed among you will clock the two portions of veg included on the plate at the end. Don't spend all your time watching the cheese melt in the oven and forget those.
7. Onion Bhajis
Watching this recipe you're bound to think, "So when does it get hard?" Spoiler: It doesn't. It's just diced onions and sweet potato, mixed up with spices and egg, and baked in a cupcake tray.
See related
8. Beef Stroganoff
When you're using low-fat versions of cream, it helps to have the knowhow to beef up the flavour in other ways. Thankfully, Allinson is a professional chef so she can introduce basic but effective techniques like deglazing. You thought creamy and healthy didn't really go together? You thought wrong.
9. Chicken Kebab
This video has stopped people walking past our desk in their tracks. Not only does it look delicious, that is one innovative use of a potato.
10. Hunter's Chicken
Sign up for workout ideas, training advice, reviews of the latest gear and more.
Jake was formely an intern for Coach and now contributes workouts from some of London's top trainers. As well as training in the gym and running, he's competed in the eight-hours-long overnight event Europe's Toughest Mudder twice and the 24-hours-long World's Toughest Mudder once.